How photojournalism has evolved in Nepal
On World Photography Day, Nepali photojournalists share what it was and is like to work in the country.

Nepali photojournalists have played a crucial role in covering Nepal's historic events. Post File Photo
bookmark
Published at : August 19, 2021
Updated at : August 19, 2021 00:25
Lalitpur
Monika Deupala was a high school student when she first got interested in photography. By the time she was pursuing her undergraduate degree in media studies, she had already set her mind on becoming a photojournalist. During her final year, she interned as a photojournalist at the Nepali Times, an English weekly newspaper.
"For me, the internship served as a window to the world of photojournalism and I thoroughly enjoyed the experience," says Deupala.
Impressed by Deupala's work, her editor offered her a full-time photojournalist position at the newspaper. Since then, she has covered a wide range of issues from acid attack victims, labour and migration to tourism and culture.
At just 25 years old, Deupala is one of the few female photojournalists in Nepal.
"Since many of my relatives are used to seeing me walking around with a camera, I often get asked by them to come and take pictures of their social events," says Deupala. "Many are still unaware of the difference between a photographer and a photojournalist. While photography is all about visuals, photojournalism is using photos to tell stories."
Although photography in Nepal dates back to the mid-1800s, photojournalism traces its root to a photo of a commoner (a woman) using a charkha that was published on the April 26, 1927 issue of Gorkhapatra, Nepal's oldest national daily newspaper.
"Gorkhapatra started publication in 1901 and it took the paper 26 years to publish its first photo of a commoner, and when it finally did, it marked the beginning of Nepal's photojournalism," says Min Ratna Bajracharya, a veteran photojournalist.
Over the years, photojournalism in Nepal has grown exponentially and there are now more active photojournalists than ever. But many photojournalists say that the media industry still overlooks the importance of photojournalism and does not give the profession its due importance.
Bajracharya is one of the few people who have closely observed the country's photojournalism landscape over the years. Fifty-six-year-old Bajracharya got interested in photography in his teens while working as an assistant at his uncle's curio shop at Swayambhu.
"I used to interact with foreign tourists and many of them carried cameras which as a young boy I found really fascinating," says Bajracharya.
Cameras at the time were expensive and the young Bajracharya didn't have the means to purchase one, leaving him with no option but to seek help from those who owned cameras.
"Since I couldn't afford a camera, I started asking people who had cameras to teach me photography but nobody agreed. So I started taking cameras on rent and learning the craft on my own," says Bajracharya.
But this was just his fascination with the camera. It was only in 1987 that Bajracharya got into photojournalism.
"On the July 17, 1987 issue, the daily newspaper 'The Commoner' published a photo I had taken of an accused criminal being brought to Charkhaal court. It felt so good seeing my work and byline in the newspaper, and it was the driving force behind my decision to become a photojournalist," says Bajrachraya.
Over the years, he has covered the fatal stampede at Dashrath Stadium during a football tournament in 1988, the People's Movement of 1990, and taken photos of leading personalities like Ganesh Man Singh and Toni Hagen.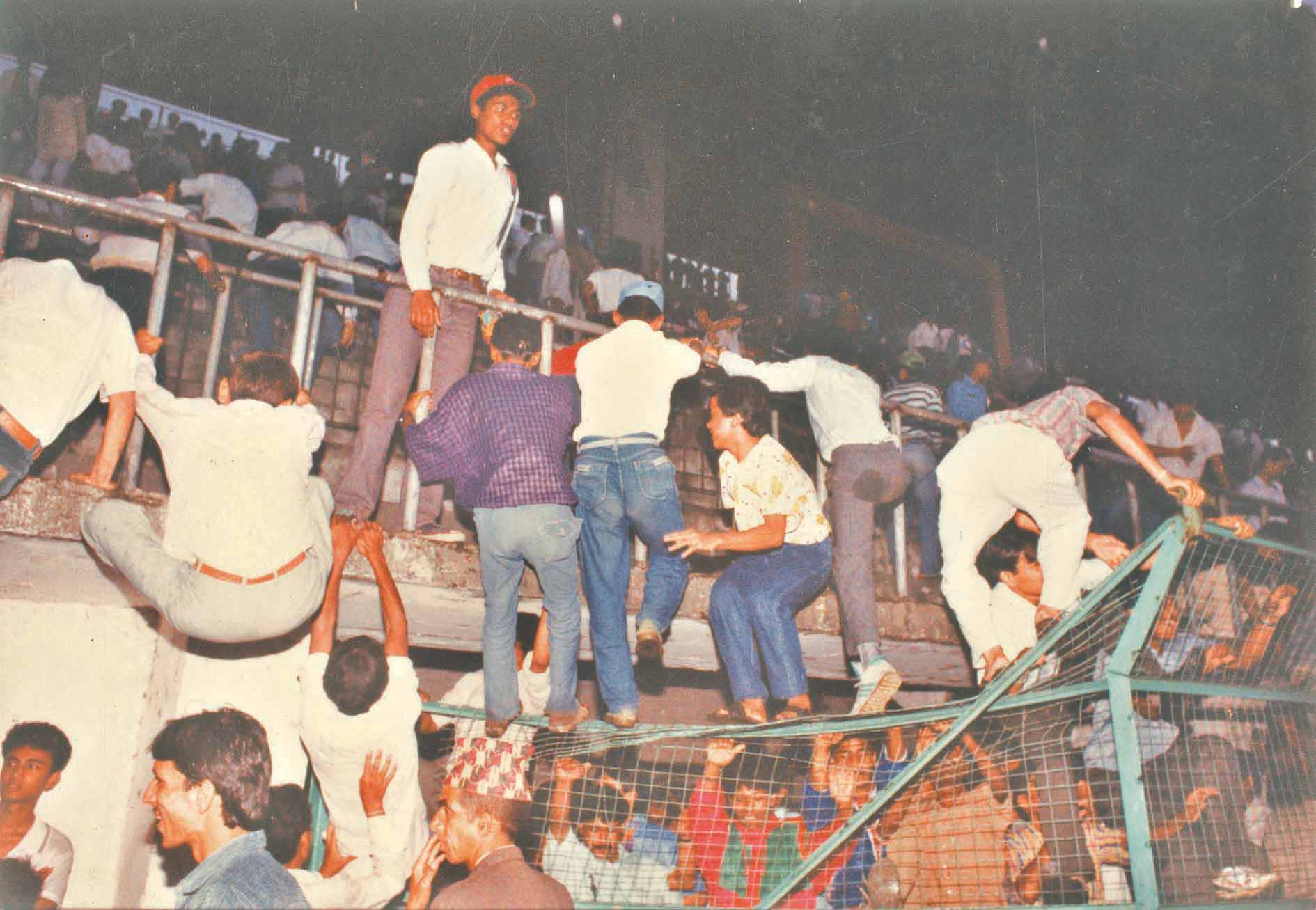 One of the photos Min Ratna Bajracharya took of the fatal stampede during a football tournament at Dashrath Stadium in 1988. Photo Courtesy: Min Ratna Bajracharya
"To be a photojournalist, you have to have a professional camera but in the 80s, such cameras would cost an arm and a leg. This was one of the reasons there weren't many photojournalists," says Bajracharya. "Another reason was since Nepal's media industry was just developing at the time, there weren't many opportunities for photojournalists. Many didn't even consider photojournalism as a career option."
But a shift, Bajracharya believes, began to happen during the 1990 People's Movement.
"Many foreign photojournalists from leading media houses as well as from renowned news agencies like the Associated Press, Agence France-Presse, and Reuters landed in Nepal to cover the historic event. Nepal's photos got published internationally. This, I think, made people realise the potential of photojournalism as a career option and Nepal started seeing a gradual increase in photojournalists from there on," says Bajracharya.
"A lot has changed since then. Even the way people look at this profession has changed. Recently, I met someone who took pride in the fact that his son-in-law is working as a photojournalist. Today there are so many promising young photojournalists in the country and many of them are doing great work and this makes me happy."
The fact that entry-level professional cameras are no longer as expensive as they once used to be has made photography more accessible and popular than ever. The photojournalists the Post spoke to say this change has had a direct impact on Nepal's photojournalism landscape.
When Skanda Gautam, who works at The Himalayan Times, a daily English newspaper, started working as a photojournalist eight years ago, he admits that the only thing going for him was his photography skills and his desire to better his craft.
"I had very little knowledge on what the job entailed," he admits. "I didn't have any knowledge on current affairs of the country, which I think is important for a photojournalist," says Gautam. "During my initial days, I would be assigned to cover political events but I didn't even know who the country's leading political figures were. It took me a while to understand the difference between photography and photojournalism."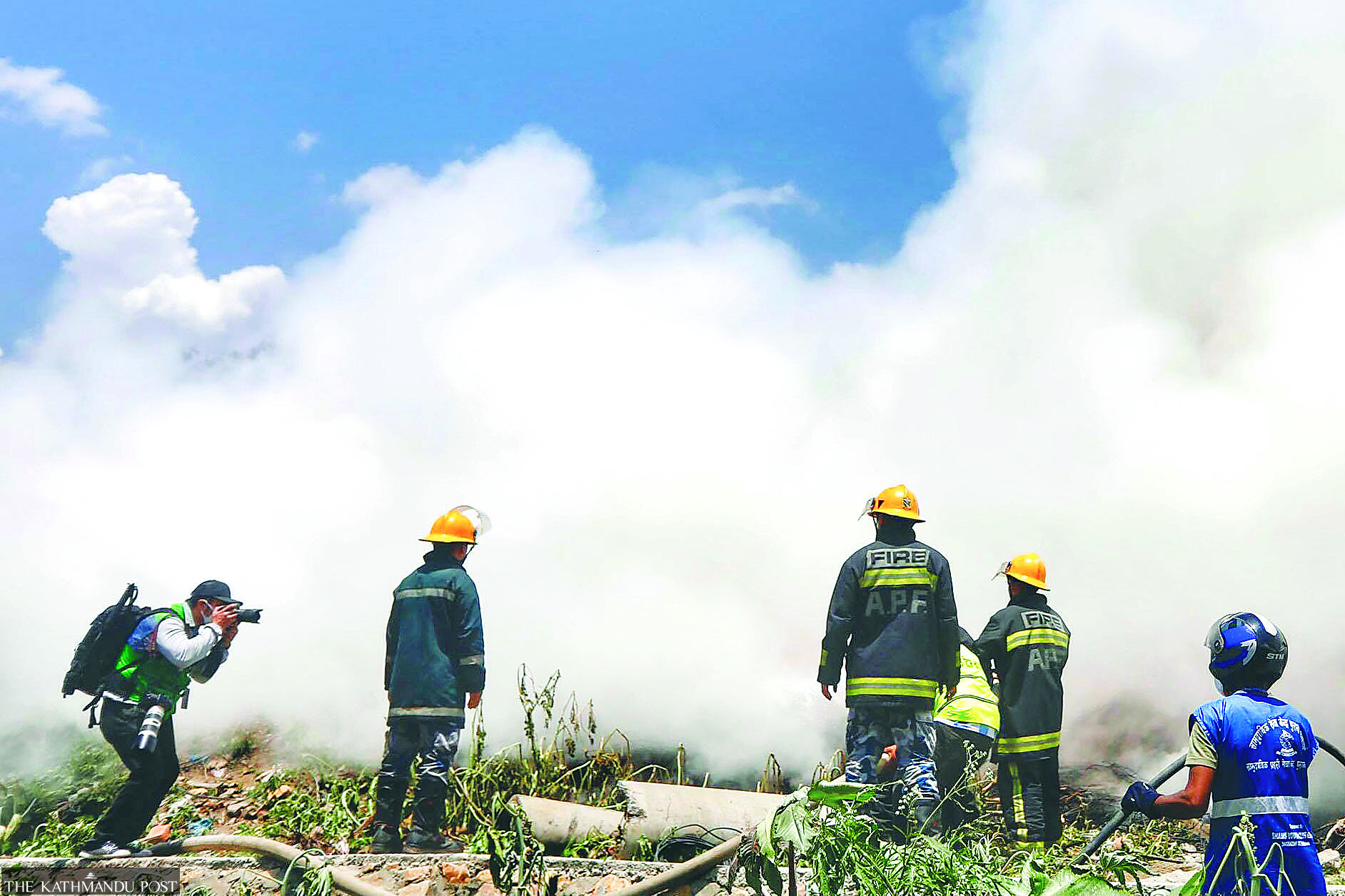 A photojournalist takes pictures as firefighters attempt to douse a fire in Teku in June 2021. Post File Photo
However, for Uma Bista, who was one of the handful of female photojournalists when she started more than a decade ago, her challenges were completely different.
"I was often the only female photojournalist in the room and there were a lot of occasions when I felt left out of conversations. At times, I didn't feel I had people to share things with," says Bista. "It was my determination to succeed as a photojournalist that got me through those days. Over the years, the number of female photojournalists in the country has definitely increased but the male-female photojournalist ratio is still very lopsided."
Deupala, who started her career in photojournalism three years ago, represents the newer generation of women photojournalists. When it comes to gender inequality in her profession, Deupala says that it varies from organisation to organisation.
"I have never faced gender inequality at work but I do feel that as a woman I have to try harder to prove myself. Of course, I want to be known because of my work and my craft, not because I am a woman," says Deupala.
An issue that almost all photojournalists unanimously agree with is the lack of well-paying jobs for photojournalists available in Nepal.
"Unlike many professions, photojournalists have to update their gears if they are to continue to produce quality work. But given how expensive photography equipment is and how little photojournalists get paid, the investment often doesn't make sense. And for someone like me who comes from a middle-class background, no matter how much I would want to better my craft, not being able to afford gears is a huge professional setback," says Bista.
This issue, says Bajracharya, is not new and even photojournalists of his generation had to deal with it.
"Back in those days, media outlets often times would not pay photographers, they would refuse to give them credit for their works," says Bajracharya.
Many of the issues that are plaguing the profession, says photojournalists, stem from the fact that the Nepali media industry do not deem photography an important aspect of storytelling.
"As a Kathmandu-based photojournalist, I do not want to limit my work only to what's happening in and around the Valley," says Gautam. "But media outlets here are very reluctant when it comes to investing time and money required to send photojournalists to far-flung regions of the country where the real stories are."
Despite the many challenges that the current crop of photojournalists in Nepal work with, many are hopeful that things will change for the better.
"In the three years that I have worked as a photojournalist, I have realised how important photos are as a story-telling medium. Photojournalists I know are passionate about their work and go to great lengths to provide quality and impactful work. This profession deserves respect like any other line of work and it should be taken seriously by the entire industry," says Deupala. "I am hopeful that such a day will come soon and the profession and the professionals involved in it will see much more talented people delivering quality work."
---
---