Music and dance keep people's spirit alive at quarantine centres
To lessen people's stress and anxiety, a couple of independent groups in Surkhet have been providing free, socially-distanced entertainment sessions for people in quarantine.

Keshav Thapa with his team has been conducting dance sessions in three quarantine centres in the Karnali region for the past one month. Photo courtesy: Keshav Thapa
bookmark
Published at : June 21, 2020
Updated at : June 24, 2020 11:39
Kathmandu
When fitness and dance instructor Keshav Thapa, along with his team of four dancers and two technical helpers, reached one of the quarantine centres in Surkhet on Wednesday morning, people rushed excitedly out of their rooms onto an open space.
In a matter of minutes, speakers were playing the popular Nepali song 'Mohani Lagla Hai' and everyone was following Thapa's dance steps, as he took centre stage but at a safe distance of 10 metres.
For the past one month now, Thapa, with his team, has been visiting three quarantine centres around Karnali region, conducting free dance and meditation sessions for people isolated in quarantine centres. The sessions are being held with permission from the ward chairman.
"One brother here told me it's the highlight of his day. It is just a nice feeling to see them moving and having fun," said Thapa, a Surkhet native. Thapa is professionally based in Kathmandu but moved back home as the lockdown was announced to be with his family. He says he came up with the idea of conducting these sessions at quarantine centres to encourage people living there to stay positive and to remind them that there are people who care for their wellbeing.
"Quarantine centres have turned out to be a hostile and isolated place where, in the lack of entertainment facilities, most of the people are staying idle. Staying like that in an already stressful situation can have severe effects mentally," he says.
Along with dance sessions, Thapa also conducts basic meditation classes. "I thought I could use dance therapy and meditation to lift their spirit and motivate them," said Thapa, who has also been providing food and sleeping mats for the people in quarantine centres.
Over the last few months, the Covid-19 outbreak has driven millions of Nepali migrant workers to return to their homes only to find themselves ending up in poorly managed quarantine centres, where they spend long days of anxiousness and boredom. In such a situation, people—from local and national artists—are doing their bit by reaching out to those quarantined and helping them by uplifting their spirits through meditation, music and dance.
Suraj Lamgade, a lead singer of Blooms Band, a local music band in Surkhet, said that his band has teamed up with Zappers Band, another local music band, in order to perform concerts in different quarantine centres around Surkhet.
According to Lamgade, he and his band members are part of motivational and musical therapy in quarantine campaign, supported by IDEA Nepal, an NGO working for Children's rights, Nepal youth council Karnali province, Bikram sound system and organized by Save girls, self defence campaign of Karnali province Nepal.

"For five days now, we have visited four different quarantine centres to perform one-hour gig for our brothers and sisters in quarantine centres. 'Lok' and 'Dohori' songs are high on demand and we have amazing audiences who dance and sing along with us in a total zeal," said Lamgade.
Lamgade and his team of 10 members make sure that they maintain safe distance (of at least 10 to 15 metres) between them and the people at quarantine centres at all times. They also use sanitizers, gloves and masks for protection. Their plan is to perform at as many quarantine centres as possible and to continue performing as long as there are quarantine facilities.
Lamgade says that when he saw reports of how Nepali migrant workers were struggling to find their way home and how people were living in pitiable conditions in poorly organised quarantine, the band members felt that they could use music to brighten up people's days.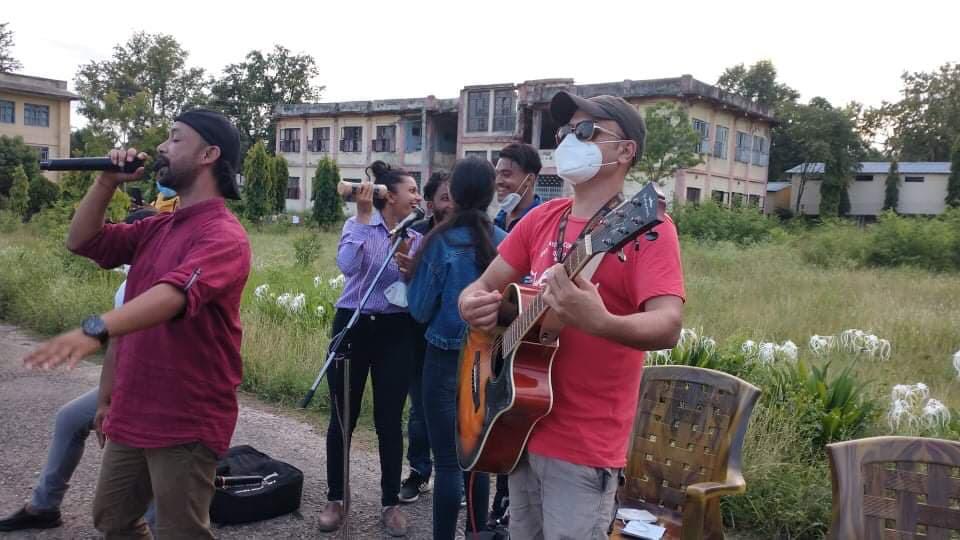 Members of local bands like Blooms Band and Zapprs Band have also been giving free performances in different quarantine centres around Surkhet. Photo Courtesy: Suraj Lamgade
"There are people in quarantine who are facing stigmatisation, who are suffering from homesickness and anxiety. We want them to return to their homes safe and with some good memories of them singing and dancing," said Lamgade.
People across the world have been using music and dance as a refuge to ease their anxiety and boredom in these uncertain times. There are also videos that have gone viral, such as the one from Italy where people took to their balconies, windows and rooftops to sing to lift each others' spirits and to show gratitude to frontline health-care workers.
Thapa says that by helping others, he is helping himself to stay positive amid the crisis. "In the beginning, I was helping the people in need by distributing food and water. However, soon, I ran out of money. I was in agony because I didn't know how I could help. Then I realised that I could use my dance skills to help people around me. This experience has made me realise that anyone can help in their own ways to make this world a better place," said Thapa.
Both Thapa and Lamgade said that they have been overwhelmed by the positive responses from the people at the quarantine centres and the local authorities. Lamgade said that they have also received invitations from other districts, like Dhangadi, to sing for the people in the quarantine centres.
"The other day, it was raining when we reached one of our quarantine centres. And my students were outside, waiting for us, in the rain. I felt so overwhelmed and happy that they are enjoying our sessions," said Thapa.
---
---