Poor quarantine facilities could themselves become outbreak hotspots, doctors warn
In quarantine, people are closely packed into small spaces and they continue to share things like cigarettes, raising the risk of the virus spreading among them.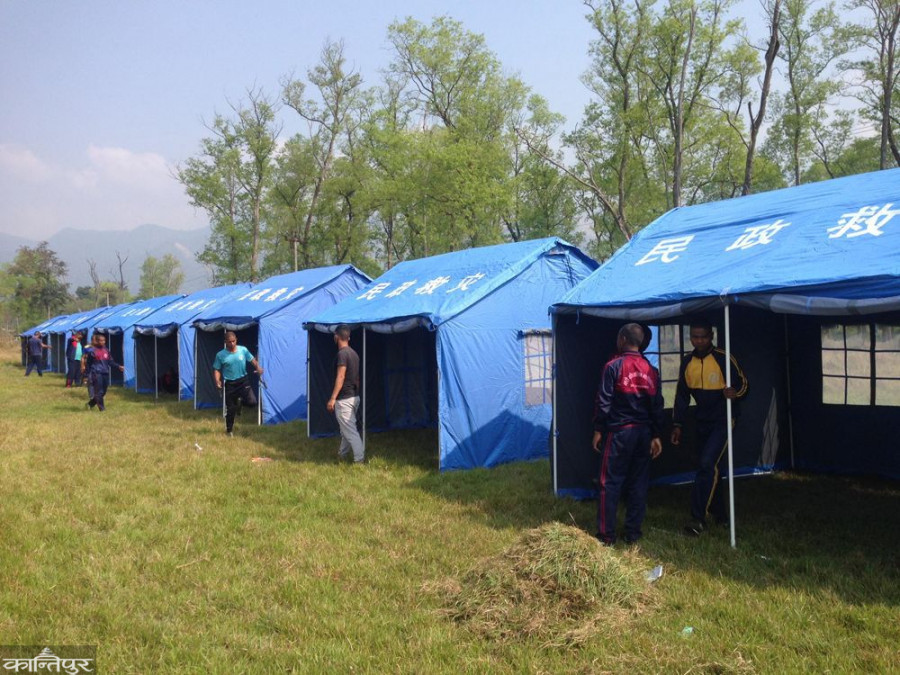 A 100-bed temporary treatment centre set up by Sunwal Municipality in West Nawalparasi. Post File Photo
bookmark
Published at : April 6, 2020
Updated at : April 6, 2020 11:54
Kathmandu
Of the three people who tested positive for Covid-19 on Saturday, two—a 21-year-old man from Kailali who had returned from Mumbai and a 41-year-old man from Kanchanpur who returned from Uttarakhand, India—had spent 11 days in quarantine when they came down with symptoms.

There were, however, 44 people in the quarantine facility in Kailali and 13 in Kanchanpur, with these patients.
"Such quarantine facilities where we are keeping people in the dozens are risky," said Dr Sher Bahadur Pun, a virologist at Sukraraj Tropical and Infectious Disease Hospital in Teku. "A single infected person can easily pass the virus to several others."
Over the last few days, people in large numbers have arrived from India. Though after the lockdown thousands of them have been stopped on the other side of the border, those who made it to Nepal have been placed in quarantine facilities where they are living in close proximity with each other and sharing many things, including cigarettes and chewing tobacco. In some instances, people in quarantine are even sharing beds, according to Pun.
"Such negligence can jeopardise the lives of many others," said Pun. "We have locked down the entire nation to contain the risks but have failed to manage proper quarantine facilities. This defeats the whole purpose of lockdown and social distancing."
The government has not yet defined quarantine, isolation and social distancing properly, nor has it arranged for proper quarantine facilities in various districts outside the Valley.
About a week ago, after the fourth case was detected in Dhangadhi, Dr Gunaraj Awasthi, health director of Sudurpaschim Province, had complained that the federal government's failure to properly define what constitutes quarantine and isolation had created confusion regarding what kind of facilities they were supposed to set up.
People are generally kept in quarantine when they are suspected to have been exposed to the disease but are not ailing. They are generally kept in isolation once they come down with symptoms and test positive for the diseases. But the government has used the terms isolation and quarantine interchangeably. For instance, the Health Ministry's Covid-19 online portal says that 113 people are currently in isolation, but it is unclear what exactly that entails.
Dr Mingmar Gyelgen Sherpa, former director of the Department of Health Services, agrees that the quarantine facilities built in most districts are problematic.
"We should manage those centres properly to curb the spread of disease," Sherpa told the Post. "Otherwise, those quarantine facilities themselves can become outbreak hotspots."
In much the same way that the government has failed to provide proper quarantine facilities, social distancing remains contested in Nepal. The government has imposed a nationwide lockdown, shutting down schools, public transport, movie theatres, stadiums and forced people indoors, but shops selling daily essentials are allowed to open a few hours in the morning and evening, creating crowds of people at these times.
"Avoiding mass gatherings and maintaining distance constitute social distancing," said Sherpa. "But if there are crowds at grocery stores, how can we get the desired result?"
Testing everyone who has returned from countries with active outbreaks, including India, while placing them in proper quarantine facilities is the only way to prevent the coronavirus from spreading in the community, said Sherpa.
Dr Bikash Devkota, spokesperson for the Health Ministry, said that the ministry was aware of the concerns expressed from several quarters regarding the condition of quarantine facilities.
"No doubt, such facilities should meet minimum standards," he said at a regular press briefing on Sunday. "We will request provincial and local governments to ensure that standards are met and that these facilities are monitored."
Frequently asked questions about the coronavirus outbreak
UPDATED as of September 22, 2020
What is Covid-19?
Covid-19, short for coronavirus disease, is an illness caused by the coronavirus SARS-CoV-2, short for severe acute respiratory syndrome coronavirus 2. Common symptoms of the disease include fever, dry cough, fatigue, shortness of breath and breathing difficulties. In severe cases, the infection can cause pneumonia, severe acute respiratory syndrome, kidney failure and even death.
How contagious is Covid-19?
Covid-19 can spread easily from person to person, especially in enclosed spaces. The virus can travel through the air in respiratory droplets produced when a sick person breathes, talks, coughs or sneezes. As the virus can also survive on plastic and steel surfaces for up to 72 hours and on cardboard for up to 24 hours, any contact with such surfaces can also spread the virus. Symptoms take between two to 14 days to appear, during which time the carrier is believed to be contagious.
Where did the virus come from?
The virus was first identified in Wuhan, China in late December. The coronavirus is a large family of viruses that is responsible for everything from the common cold to Middle East Respiratory Syndrome (MERS) and Severe Acute Respiratory Syndrome (SARS). After an initial outbreak in Wuhan that spread across Hubei province, eventually infecting over 80,000 and killing more than 3,000, new infection rates in mainland China have dropped. However, the disease has since spread across the world at an alarming rate.
What is the current status of Covid-19?
The World Health Organisation has called the ongoing outbreak a "pandemic" and urged countries across the world to take precautionary measures. Covid-19 has spread to 213 countries and territories around the world and infected more than 31,405,983 people with 967,505 deaths and 22,990,260 recoveries. In South Asia, India has reported the highest number of infections at 5,557,573 with 88,943 deaths. While Pakistan has reported 306,304 confirmed cases with 6,420 deaths. Nepal has so far reported 65,276 cases with 427 deaths.
How dangerous is the disease?
The mortality rate for Covid-19 is estimated to be 3.6 percent, but new studies have put the rate slightly higher at 5.7 percent. Although Covid-19 is not too dangerous to young healthy people, older individuals and those with immune-compromised systems are at greater risk of death. People with chronic medical conditions like heart disease, diabetes and lung disease, or those who've recently undergone serious medical procedures, are also at risk.
How do I keep myself safe?
The WHO advises that the most important thing you can do is wash your hands frequently with soap and water for at least 20 seconds or use hand sanitizers with at least 60 percent alcohol content. Avoid touching your eyes, nose and mouth with unclean hands. Clean and disinfect frequently used surfaces like your computers and phones. Avoid large crowds of people. Seek medical attention if symptoms persist for longer than a few days.
Is it time to panic?
No. The government has imposed a lockdown to limit the spread of the virus. There is no need to begin stockpiling food, cooking gas or hand sanitizers. However, it is always prudent to take sensible precautions like the ones identified above.
---
---