The tale of the singing bowl
Singing bowls are everywhere in Kathmandu, but where did they come from, and how did they become integral to sound therapy is still difficult to trace.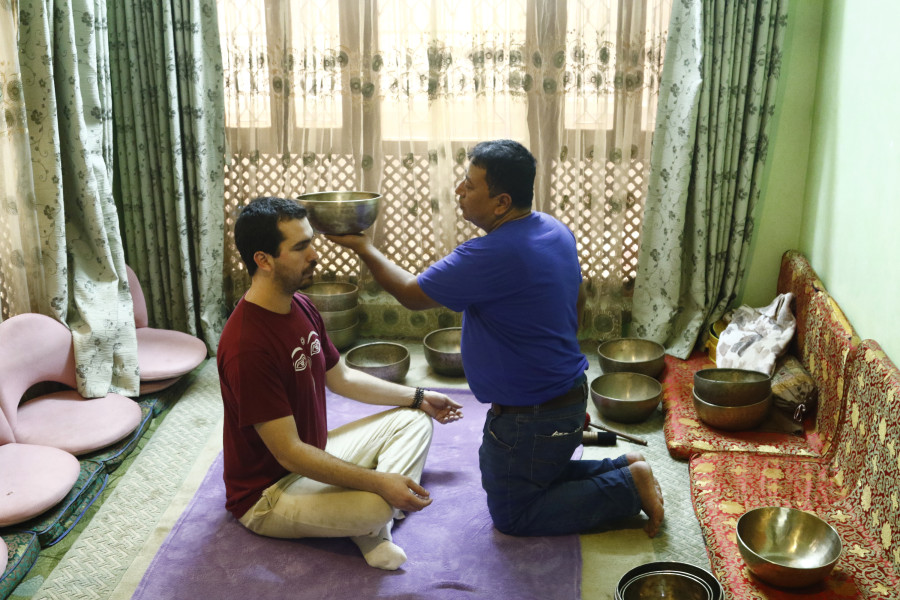 Santa Ratna Shakya during an aura cleansing session of one of his students Nicholas Edwardo Blanch at his house in Boudha. Keshav Thapa/ TKP
bookmark
Published at : August 14, 2019
"Close your eyes and keep your muscles loose," said Santa Ratna Shakya, a singing bowl sound healer based in Boudha. Nicholas Edwardo Blanch, his student from Chile, following his words, sits comfortably cross-legged. His eyes are closed as Shakya begins the cleansing aura therapy with a singing bowl.
Shakya strikes the big metallic bowl with his fist, and a peaceful sound reverberates through the room as he slowly moves the pot that is placed in his palm to Blanch's right ear and then gently to his left and then towards his forehead from where he moves the bowl down to his navel and up again near his heart. The process, Shakya claims, cleanses body aura and creates a shield to protect the body from worldly negative energy—at least for the day.
In recent years, sound healers like Shakya have been providing such sessions in many parts of Kathmandu. The 'healers' use the vibrations and the sound of the singing bowls to heal the mind's burden. Practitioners also say the sound of the singing bowl helps those suffering from anxiety, depression, mental fatigue and insomnia. Meditating with a singing bowl has also been gaining the interest of many who are looking for emotional well-being, but these beliefs are muddled as are the origins of these bowls.
"When the Licchavi princess Bhrikuti was married to Songtsen Gampo the 33rd Tibetan King, Bhrikuti took particularly two things with her: a statue of Buddha and a rice bowl to serve for rituals. The bowl must have started the invention of Tibetan bowls," says Salil Subedi, who has authored two books on singing bowls that discuss the methods of sound healing that sound healers like Shakya, and others like him, have been using.
According to Subedi, it's hard to ascertain when the once 'kitchen bowl' evolved to become a tool for sound meditation and healing. But he is certain that its history can be traced back to Nepal, unlike the popular belief that it has Tibetan origins.
"In order to boost diplomatic relations between the two countries, there used to be a lot of cultural exchange," he says. "The most popular one is Araniko's travel to Tibet, who was accompanied by other 80 artisans and took a lot of metal knowledge with them."
The metallic bowl, which is also known as dabaka or bata in Nepali before it became the singing bowl, was used as janai bata, or rice bowl, says Shakya. The bowls are made using seven metals: copper, tin, zinc, lead, iron, silver and gold, and it is said that eating from such bowls provide minerals to the body, especially for pregnant women.
"Bhrikuti must have taken the metallic bowl for the same purpose, to eat healthy from the bowl during her pregnancy. But you see, Nepalis were always using those kind of bowls," says Shakya.
The verb 'singing' started accompanying the bowl only after the 1960s, says Subedi. But for centuries, the bowls have been a prominent element in the various representations of Buddhas, in which it is used as an alms bowl.
"In fact, while researching for my second book, we found that the name 'singing bowl' was coined by Jit Bahadur Shahi, a trader of handicrafts," says Subedi. "He said there was no name for the bata and that he had named it singing bowl because of the beautiful sound it made, and now the name is used everywhere in the world."
Tracing how the name later evolved as Tibetan singing bowls, Subedi explains, "The bowls made a return again with Tibetan refugees, which they were selling to make a living. Maybe then it started being known as Tibetan."
Aman Shahi, another sound healer, based in Chiang Mai, Thailand, says traders' decision to call the bowls Tibetan bowls was part of a marketing scheme. "Many dealers at the time marketed the bowls as Tibetan, marking them as a more valued product. However, this wasn't true, they were made here in Nepal," says Shahi who has been practising sound healing through singing bowls in Chiang Mai for 13 years and has many Chinese and Thai students learning his healing techniques.
But German reiki and sound healer Peter Effenberger disagrees with these theories. The owner of Sound Planetarium in Boudha, who has been living in Nepal for the past 23 years, believes that the bowls have a Tibetan origin, but its use for meditation and mind healing came from the West. Effenberger uses the singing bowl to carry out various treatments including menstrual cycle regulation, detoxification and aura harmonisation through the use of singing bowls.
"I learned the technique of singing bowl healing through fellow Germans and Australians," he says. "You could say I collected inspirations from them and gradually explored with the tool."
However, the Tibetan lineage looks uncertain with monks confirming the use of singing bowls for meditation and healing are unheard of. "They are called Tibetan singing bowls, but we don't use them in our monastery for meditation," says Funchhok Dorje, a Tibetan monk who lives in Boudha.
The bowls today come all the way from India and Tibet, and only a few are manufactured in Nepal. "People have stopped making them in Nepal because the business is not so good here anymore. I would say the business is profitable for those who are also teaching the use of the singing bowls, but for shops selling singing bowls only, the business isn't paying anymore," says Effenberger.
"It's mostly foreigners who come to buy singing bowls as souvenirs. But I haven't had to explain to many foreigners about the therapeutic aspect of the singing bowl, as they seem to know more about it than I myself do," says Pradeep Lamsal, who owns Alloy Singing Bowl shop in Patan.
However, Shakya for many years has been manufacturing hand-beaten singing bowls and has been exporting them to many countries. The market for singing bowls, according to him, has expanded and the bowls can be found everywhere in the world.
"Sound therapy through singing bowl has more followers in foreign countries than here; for Nepal, this is still a relatively new idea, and not many believe in its implication, but the world outside values this healing rigorously," says Shakya.
Shakya and Shree Krishna Shahi travelled to many countries together to teach their healing methods. "I think the metallic bowls shifted to becoming singing bowls when people started practising Buddhist meditation. The sound pulls you in and helps you reconnect with your consciousness," says Shakya.
Shakya also believes that the singing bowl sound therapy helps the flow of blood and loosens tense muscles. "We probably won't be able to cure a disease, but we can help a person feel better," says Shakya. The singing bowl sound healers basically focuses on releasing pressure from various focal centres of spiritual energy (chakras) in the human body to heal the burdens the mind bears which they say is the process of separating the physical self from the cosmic self.
Sound healing has been part of ancient medicine, even shamans used metal sounds, says Shakya. Music therapy also dates back to ancient Greece when sounds and songs were used to cure mental disorders.
"Music can help us calm down, and therefore, we suggest many psychiatric patients to listen to soothing music," says Doctor Ritesh Thapa, consultant neuropsychiatrist at Rhythm Neuropsychiatry Hospital and Research Center. Today, music and sound therapy are part of rehabilitation programmes worldwide to reduce anxiety, stress and depression.
However, clinically, the therapeutic use of singing bowl can only serve as a supportive therapy, says Thapa. "Like yoga, singing bowl sound healing therapy can be a part of supportive exercises. For severe cases of depression, insomnia and anxiety, people will need medication," says Thapa.
But Blanch who was previously suffering from anxiety believes the singing bowl therapy helped him overcome his anxiety, and so he wanted to learn more about the technique and therefore, ended up coming to Nepal.
However, Shakya who has been using singing bowls to heal people for 35 years now understands that the therapeutic use of singing bowl cannot be termed as relief or treatment. "We can only say the effects of singing bowl's sound can assist people to heal as its result is more emotional and psychological," says Shakya. "We probably won't be able to cure a disease, but we can help a person feel better."
Although, scientific and medical reasoning question the healing method of singing bowls, with researches that can back its effect still underway, singing bowls are popular among tourists as souvenirs and are omnipresent in Nepali trinket shops. Many who come to Nepal seeking refuge from the worldly materialism have fallen for the sound of the metal bowl. With just one ding, the reverberating intensity of the bowl can even make the most sceptic of people consider the profound depth that believers vouch for.
---
---