First day of lockdown in Capital: Main roads empty but back alleys largely unaffected
Police detain more than 2,400 individuals and 1, 920 vehicles for breaching the prohibitory orders.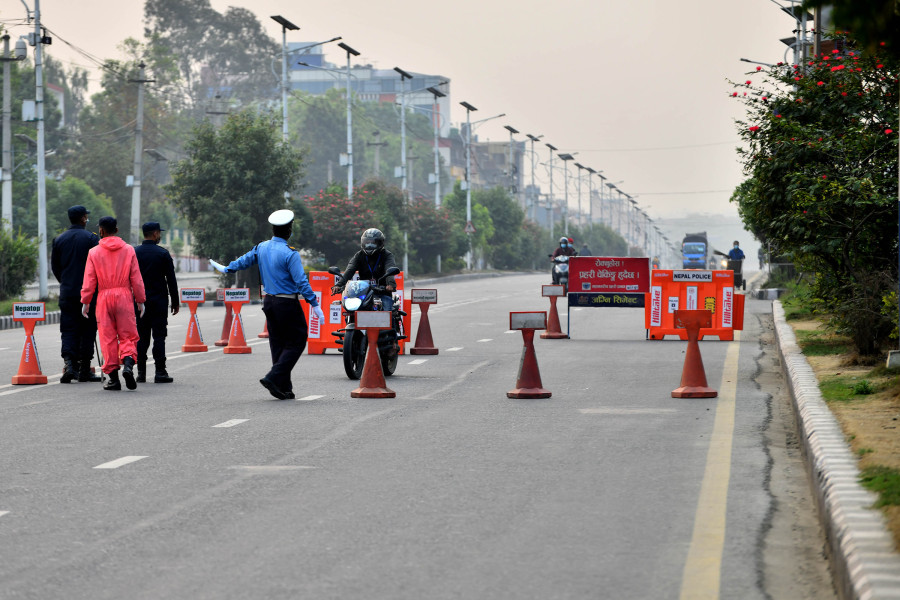 A traffic officer signals a motorcyclist to stop on the first day of the lockdown in Kathmandu on Thursday. Deepak KC/TKP
bookmark
Published at : April 30, 2021
Updated at : April 30, 2021 07:53
Kathmandu
Roads in Kathmandu Valley remained almost empty throughout Thursday, the first day of the 15-day-long prohibitory orders aimed at stemming the spread of the coronavirus.

Security throughout the Valley was heightened from early morning to monitor unnecessary movement of people and vehicles. Only those vehicles offering essential services were allowed to ply.
According to the Metropolitan Traffic Police Division, a total of 1, 920 vehicles—1,355 were two-wheelers and 569 four-wheelers—were detained for breaching the ban. The vehicles were released after 4pm.
Although almost all road sections were empty, major bus parks including Kalanki, Koteshwar and Gongabu were crowded with people waiting for buses to their hometowns outside the Valley.
"Yesterday, we waited here for over five hours for a ride, but all the buses were packed. Also the police didn't allow passengers more than the seating capacity. So we are trying our luck today," said a masked Mahendra Prasad Yadav, 49, who the Post met late in the morning at Kalanki with his three friends waiting for a bus to Kakadbhitta.
Yadav and his friends had arrived at Kalanki from Koteshwor early in the morning.
"We came here early in the morning hoping to catch a bus, but we still haven't," said Yadav, who works at a motorcycle garage.
Superintendent of Police Shyam Krishna Adhikari, spokesperson for the Metropolitan Traffic Police Division, said eight buses were allowed to leave the Valley on Thursday.
"Many passengers had bus tickets for Wednesday but they could not head home because fewer buses were available," said Adhikari.
Besides monitoring the mobility of non-essential vehicles, security personnel also restricted the movement of people on the street.
Those who were outside their homes without valid reasons were stopped and made to stand inside roped enclosures as a punishment.
According to Metropolitan Police Range, Ranipokhari, 2,422 people were detained for breaching the prohibitory orders.
"We also made them aware of the current pandemic and even distributed masks, before letting them go," said Senior Superintendent Sushil Singh Rathour, spokesperson for the Metropolitan Police Office, Ranipokhari.
Over 5,200 security personnel including those from the traffic police and the Armed Police Force were deployed at 722 places across the Valley on Thursday to enforce the prohibitory orders.
While the scene on the streets on the first day of the prohibitory orders bore familiarity to last year's lockdown, there seemed to be less fear and anxiety among the people this time. Unlike last year, there was no panic buying and hoarding of essentials.
"Last year edible oil, salt, pulses, and sugar had already been sold out a day before the lockdown, but this time that didn't happen," said Kalyan Khanal, a grocer at Chhetrapati.
"Maybe they are less worried this time and also because shops will open in the mornings and the evenings every day," added Khanal.
Although doctors and virologists have been warning that the new variant of Covid-19 is more contagious and deadlier than last year's, people appear less worried this time.
While the main roadways and thoroughfares were largely deserted on Thursday, life seemed normal in some inner neighbourhoods and alleyways. People were seen moving about freely, ignoring social distancing, and some of them even didn't have masks on their faces.
"I think this virus thing is just a hoax," said Dan Bahadur Magar, a taxi driver,47, who lives in a rented room with his family of four at Thapathali. "Last year also the government scared us so much, but nothing happened to us."
More than the pandemic, Magar was worried about his livelihood.
"If the government keeps on imposing restrictions, how can I pay my rent and feed my family," he said.
Virologists say that lockdowns are essential in order to break the chain of transmission of the coronavirus.
"Prohibitory orders are good but should be imposed only for a short period. And the government should enforce these prohibitions more effectively this time because the working class people cannot sustain a longer lockdown," said Dr Sher Bahadur Pun, chief of the Clinical Research unit at the Sukraraj Tropical and Infectious Disease Hospital.
On Thursday, Nepal reported 35 more Covid-19 related fatalities with 4,831 new cases. The Ministry of Health's report shows that the Valley alone reported 1,561 new infections in the past 24 hours. Of them, 1,127 cases were confirmed in Kathmandu, 252 in Lalitpur and 182 in Bhaktapur.
---
---