This weekend, go camping
With spring almost here, the weather is perfect to pack up your tents and sleeping bags and camp with friends.

Daniel Nainggolan/ Unsplash
bookmark
Published at : February 26, 2021
Updated at : February 26, 2021 09:58
Kathmandu is surrounded by hills that make for the perfect destinations for a quick getaway into nature. And with spring almost here, the weather is perfect to pack up your tents and sleeping bags and camp with friends. Keeping that in mind, here are some destinations near the Valley that can be the perfect spot to camp on the weekend.
Hattiban
Located in the hills southwest of the Kathmandu Valley, just a little above Pharping, Hattiban is an adventurer's heaven. The camping area, made of lush pine trees, is the perfect weekend option for those who want to spend some time in nature.
On clear days, Hattiban offers wonderful views of the Himalayas on the north with a sweeping, spectacular view of the Valley down below. For those who like to hike, you can spend the day hiking to Champadevi (at 2,278 meters) which takes around three hours to reach from Hattiban. Besides offering great walks in nature, the place is also great for rock climbing on natural cliffs, for mountain biking on the trails running through the forest and for visiting some of the nearby monasteries and temples in Pharping and Dakshinkali.
What's great about this forest is that you'll find a camping site almost anywhere you turn—without having to pay the fees.
For emergencies, campers can go to the nearby Hattiban Resort, which provides great accommodation and a fine-dining restaurant.
To get there, you have to start from Balkhu and go straight ahead through Chovar and Pharping.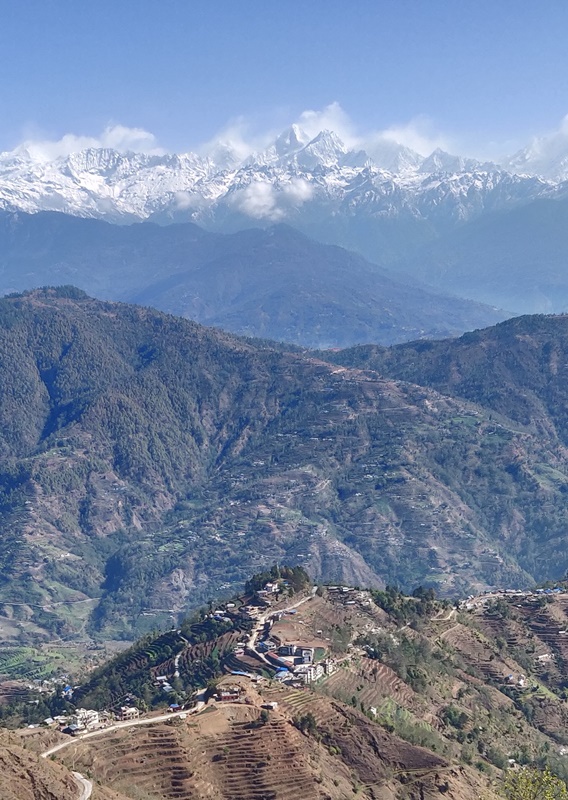 Post Photo
Bhotechaur
Located just two hours drive from Kathmandu, Bhotechaur is one of those destinations that has for long remained under the radar for years despite having so much potential. The mountain views from the place can rival that of Nagarkot and Dhulikhel, two destinations that are known for mountain views.
In the last few years, valley denizens looking for new weekend destinations to travel have started heading to Bhotechaur and that has resulted in a few resorts, hotels, and restaurants to pop up.
Although there are no designated camping spots, there's a hillock right above Heaven Hill Hotel and Resort, which makes for a great camping spot. The views from the spot are to die for. There are a few restaurants and houses near the spot where one can get drinking water and food from.
Those who do make it to Bhotechaur are rewarded not just with mountain views. The place is also home to a beautiful tea estate. A paragliding company Shankarapur Paragliding also offers paragliding services from Bhotechaur. For those looking for slightly tamer adventurous activities, like hiking, Bhotechaur, which borders Shivapuri National Park, has plenty of hiking routes. One can hike the many scenic villages that are strewn in Bhotechaur. If you prefer your hike much closer to nature, then hike to Chisapani, which is around two hours hike from Bhotechaur.

Tsering Ngodup Lama/TKP
Kulekhani-Markhu-Chitlang
Just around 40 km away from Kathmandu, Kulekhani dam, also known as Indra Sarovar, offers urban dwellers respite from the Capital's concrete and dust. The dam, in Makwanpur District, with its clear, emerald waters, surrounded by small hills is the perfect place to camp.
If you have time and are in the mood for adventure, you can head to Markhu and Chitlang as well—two popular destinations that are close by. The Kulekhani-Markhu-Chitlang loop offers travellers plenty of options: you can hike, bike around, enjoy a picnic on the banks of the dam, even go boating.
Markhu is a small town at the northwestern shores of Kulekhani and offers some of the best hiking routes in the loop. Just about 30 mins drive further from Kulekhani Dam, it is the nearest village to the dam. Chitlang, a Newa village, is a few kms further away. If you have time, enroute to Chitlang, there's a famous goat cheese factory as well—which is a must visit for cheese lovers.
Bheda Farm is another key attraction point in this area, where lush, green hillocks makeup for a charming landscape. The place is only about 15mins from Markhu.
To get to Kulekhani, you'll have to start from Balkhu. Then head to Chovar then to Pharping then Salle. Just take the pitched road and in a couple of hours, you will reach Kulekhani.
Tarebhir
For those who want a great camping spot not far from the city, Tarebhir might just be the answer. There are several trails to Tarebhir—via Sundarijal, Budhanilkantha and Jagdol in Gokarna.
The last is one of the more popular routes and it is so for a reason. The trail is relatively easy and the beginning section of the trail meanders past tall pine forests and then through broadleaf forests. Apart from the first 20 minutes, which is mostly uphill, the rest of the trail is relatively gentle. One need not reach Tarebhir village to find a great camping spot for there are quite a few beautiful camping spots on the trail itself. Around 40 minutes into the hike, there are several camping spots in the midst of pine forested hills. The only downside is that there are no human settlements nearby and that means you will have to arrange for your water and other necessities.
An hour into the hike, the trail's first restaurant appears—Old Village Cottage. The restaurant offers its space to campers and it also has tents on rent. A few metres away from the restaurant is Ultimate Venue. Apart from providing space for campers, the establishment also offers services like rappelling, rock climbing and other adventure activities. The perks of camping at these two spots is one need not worry about water and washroom facilities.
If you would like to camp in the midst of a human settlement and get an up close experience of life in a village, hike for another 30 minutes from the two restaurants and you will reach Tarebhir. Set on a sloping hill, this predominantly Tamang village is flanked by a ginormous hill to the north and by the Kathmandu valley southwest. Before deciding on a camping spot, be respectful and make sure you get necessary permission from the locals.
---