'Wedding Album' dives deep into familial dynamics
Katha Ghera's newest production looks beyond the glitz and glamour of wedding preparations.

Aashant Sharma (from left), Ranjana Bhattarai, Kenipa Singh Pahari, Loonibha Tuladhar and Sudam CK in a scene from the play. Deepak KC/TKP
bookmark
Published at : October 7, 2023
Updated at : October 7, 2023 06:57
Ah, weddings. There is something festive yet melancholic about them. On the one hand, it celebrates union, but on the other, it also marks loss—of individuality and, in the case of many women, freedom. If one looks beyond the ornate sarees, the festivities, the music and the rituals, weddings often become a setting for unravelling biases, secrets and preconceived notions within the familial sphere.

Katha Ghera's newest play, 'Wedding Album'—an adaptation of the play by the same name by Indian playwright Girish Karnad—delves into exactly that. Karnad and, in its Nepali iteration, director Akanchha Karki, peer beyond the glitz and glamour of South Asian weddings to reveal the forces that drive our collective fascination with this particular ritual.
The play begins with a projection of a pre-wedding video of the bride, Bidushi Koirala (played by Ranjana Bhattarai). Her innocent, clumsy charm is apparent within the video as she mumbles and blushes while talking about her soon-to-be-husband and life. However, as the play progresses, the audience is forced to consider whether this innocent feminine charm is inherent or internalised (because of the patriarchal structures at play).
Bidhushi is the youngest in the Koirala family. The father (played by Aashant Sharma) is a military doctor, and the mother, Rukmani (played by Loonibha Tuladhar), is a homemaker. Bidhushi's eldest sister, Hema (Kenipa Singh Pahari), has returned home from Australia, and her elder brother, Rohit (Sudam CK), is a producer/filmmaker of some sort. There's also another important person in the family, Kusum (played by Sebita Adhikari), the housekeeper.
It is soon revealed that Bidhushi's marriage is an arranged one, and she has never met her soon-to-be husband in real life. This erks Hema, who diminishes Bidhushi's and her family's archaic beliefs and support for Bidhusi's marriage. The family—modern in some aspects, traditional in others—is surprisingly okay when the youngest daughter is adamant about marrying a near stranger. However, it's unclear why Bidhushi decided to do so.
It is within the preparations for her wedding that buried secrets begin manifesting themselves. Hema's marriage seems to be in trouble, as she's constantly anxious about her husband's and son's whereabouts in Australia. Bidhushi seems to be hiding something—and her frequent visits to a nearby cafe baffle others. There's also the looming presence of the father's brother, Hira, a deceased member whose actions continue to haunt the family.
As the wedding date nears, the men in the family—particularly the father and brother—are quick to dismiss the important things that need to be done, claiming the whole "shopping business" is not for them. This comes as a form of 'weaponised incompetence' where the men can avoid doing simple but essential tasks by feigning clumsiness or ignorance. This hints towards domestic inequality in the family, where the women have to take up the brunt of not only focusing on household tasks but also external duties.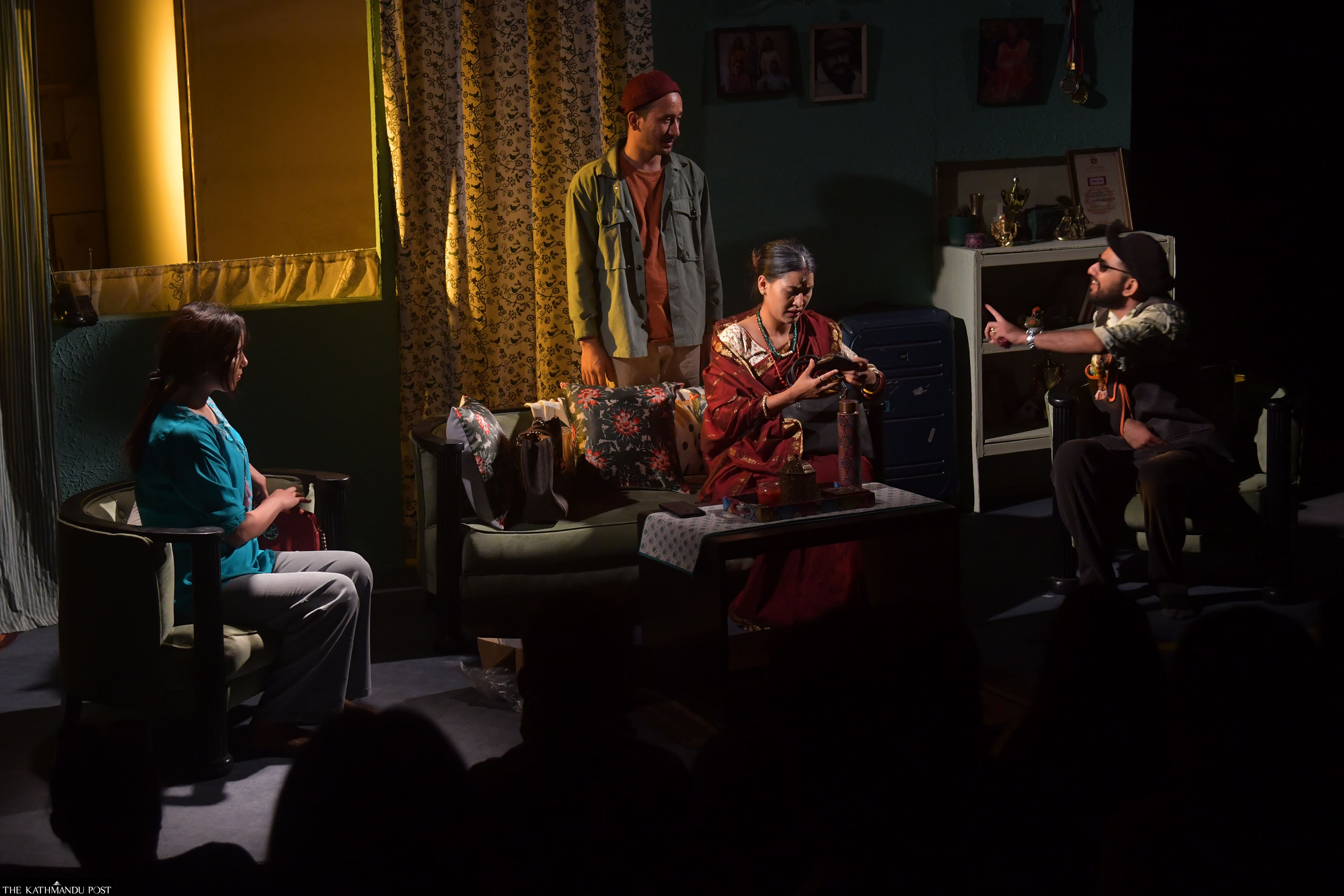 Distant relatives arrive unannounced with a marriage proposal for Sudam CK's character Rohit. Deepak KC/TKP
However, the more refreshing take within the play is that the women aren't just subordinated beings either. Each member has a particular bias (or more) within them—Rukmani cares too much about what society thinks, Hema projects her personal troubles to her sister, and Rohit comes off as a shallow, frivolous individual.
Similarly, the entire family projects a diminishing gaze on the housekeeper, Kusum, whose anger is simply dismissed as hysteria and her story—one of poverty and loss—is treated as a fantastical fiction and later appropriated by Rohit for a TV programme.
It is also interesting to see how Kusum herself self-polices—as shown by how she quietly sits herself on the floor while others rest on the sofa. This heartbreakingly reflects the covert ways in which class projects its sinister gaze within closed circles. Adhikari as Kusum is phenomenal; she carries the character so much depth that there's not a single moment that alienates the viewers from her character.
Similarly, Tuladhar—whose film and theatre discography is filled with sincere performances—is great as Rukmani. She carries Rukamani with the grace that mothers have, one that transcends terrible circumstances that are thrust on them. However, Rukmani is also one of the most troubled characters in the play, as she is a stringent upholder of the status quo, even if it means sabotaging her family's happiness.
The circular stage wheels around and transports us into two different periods. It is craftily designed and breathes life into the production. There are other subplots too—a rather comical one of relatives imposing a marriage proposal on Rohit, one with Hema and a neighbourhood boy, and the final one with Rohit's discussions about his TV programme with a fellow female producer (played by director Karki).
These subplots often feel sanctioned off from the main flow of the play, and it leaves audiences wondering just what purpose it serves within the bigger picture. Moreover, 'Wedding Album' leaves behind too many loose threads—attempting to veer into something bold but dropping it carelessly, never bothering to conclude them.
As the play ends, we are left with a myriad of questions: what exactly happened with Hema and her husband? How was Bishushi's first in-person meeting with her fiance? What was the deal with the beloved brother Hira? It's upto the audience to draw their own elaborate conclusions.
Wedding Album
Where: Kausi Theatre, Teku, Kathmandu
When: Till October 14
Show time: 5:15 pm, extra 1:00 pm show on Saturdays, closed on Tuesdays
---
---