Reserve runner Bogati strikes international marathon gold in his first win ever
On Saturday, Nepal also struck its first women's marathon medal as Pushpa Bhandari finished second.

Kiran Singh Bogati celebrates after crossing the finish line during the men's marathon at the Dashrath Stadium in Tripureshwor on Saturday. Keshav Thapa/TKP
bookmark
Published at : December 8, 2019
Updated at : December 8, 2019 10:13
Kathmandu
Nepal clinched the men's marathon gold after 24 years as reserve runner Kiran Singh Bogati finished the 42.195km race in 2 hours 21 minutes 7 seconds in his international debut. This is also his first win, ever.

Rashpal Singh of India completed the race at 2:21:57 for silver while fellow countryman Shre Singh secured bronze at 2:22:07 out of eight runners from five countries. Hom Lal Shrestha finished fourth clocking 2:24:31.
The last time a Nepali marathoner brought home a gold was during the Madras Games, in 1995, when Tika Bahadur Bogati (2:19:38) finished first.
In the 2010 Games in Dhaka, Nepal's Rajendra Bhandari had struck gold but the results were later dismissed after the race course was discovered to be 7km short of the official requirement.
On Saturday, the 34-year-old assistant head constable of the Armed Police Force led the race right from the beginning to the end before the race concluded with a final lap at the Dashrath Stadium track.
"My target was to go for gold if possible and finish the race by 2:18:00," Bogati told the Post, after the race. "But I was short of energy after I reached the stadium."
But Bogati's winning time at the 13th South Asian Games lags behind current national champion Krishna Basnet's personal best (2:17:33) and nowhere close to the regional and national record (2:15:03) set by legendary marathoner Baikuntha Manandhar in the 1987 Games.
"I am new to marathon. I am extremely happy to win gold for the country," said Bogati, who recently switched to the game from boxing and wushu. "There are many senior players than me. Krishna Basnet [current national champion] is way better than me, and it is unfortunate that he could not participate."
Basnet's personal best set earlier this year in the 8th National Games is the closest a Nepali runner has come to the Manandhar's record, while Buda's personal record stands at 2:18:39. In the 2016 Games, India's Nitendra Singh Rawat finished the closest ever at 2:15:18.
For a runner who is new to the game and has never won any long-distance race, Bogati says it was luck that got the best out of him on Saturday, for he and the fourth place finisher Shrestha weren't even in the team roster in the first place.
The two runners were chosen to represent Nepal after top domestic runners Basnet and Durga Buda had to pull out of the Games for personal reasons.
Bogati who dedicated his life's first win to his late mother and national team coaches also credited his colleague, Gopi Chandra Parki, who brought home a 5K gold on Friday.
"Parki is my training partner and an excellent runner. I followed his tips. He has taught me a lot about running," said Bogati, who joined the force in 2006.
"I used to box and practise wushu. I used to run too, but lacked proper training since I was transferred to Pokhara in 2009," said Bogati, "I think the department noticed me during the 2016 APF-IGP Cup after which I joined the departmental club."
On Saturday, Nepal also struck its first women's marathon medal as Pushpa Bhandari (2:50:11) finished behind Sri Lanka's Huruna Kesara Wijayaratne (2:21:24). India's Jyoto Gawte (2:52:44) finished third.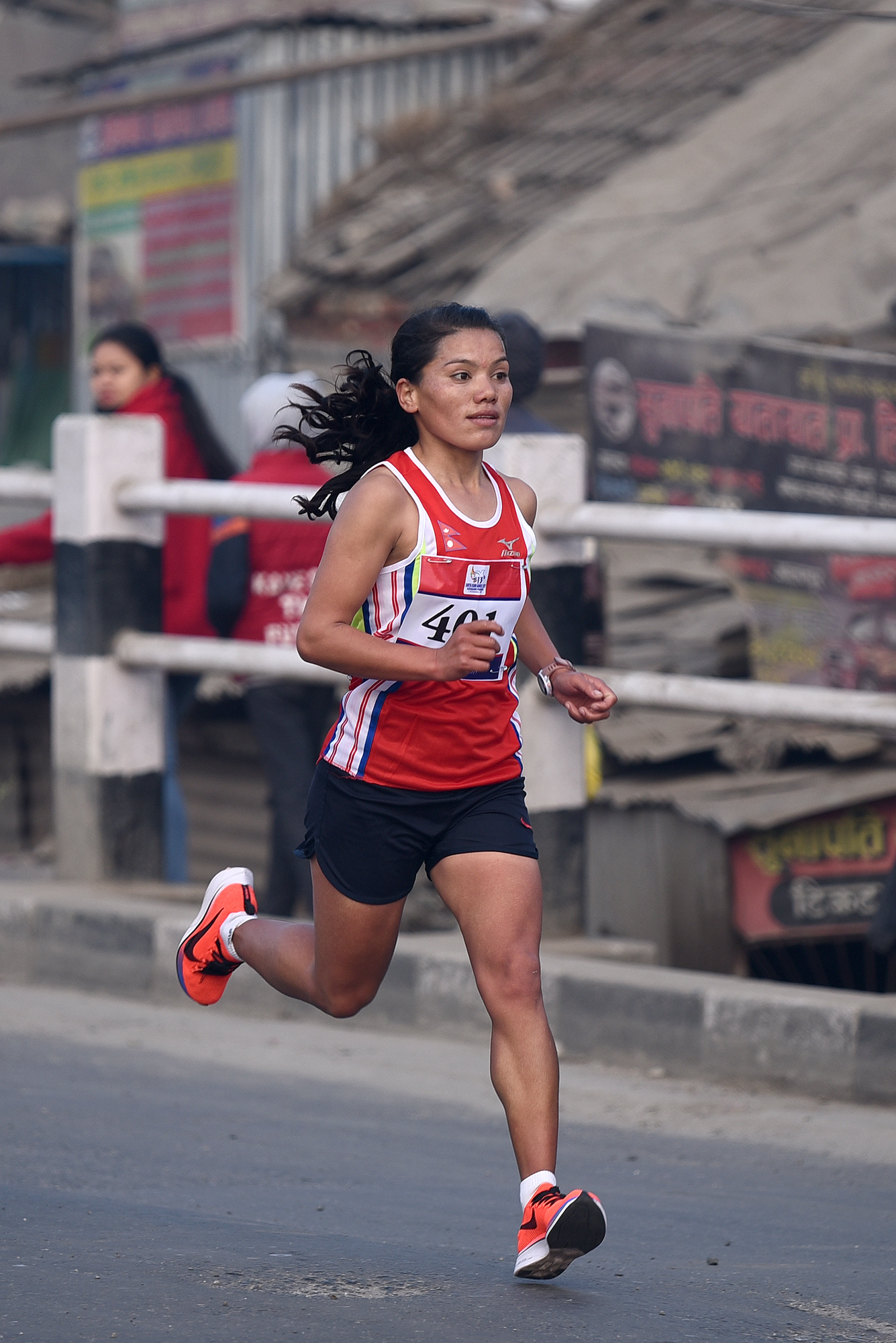 Nepal's Pushpa Bhandari (left) runs during women's marathon of the 13th South Asian Games. Angad Dhakal/TKP
---
---