Hosts Nepal set new medals record at South Asian Games
Nepal added six gold medals on Thursday to take their tally to 96 medals, including 35 gold and 23 silver.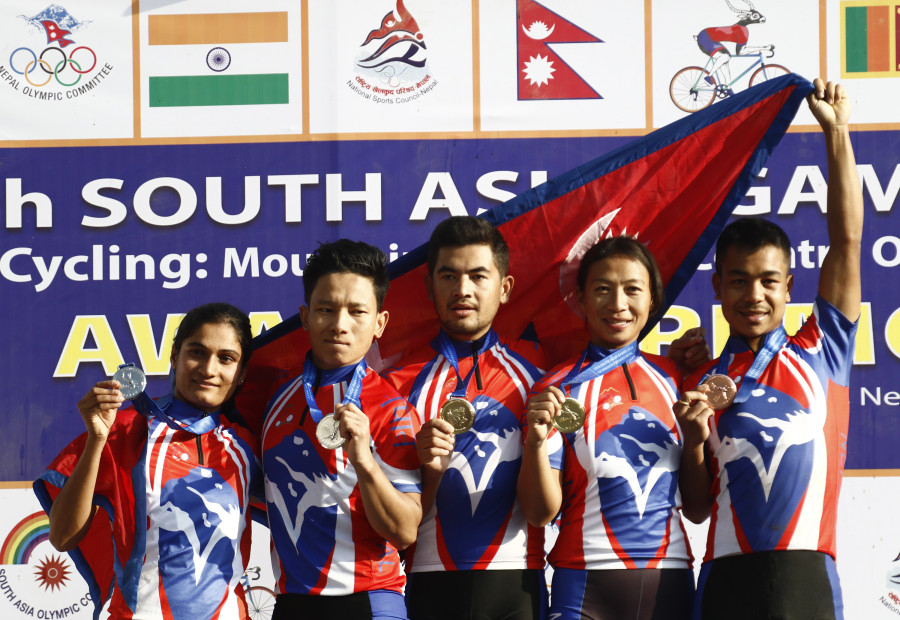 (From left) Usha Khanal, Rajeev Rai, Buddhi Bahadur Tamang, Laxmi Magar and Okesh Raj Bajracharya pose with their medals as winners of cross-country mountain bike categories. Keshav Thapa/TKP
bookmark
Published at : December 6, 2019
Updated at : December 6, 2019 07:44
Kathmandu
Amid widespread criticism about logistical problems, poor preparations and unfinished venues in the build-up to the 13th South Asian Games, hosts Nepal have created history by recording their best-ever medal tally at the regional sports extravaganza.

Nepal added six gold medals on Thursday to take their tally to 96 medals—35 gold, 23 silver, and 34 bronze—after the completion of only six out of 26 disciplines.
With five more days of competition still remaining, Nepal's rich haul of medals has left home fans delighted but also raised many an eyebrow.
Nepal's previous best showing was in 1999 when the country hosted the regional sporting spectacle for the second time. Nepal won a total of 65 medals, including 31 gold and 10 silver to finish second in the standings. India topped the table with 197 medals, including 102 gold.
Sports analysts and experts point to home conditions, better teamwork of the sports associations and authorities, and the inclusion of games that favour home athletes as the major reasons for Nepal's glittering start to the Games.
There were 162 gold medals on offer in 12 events when Nepal played host to the eighth iteration of the Games, then known as South Asian Federation Games. The current Games have drawn a total of 2,715 athletes who are vying for 317 gold medals in 26 events.
Nepal fetched 12 gold medals in taekwondo alone—three times more than the three gold medals they won at the 2016 Games in India.
"Home advantage definitely played a part and we missed out on four more taekwondo golds by a whisker," said Deepak Bista, Nepal's legendary taekwondo player and national team coach. But he also underlined good coordination between the National Sports Council and the taekwondo association in team preparation ahead of the Games.
"I have experienced that athletes get better training and facilities whenever we play host to the Games," said Bista, the gold medallist in taekwondo 67kg category in 1999.
Sangina Baidhya, another national taekwondo coach, echoed Bista. "The spirit is different when you play at home. It definitely gives an advantage to home players," she said.
Baidhya, who won a gold medal in 51kg category, and later qualified for the Sydney Olympic Games in 2000—the first such feat by a Nepali athlete then. Bista later matched her with his qualification to the 2012 Olympiad in Beijing.
The addition of poomsae, a demonstration routine in the event for the first time at these Games also played a role in Nepal's impressive run, according to Bista. Out of the total 29 gold medals up for grabs in taekwondo events, poomsae accounted for 13.
"We bagged more than half of them," said Bista, referring to seven gold medals Nepali taekwondo players won in poomsae routines.
According to sports analysts, the notable absence of South Asian powerhouse India in some of the major events also contributed to Nepal's meteoritic rise in the medal standings.
"India have participated in only 18 events. They did not compete in karate despite having one of the best teams in South Asia," said Diwakar Lal Amatya, a member of the International Council of Sports Science and Physical Activities.
"Nepal would not have won so many medals in karate had India fielded their team," he said.
India have not fielded players in games like boxing and men's football where they are considered powerhouse in South Asia. Indian boxers have won two Olympic bronze medals, while their football team has won SAFF Championship, a coveted football tournament in the region, seven times and claimed three gold medals at the South Asian Games.
Amatya attributed Nepal's success partly to Kathmandu's cold weather as well.
"High altitude and cold climate are other factors. The players who are used to playing at a low altitude can't give their best at high altitudes," said Amatya, referring to incidents during the Games' athletics events on Thursday.
Two Bangladeshi athletes—Zahir Raihan and Abu Taleb—withdrew from 400m sprint finals on Thursday and had to be rushed to the hospital after they suffered from breathing problems.
But the country's sports authorities dismiss such suggestions, arguing that Nepal's success was possible by design rather than by accident.
Member Secretary of the National Sports Council Ramesh Kumar Silwal said a combination of meticulous preparation, overseas training, proper nutrition, and home advantage resulted in the home country's impressive showing at the Games.
"Players of all the games were trained for at least four and a half months; some of them went through rigorous training even for a longer period," said Silwal, who is also the coordinator of the Games Executive Committee.
Silwal admitted that the country had added a few sports that favour home players. He, however, maintained that the council sent players of 21 sports overseas for advanced training under quality coaches at good facilities.
"This time, we also ensured proper nutrition for players in consultation with experts," said Silwal. "We also managed motivational classes for the athletes on a regular basis to ensure that they enter the competitions with a positive mindset."
---
---