Nepal barely plays 50 different sports, but hosts nearly 200 sports associations
Organisations are used primarily to go abroad under the guise of competing in international events, say players and officials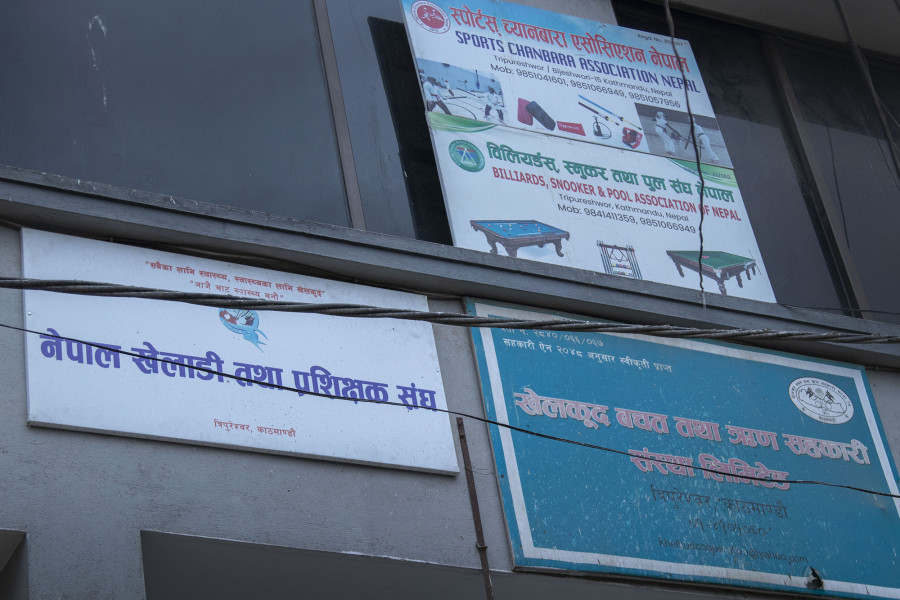 Boards displayed at the Sports Association Office in Tripureshwor, Kathmandu. Post Photo: Prakash Chandra Timilsena
bookmark
Published at : July 4, 2019
Updated at : July 4, 2019 09:23
Kathmandu
Curling is a winter sport, one where players in teams of four each take turns sliding heavy granite 'rocks' on a sheet of ice towards a target of four concentric circles. Not many in Nepal will have even heard of this sport and yet the country has had a Nepal Curling Association for the past nine years.

But no one really knows what the association does, not even its president.
"As it is played on ice inside a covered hall, we do not have the required infrastructure and equipment for the game," said Lal Kumar Lama, the association president, who is also a leader of the Rastriya Prajatantra Party led by Pashupati Shumsher Rana.
Since its inception in 2010, the association has not organised a single curling event in the country. When asked how he can lead an association for a sport that has no equipment, infrastructure, or even players, Lama had no answer, instead saying, "I am hopeful that one day we will have all the required infrastructure and resources."
The Nepal Curling Association is just one among 193 sports associations registered with National Sports Council, the apex body responsible for regulating sports in the country. Despite only around 50 sports disciplines being actively practiced in the country, the number of sport associations has skyrocketed, growing from 31 until 1990 to over 200 until last year, when 17 were deregistered for inactivity, bringing the number to 193.
The list of sports associations is truly bizarre, featuring games like throwball, petanque, pole breaking, chalk ball, foot volley, rope skipping, sumo wrestling, ice hockey, tong-il moo-do, pigeon racing, roll ball, curve ball, tug-of-war, and skiing. There are over 60 associations alone for the various versions of karate.
Most of these groups are like Lama's curling association—inoperational and existing only on paper. Many don't have offices, operating out of rooms in private houses; or five or six associations housed in a single office.
Woodball, a game invented in the 90s by two Taiwanese nationals, has had a governing association for nine years. In the last four years, the association organised two national meets, the most recent one in 2017 at the Dasharath Stadium, according to Purna Singh Bohara, who is acting president of the woodball association and also founding general secretary of the curling association. Bohara was unaware of how many people actually play woodball in the country.
Despite the barely functional association and its handful of players, Nepal has been fielding a woodball team at international sports meets. Bohara said that Nepal participated in the 2015 Woodball World Cup in Sanya, China and the 2018 World Cup in Chiang Mai, Thailand.
Sports officials say that greasing the path to go abroad under the guise of sports events is the primary reason why such sports associations are formed.
"Most of them have become tools of earning money and easy ways to go abroad," said Pitambar Timsina, vice-president of the council. "Such associations don't have any national or regional players. They will be scrapped and destroyed in the near future."
While Bohara claims that he hasn't received a single paisa from the council and that players pay for their own trips abroad, other officials insist that registering a sports association helps you leave the country.
Unlike Nepal, the leading South Asian sports giant, India, only has 56 recognised sports associations, according to India's Department of Sports. Similarly, Bangladesh has just 53 sports associations and federations, according to Sudipta Ananda, a Dhaka-based sports journalist. But Nepal, which barely wins any medals at international sports events, has over a hundred.
"They want to get recognition from the government so that they can show it to the international governing body and ease their entry into foreign lands under the pretext of participating in tournaments," said Dipak Shrestha, president of the Nepal National and International Players' Association and two-time karate gold medalist at the South Asian Games. "Except for 20 or 25 genuine associations, others operate out of an individual's bag."
Shrestha says that many people who are not athletes go abroad under the pretext of participating in various sports and then settle there. "Using sports for personal gains is shameful and actually taints genuine athletes," he said.
For an association to gain affiliation from the sports council, it must have 15 district associations, and each of those must have at least a hundred registered players. Likewise, it must also have three international and five national-level coaches. Most of the associations registered in Nepal do not meet any of these criteria.
"We can be flexible in relation to the number of district associations and players. It depends on the nature of the game," said Dem Bahadur Basnet, chief of the Sports Association Coordination Department at the council.
Basnet said it's the responsibility of respective sports associations regarding how they operate. "As long as they present all necessary documents that fulfill the requirements, they get registered and renewed at the council," said Basnet.
Basnet said that 25 inactive associations had been scrapped so far, but the council is helpless to act against others who furnish the required documentation.
"Most of these associations present annual audit and progress reports, so we cannot deregister them," said Basnet. "They prepare strong paperwork and if we act against them, they take us to court."
But for genuine sports associations, affiliation from the council doesn't really matter, said Om Krishna Prasai, general secretary of the Nepal Karate Federation.
"But some associations take undue financial benefits from the council thanks to their political affiliations," said Prasai.
While Prasai sees no harm in the rise to these associations, he objects to the tendency of providing legitimacy merely on the basis of political inclination.
"Such associations have become a space for political parties to fill with their cadres, rather than help the development of sports," said Prasai.
---
---