Bhimphedi Rural Municipality provides free health insurance to Chepangs
As many as 603 people from the marginalised Chepang community will benefit from the health insurance policy from the upcoming fiscal year.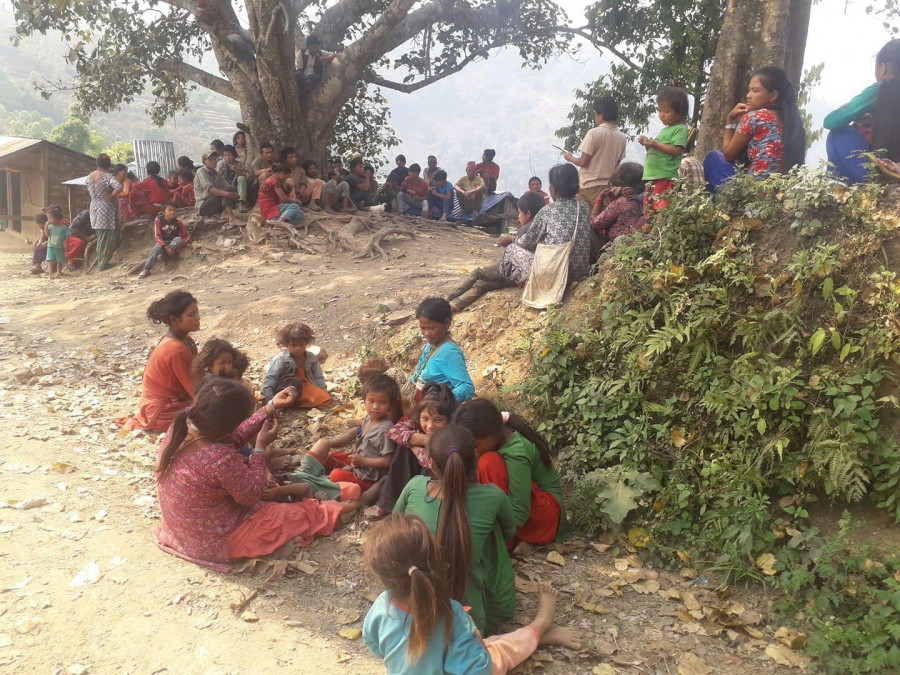 File photo of Chepangs attending a support program at Jimling, Rapti Municipality, Korak village. Photo Courtesy: Aakash Chepang
bookmark
Published at : July 11, 2020
Updated at : July 11, 2020 12:03
Hetauda
Shubhadra, a 72-year-old woman from the impoverished Chepang community, suffers from chronic pain in her knees and chest but does not have the financial resources to seek medical treatment. Much to her relief, Bhimphedi Rural Municipality in Makwanpur on Monday provided her with health insurance and handed her an insurance card. The insurance will cover her treatment free of cost.
"I will now go to the hospital for treatment," said Subhadra.
According to Hidam Lama, chairman of the local unit, the health insurance covers medical expenses of up to Rs 100,000.
The rural municipality has provided health insurance to the marginalised Chepang community. The local unit handed over the health insurance cards to 603 Chepangs on Monday.
The rural municipality has provided the facility to its Chepang population for the upcoming fiscal year, which will begin from July 16.
"The local unit has provided health insurance to more than 600 people of 140 Chepang households," said Lama. "We spent Rs 538,200 for the purpose."
Bhimphedi Rural Municipality is the first local unit in the district to insure its marginalised Chepang community, according to Lama.
Makwanpur has around 19,152 Chepang people out of 68,399 across the country, according to the 2011 census.
The Chepangs are one of the most marginalised people in Nepal. Economically backward, they have one of the highest illiteracy rates, lowest access to basic public services such as drinking water, electricity, education and health care.
The poverty-stricken Chepangs stand to benefit from the free health insurance facility provided by the local unit.
"The Chepangs of Bhimphedi won't suffer for lack of medical treatment from now on," said Bijaya Chepang.
According to Druba Lamichhane, health coordinator at the local unit, a total annual premium of Rs 3,500 should be paid for a five-member family and additional Rs 700 should be paid per person if there are more than five members in the family under the free health insurance policy scheme.
"We provided free health insurance to the Chepang community as they could not get treatment due to poverty. This facility will be continued until their economic situation improves," said Lama.
He further assured that the local government will extend additional help if the people from the Chepang community face hardship in receiving medical treatment despite the insurance coverage.
A majority of Chepang people in Bhimphedi do not have their own land. They eke out their living as daily wage workers.
The Chepangs living under absolute poverty do not have access to health facilities in times of sickness.
"The Chepangs generally go to Dhami/Jhakri (faith healers) and depend on traditional healing mechanisms instead of going to health institutions for treatment primarily for a lack of resources. This free health insurance policy will certainly encourage them to visit health institutions," said Surendra Thike, a local of the rural municipality.
---
---