Chepangs face a humanitarian crisis
The impact of the lockdown on vulnerable communities does not appear on the government's radar.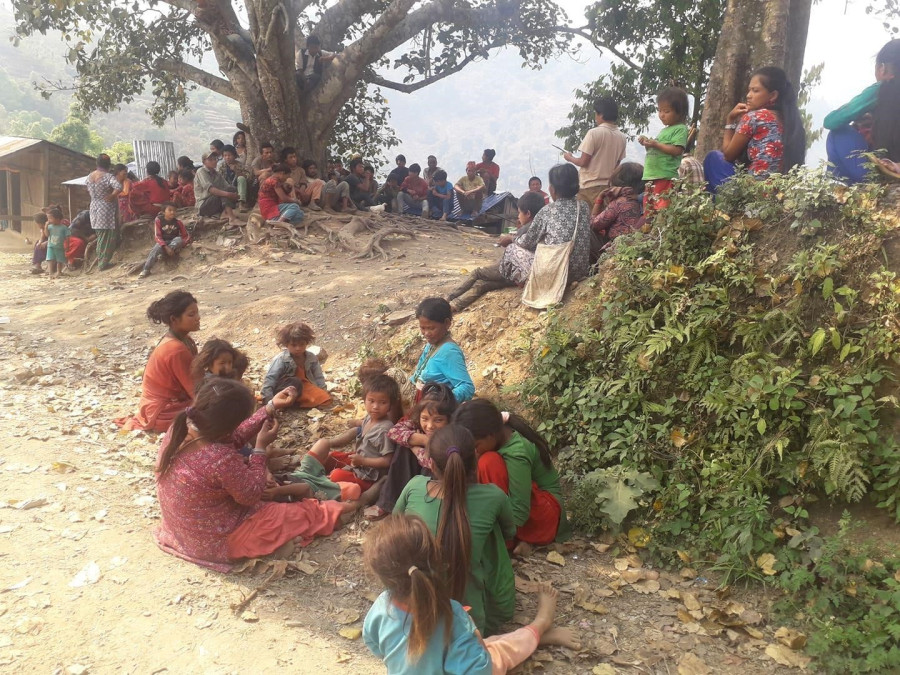 Chepangs attending a support program at Jimling, Rapti Municipality, Korak village. Photo Courtesy: Aakash Chepang
bookmark
Published at : April 21, 2020
Updated at : April 22, 2020 07:57
The Chepang community with a population of about 68,000 living in Chitwan, Makwanpur, Dhading and Gorkha districts are one of the most marginalised indigenous communities in Nepal, and also one of the hardest hit by the Covid-19 pandemic.

The Chepangs have one of the highest illiteracy rates, lowest access to basic public services such as drinking water, electricity, education and health care. As the subsistence agriculture on which most of them depend does not produce sufficient food to last them for a year, most of them survive with additional income as daily wage earners. This story is about the high risk of the spread of Covid-19, and the implications of the lockdown on the Chepangs and measures to address their plight.
Vulnerable communities
While the Nepal government is playing a significant role to prevent Covid-19 from spreading, the impact on vulnerable communities does not appear on the government's radar, nor has there been media coverage of the issue. There are stories in the media of how the pandemic has hit indigenous communities devastatingly in other nations, and the steps taken to prevent transmission among Aboriginals in Australia, Inuits in Canada and indigenous communities across North America. The lockdown and isolation have unique ramifications on vulnerable indigenous communities in Nepal due to their characteristic socio-economic and cultural settings. They cannot be left out, and their plight needs to be addressed if we are to prevent the spread of this contagious disease.
There are seven issues facing these communities.
First, an economic crisis is causing famine. A majority of uneducated Chepangs are daily wage earners working at construction sites and in the furniture industry, hotels and restaurants, and now they are out of a job. 'The absence of alternative sources for wages during the lockdown has contributed to a rise in famine among the Chepang community in Dhading district', says Tilak Chepang of Benighat village. Neither are farmers able to sell seasonal vegetables with the market shuttered. Ramkaji Chepang of Gorkha says, 'Seasonal vegetables have gone to waste due to the lockdown, and the only source of income for the Chepang people has been taken away'. April is the season for sowing crops and this is also when food stocks become exhausted.
Second, the Chepang community lacks basic healthcare support systems. They have no access to primary healthcare in the villages where obtaining even basic medicines for fever, diarrhoea, the common cold, minor wounds and emergency cases is a struggle. The lockdown and the risk of Covid-19 transmission has further aggravated this lack of basic healthcare.
Aambire Chepang of Chitwan, the son of a cancer patient, says, 'My father with first stage bile duct cancer had his scheduled chemotherapy at the government hospital in Bharatpur on the day the lockdown was announced. Since the chemo could not take place due to the lockdown, he was forced to return home, and is now fighting for his life'.
Uma Chepang, a staff nurse in Makwanpur, has this to say, 'There is lack of a proper healthcare system in our community, and people are not aware of personal hygiene. The risk of transmitting infection is very high if this virus is seen in one of the members in the family or community'.
Third, overcrowding at home makes them prone to infection if a family member gets infected. A typical Chepang home has one room where six to seven family members cook, eat and sleep together. Fourth, weekly religious gatherings are continuing to take place in defiance of the call for social distancing.
Tilak Chepang of Dhading says, 'Some of the local Chepangs continue to attend church gatherings every Saturday. This exposes the group to risk of infection if any one member in the congregation is infected. There are 24 churches in Dhading, and many Chepangs in recent years have converted to Christianity'.
Fifth, people who left Kathmandu for their villages were not tested before departure, and they pose a risk to others if they are infected with the virus.
Sixth, poor access to information and awareness relating to how to protect oneself from Covid-19 is another issue. 'Locals are unaware of the need for social distancing and personal hygiene, and they roam around as they used to do during normal times', says Aakash Chepang of Chitwan.
Seventh, the digital divide prevents Chepangs from participating in online classes. Online classes have been introduced by education institutions, mostly in Kathmandu Valley including Tribhuvan University. Chepang students who returned to their villages are excluded from online classes as they have no electricity, internet and a reliable mobile network.
Emergency responses
Five measures are suggested to address the crisis facing these most vulnerable indigenous communities at the initiative of local governments, local health institutions and local communities.
First, there is a need for immediate humanitarian assistance consisting of food, water, primary healthcare and possibly temporary camps to keep people in isolation. These are a prerequisite for survival and prevention of the spread of Covid-19.
Second, local governments and local health authorities should initiate Covid-19 awareness programmes and support local communities to help them deal with the crisis. Thanks to Nepal Telecom and Ncell for bringing out an audio message as mobile caller tune to raise awareness about Covid-19 and possible ways to prevent transmission. However, there is a need to check if the vulnerable communities are aware of it.
Third, local community health workers should launch a programme to demonstrate proper handwashing besides making water supply accessible.
Fourth, a special support programme should be introduced for vulnerable groups such as children, women and elderly people.
Fifth, local governments should immediately coordinate with local farmers so that they are able to sell their products in the market. Facilities to store surplus vegetables in cold storage should be arranged instead of letting them go to waste.
***
What do you think?
Dear reader, we'd like to hear from you. We regularly publish letters to the editor on contemporary issues or direct responses to something the Post has recently published. Please send your letters to [email protected] with "Letter to the Editor" in the subject line. Please include your name, location, and a contact address so one of our editors can reach out to you.
---
---