Prohibitory order in Dharan over fears of communal violence
Political parties call for social harmony after a group announces rally against the social media campaign for 'cow slaughter right'.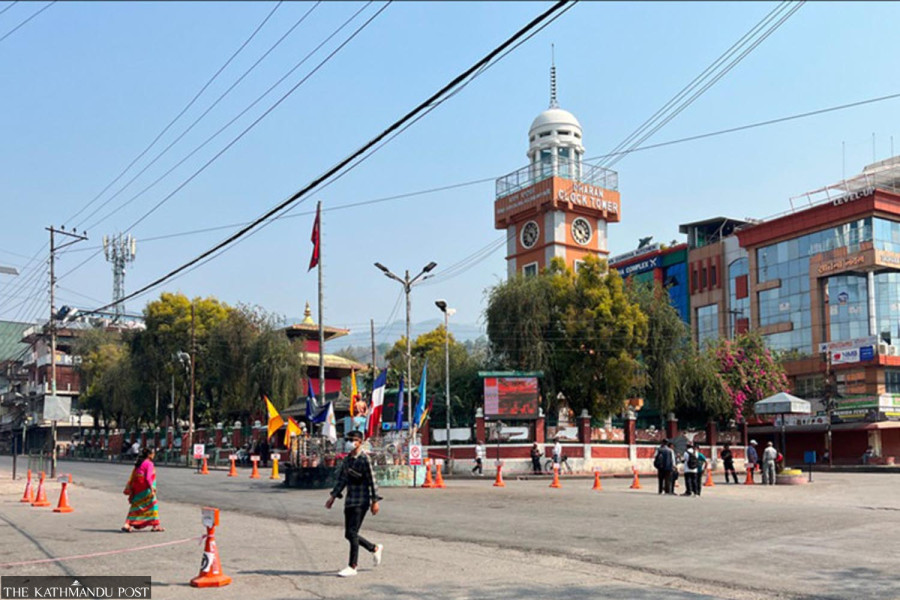 Dharan's Bhanu Chowk looks deserted after prohibitory order announced. Pradeep Menyangbo/TKP
bookmark
Published at : August 25, 2023
Updated at : August 25, 2023 20:15
Dharan
The Sunsari District Administration Office has clamped a prohibitory order in Dharan over fears of ethnic and religious violence in the city.
The order will be enforced in all 20 wards of the Dharan Sub-metropolitan City for 24 hours from Friday midnight. A meeting of the security committee chaired by Chief District Officer Humkala Pandey on Friday decided to enforce the prohibitory order.
According to Pandey, the meeting issued the order over a rally planned by a group protesting a social media campaign that 'cows should be slaughtered in Dharan'.
Pandey said the prohibitory order will be in effect in the area from Jhanda Chowk in Barahakshetra Municipality towards Dharan, the area towards Dharan from Ramdhuni-6 and Barahakshetra-3, north from Itahari-20, areas leading to Dharan from Kerabari Rural Municipality and area towards Dharan from Sangurigadhi-6 of Dhankuta.
Meanwhile, three former mayors and a deputy mayor of Dharan issued a joint appeal expressing their concern that religious and cultural disputes in the sub-metropolis may disrupt social harmony. Former mayors Kumar Bahadur Karki, Tilak Rai and Manoj Kumar Menyangbo and former deputy mayor Min Kumar Subba have appealed for social harmony.
They have called on the concerned sides to resolve religious and cultural differences through dialogue and discussion.
"Dharan, which has cultural, linguistic, ethnic and geographical diversity and characteristics, is a city that has progressed in tandem. The act of spreading hatred against another community and disrupting social harmony has never happened in Dharan," reads the appeal.
It is believed that religious intolerance is on the rise in the city after a group of Hindu extremists invited religious leaders from outside to participate in a cow protection campaign after some extremists took to social media claiming that slaughtering cows is their cultural and religious right.
Meanwhile, political parties including the CPN-UML, the Nepali Congress, the CPN (Maoist Centre), the CPN (Unified Socialist), the Janata Samajbadi Party and the Rastriya Swatantra Party issued a joint statement requesting one and all to maintain social and religious harmony.
Earlier in the day, Mayor Harka Raj Rai appealed to the residents of Dharan to maintain harmony, brotherhood and unity. Rai urged all not to be involved in any activities disrupting social harmony.
---
---