5 dead, 28 missing in floods and landslides in Koshi hill districts
Rain-fed rivers have damaged power projects, swept away bridges and roads in Sankhuwasabha, Panchthar, Taplejung.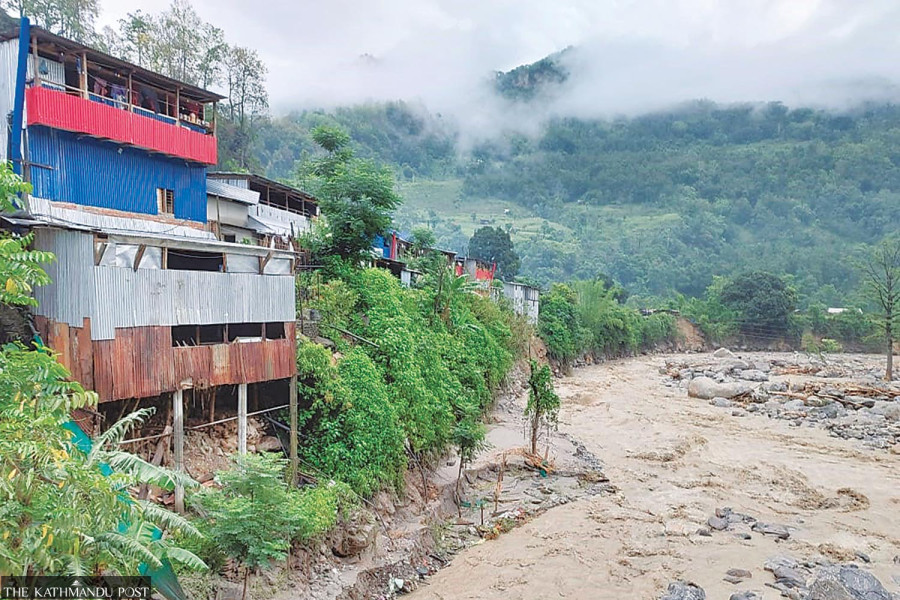 Houses at risk of erosion at Dovan Bazaar in Taplejung. Photo: Courtesy of Tanka Khatiwada
bookmark
Published at : June 19, 2023
Updated at : June 19, 2023 07:54
Sankhuwasabha/panchthar/taplejung
Heavy monsoon rains since Saturday night have been wreaking havoc in the hill districts of Koshi Province. At least five people died while 28 others have gone missing in the monsoon mayhem in Sankhuwasabha, Panchthar and Taplejung districts.
Sankhuwasabha has been hit hardest by the rain-induced disaster.
Santosh Rai of Panchkhapan Municipality-9 in Sankhuwasabha died after being swept by floods in the Hewakhola stream.
"The flooded Hewakhola completely damaged the under-construction Super Hewa Hydropower Project at Chainpur Municipality-4 on Saturday night. Eighteen people working at the six-megawatt hydropower project are out of contact since the incident," said Deputy Superintendent of Police Birendra Godar.
According to Godar, two persons have gone missing in Sabhapokhari Rural Municipality and one in Nundhaki Rural Municipality. "Search is on to find the missing," said Godar. "It is still unclear whether the floods swept away the hydropower workers or they fled to safe locations."
Security personnel suspect the Hewakhola stream was dammed by landslides and that the dam burst following heavy rainfall on Saturday night. The stream flows along the border of Chainpur-4 and Panchkhapan-9. The floods caused by the dam-burst created havoc in the settlements downstream. According to the District Police Office in Sankhuwasabha, the flooded Hewakhola swept away eight houses and a motorable bridge. The floods also damaged hectares of arable land in the area. Three people sustained injuries in separate incidents of floods, said police.
Similarly, floods in a local stream in Sabhapokhari Rural Municipality-3 also caused damage in the area.
Personnel from Nepal Army, Nepal Police and Armed Police Force have been mobilised in the flood-hit area for rescue and relief.
Meanwhile, Drinking Water, Irrigation and Energy Minister Til Kumar Mewangbo, province assembly member Bidur Linthep and provincial chiefs of Nepal Army and Nepal Police inspected the flood-affected area on Sunday.
In Taplejung, a 30-year-old man perished in a landslide at Mehele village of Sidingwa Rural Municipality-6. Police identified the deceased as Ganesh Tamang. The landslide buried Tamang while he was trying to take his family members to a safer location on Saturday night. His body was recovered on Sunday morning.
Three persons went missing in separate landslides in the same ward. According to Chief District Officer Goma Devi Chongwang, Bhagimaya Budha Chhetri, 63, Sandhya Budha Chhetri, 33 and a nine-year-old boy, have gone missing in the disaster. Police personnel and the locals have been searching for the victims, she added.
As per the data available at the district disaster management committee in Taplejung, floods and landslides damaged three motorable bridges, five suspension bridges, two hydropower projects and eight public buildings in the district. As many as 51 houses are at risk of landslides.
Taplejung, a mountain district, has been disconnected from the national road network after the flooded Hewa Khola swept away two bridges in Panchthar that connect Taplejung with Ilam and Jhapa districts. Similarly, the flooded Tamor river damaged the road leading to Tehrathum and Sankhuwasabha districts. "It will take more than a week to resume transport," Amindra Khadka, chief at the North-South Highway Project, said.
An emergency meeting of the natural disaster management committee in Taplejung on Sunday urged the provincial and federal governments to resume transport along the Mechi Highway and the Tamor corridor road at the earliest. In view of possible shortages of essentials like food and petroleum products due to road obstructions, the district administration has prioritised the repair of flood-damaged bridges and roads.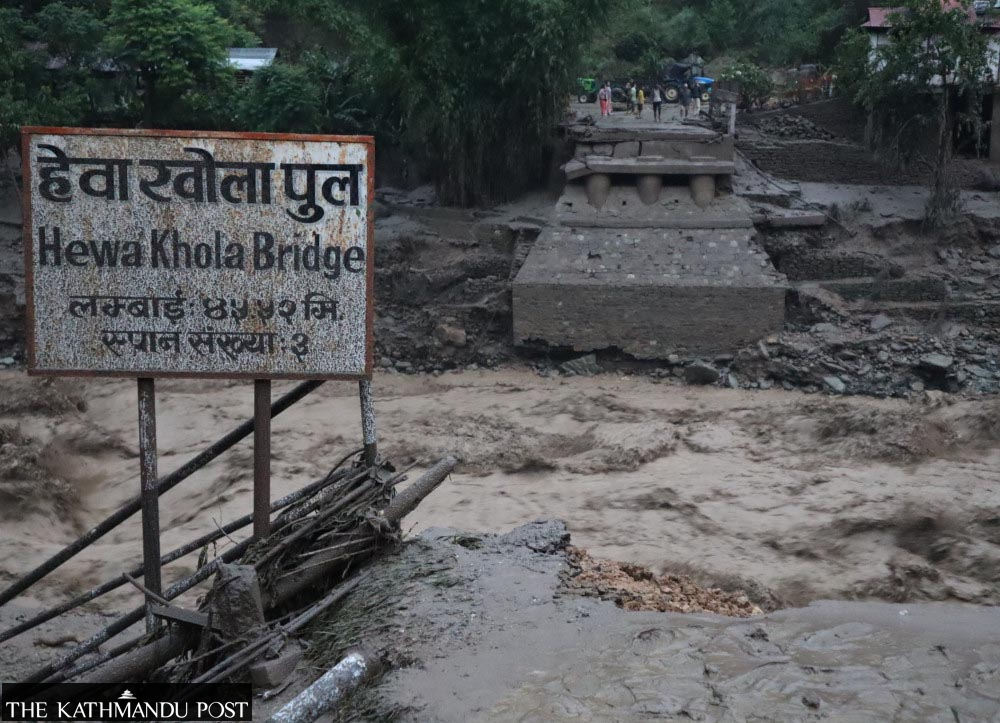 A motorable bridge across the Hewa Khola in Panchthar was swept away by a massive flood on Saturday night. Laxmi Gautam/TKP
"There are two petrol pumps in Taplejung. They do not have petrol but have around 9,000 litres of diesel in stock. I instructed the petrol pump owners not to sell the diesel as it may be needed for emergency use," said Chief District Officer Devi Maya Chemjong.
Dobhan Bazaar, a major trading centre in Taplejung, is at risk of flooding after the flooded Maiwakhola stream changed its course and shifted towards the settlement. "The stream changed its course at around 2am on Sunday. The locals are panic-stricken about the possible flooding in the market area," said Tanka Khatiwada, a local businessman. The locals, according to Khatiwada, heaved a sigh of relief as the water level receded in the stream on Monday. There are 76 households in Dobhan Bazaar.
In Panchthar, two people died in the landslides and floods triggered by incessant rainfall since Saturday night. A nine-year-old girl died in a landslide in Phalelung Rural Municipality-3 when a landslide struck her house on Saturday night. She was rescued from the landslide debris after locals searched for her for seven hours. She was taken to Panchthar District Hospital and died in the course of treatment on Sunday afternoon.
Five people have gone missing in the rain-induced flood in the Hewa River—55-year-old Rajkumar Rai from Phidim-4, 27-year-old Ashish Majhi and his 25-year-old wife Alisha Majhi of Hilihang Rural Municipality Ward 7. Among the missing are also two employees of Mountain Hydropower in Phidim Rural Municipality. When the flood struck, 45-year-old Dil Kumar Tamang and 28-year-old Sanjok Lowa, were in the powerhouse. Both of them are still missing, said police.
"At around 12 am, a coworker from the powerhouse sent me an SOS saying that the dam was flooded and that they were trapped there. Later, I tried to contact him but could not reach him," said Ram Thapa, an employee of Mountain Hydropower.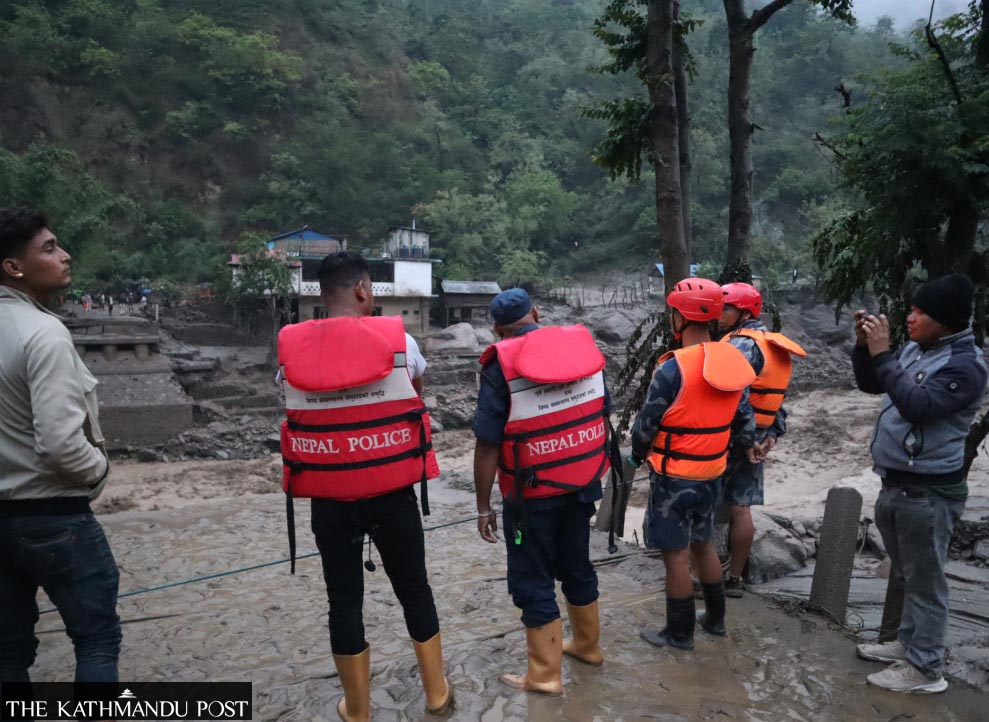 Nepal Police rescuers in Panchthar. Laxmi Gautam/TKP
Local residents, aided by the Nepal Army, Nepal Police, and Armed Police personnel, started a search and rescue operation on the banks of the river for the missing. The search on Sunday did not go as expected due to bad weather, and the water level that remains high, said police.
According to the police, a body was found near the Hewa riverbank in Bhulke, Kummayak Rural Municipality Ward 5. The identity of the deceased is yet to be ascertained, said police.
The body of another victim was found on the Tamor riverbank at Teliya of Chhathar-Jorpati ward 4 in Dhankuta on Sunday evening.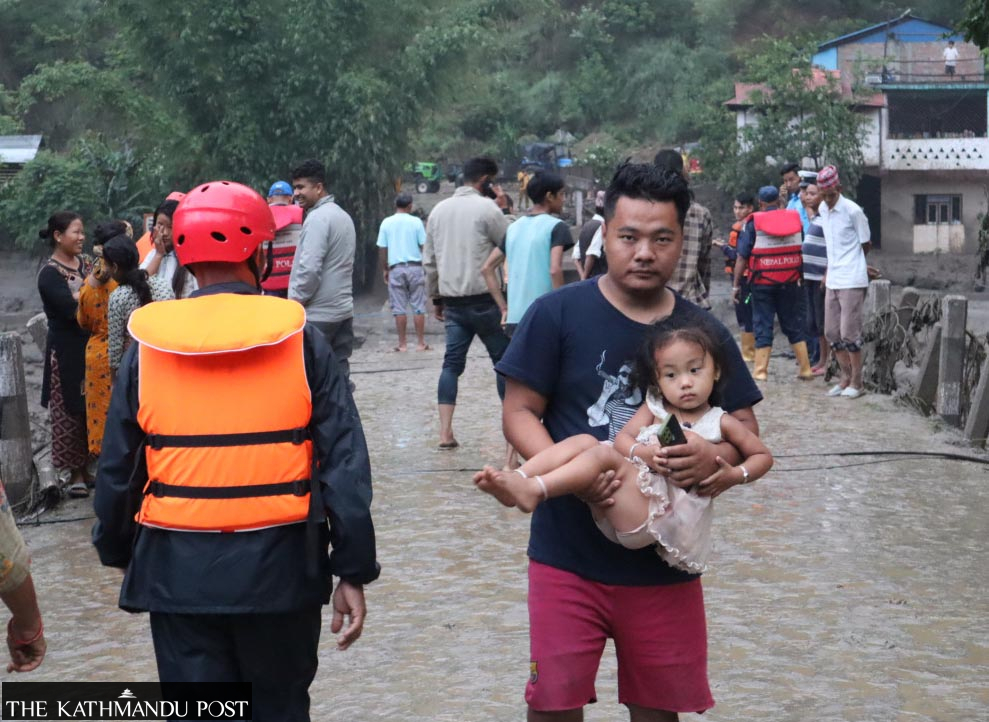 People living close to the devastated Hewa stream in Panchthar move to safe locations on Sunday. Laxmi Gautam/TKP
Saturday night's rainfall destroyed the Hewa bridge on the Mechi Highway and a Bailey bridge on the Tamor corridor, completely disconnecting three local units—Hilihang Rural Municipality, Yangwarak Rural Municipality and Phalelung Rural Municipality—of the district from road connectivity.
Search, rescue, and relief operations were halted late on Sunday as transportation came to a complete halt after motorable bridges in Panchthar were swept away by the floods. Several vehicles carrying daily consumables and construction materials from Birtamod in Jhapa and Dharan in Sunsari heading to these three local units in Panchthar have been stuck in traffic since Saturday night.
According to the District Administration Office, Panchthar, so far the flood has destroyed six concrete bridges and seven suspension bridges in Hilihang, Yangwarak, and Phalelung.
The police are yet to assess the damage done by floods and landslides in all three districts of the province. Initial assessment by security personnel in Panchthar indicates dozens of houses have been completely destroyed and around 24 families have been displaced.
Due to the flood, Rairang Hydropower in Yangwarak-4, and Mountain Hydropower A and B in Phidim have stopped generating electricity.
---
---