Hillary's community school shows the way
Khumjung Secondary School in one of Solukhumbu's remotest villages conducts classes in English language.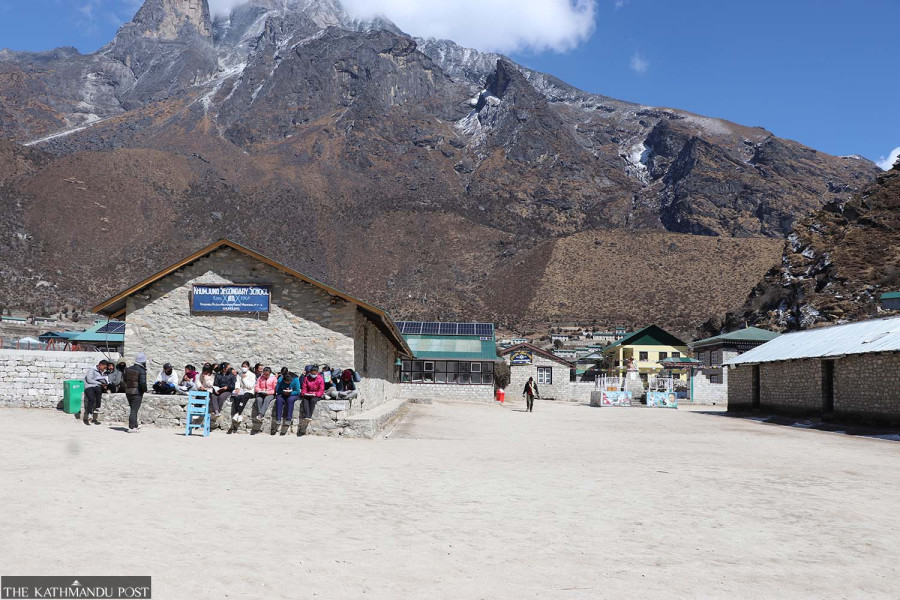 A total of 293 students are enrolled in the school (pictured) in the current academic session. The schools run classes from grade 1 to 10. Post Photo
bookmark
Published at : March 23, 2023
Updated at : March 23, 2023 07:41
Solukhumbu
Khumjung Secondary School, a community school in Khumbu Pasanglhamu Rural Municipality-4, one of the remotest areas in Solukhumbu, is heralding a wave of change in the education system in remote areas.

In possibly a first for community schools, the Khumjung Secondary School runs its lessons in the English language.
Situated at an altitude of 3,750 metres above sea level, the school was established in 1961 by Sir Edmund Percival Hillary, the first person to climb Mt Everest alongside Tenzing Norgay.
The school has a hostel for boarders and a playground, a library, a computer lab and a laboratory for science practices. The school is run with the support of various donor agencies, says Nawang Dorji Rai, principal of the school.
"Because English is the universal language we teach every subject in this school in English medium right from the lower level. This has helped our students improve their linguistic skills and prepare for the world outside of the village," said Rai. "We adopted English as the primary language in the school nine years ago. Our motto is to provide every child with the opportunity to excel academically and become competent."
According to Ang Phinjo Sherpa, a former student and political leader of the area, this school has dispelled the illusion that only private schools teach in English medium. The school has produced several airline pilots, doctors and engineers.
"This school provides high-quality education in a remote area. This school is the highest scorer in the district from the then SLC to the current SEE," said Sherpa. "In 2016 the Ministry of Education awarded this school the best school award in a remote area along with a cash price of Rs100,000."
There are 22 teachers in this school who provide quality education. According to Lila Kesari Rai, a social studies teacher at the school, there are 293 students enrolled in the current academic year from pre-primary level to grade 10.
The main attraction for students and their guardians alike is the chance to study in the English language and learn computer science, says Lila.
"The school has posts for only 13 teachers under the government quota but there are 22 of us currently. Donors help us run the school financially and allow us to retain good teachers," said Lila. "Students from distant villages of Mahakulung, Sotang and others come here to study."
Pasang Sherpa, father of a ninth grader, says the school is a godsend for people like him from poor financial backgrounds.
"I would never have been able to send my child to a private school. This area is so remote that it's a wonder we even have a school here," said Sherpa. "Locals don't have to worry about the education of their children thanks to Khumjung Secondary School and the teachers."
---
---