Chand-led Communist Party of Nepal claims responsibility for murder of school principal in Morang
The party said it took action against Rajendra Kumar Shrestha for being an informant to the police and helping them arrest party leaders and cadres.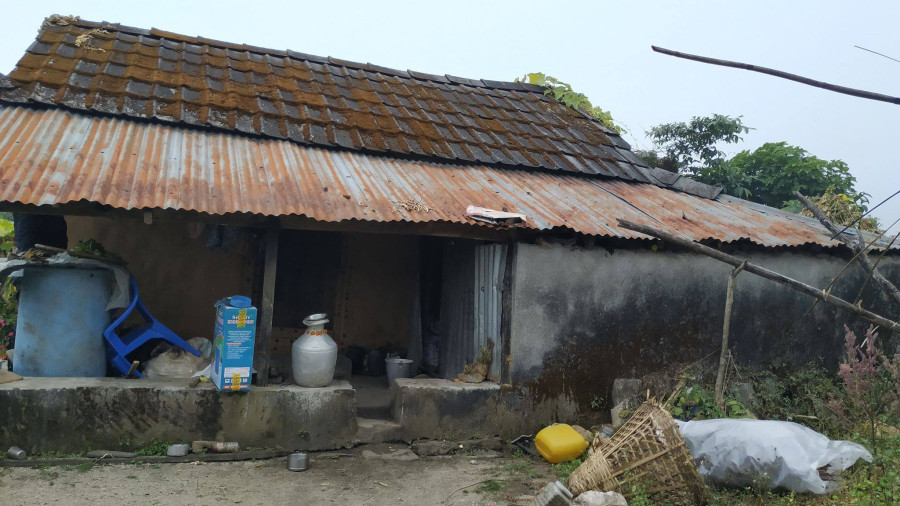 Shrestha was abducted from his house in Miklajung Rural Municipality, Morang on Tuesday. He was later found murdered in a nearby forest. Photo courtesy: Saroj Pokharel
bookmark
Published at : December 10, 2020
Updated at : December 10, 2020 08:05
Biratnagar
The Netra Bikram Chand-led Communist Party of Nepal has claimed responsibility for the murder of a school principal in Morang.

According to DIG Ishwar Babu Karki, police chief of Province 1, Rajendra Kumar Shrestha, 54, was abducted from his residence at Barkhe in Miklajung Rural Municipality-1 and subsequently murdered on Tuesday. Shrestha was the principal of Saraswati Basic School in Ramite of the rural municipality.
"A group of four to five unidentified people abducted Shrestha from his house, took him about a kilometre away and killed him," said Karki. "Shrestha's hands were tied and throat slit when his body was recovered in a nearby forest."
Issuing a statement on Tuesday night, the party's Mechi-Koshi bureau said that the party 'took action' against Shrestha as retaliation for being an informant to the police and helping them in the arrest of party leaders and cadres.
The party, in its statement, has accused Shrestha of being an informant to the police for a long time and not heeding to the warnings issued by the party. The statement further says that Shrestha was responsible for the arrest of two party members on October 28.
The statement, signed by Mechi-Koshi Bureau in-charge Pratap, claims that Shrestha was killed because he attacked some party members who had reached his house to talk with a weapon.
The Chand-led party has been active in Ramite, a remote area in Miklajung Rural Municipality that shares its borders with Ilam, Panchthar and Dhankuta districts, in recent times owing to its geographical location and almost no presence of security forces. The nearest security forces are stationed in Urlabari which is some 30 kilometres from the rural municipality.
"We have time and again asked the Home Ministry to set up a police station in Ramite but our pleas have gone unheeded. Tuesday's incident would not have taken place if the government had listened to us," said Province 1 lawmaker Kul Prasad Limbu.
There are seven houses in Barkhe, a remote hill settlement in Morang that is yet to be connected with the national road network. The entire settlement is terrorised by Tuesday's incident.
"Villagers are living in fear; they have not come out of their houses after Shrestha's killing," said Nar Bahadur Rai, the ward chief of Miklajung-1.
According to him, the villagers have been demanding that security personnel be deployed in the area.
Police are still searching for the people responsible for the crime.
"Search for the culprits is underway. We are yet to ascertain the identity of the people involved in the murder," said Superintendent of Police Santosh Khadka, chief of the District Police Office in Morang. According to him, security teams from the provincial police office and the district police office of Morang, Dhankuta, Ilam and Panchthar have been mobilised to search for the culprits. "We have sealed off the Miklajung area and have initiated a manhunt."
SP Khadka admitted that there's a poor security presence in the northern part of Morang, including Ramite. "We are preparing to set up a police post in the area," said Khadka.
Miklajung Rural Municipality was formed by merging the then Remitekhola, Madhumalla, Tandi and Jante VDCs. Shrestha had been living there with his wife, as he was the headteacher at a local community school. He is survived by a wife, a son and a daughter.
Shrestha's son and daughter-in-law live in Rachana of Tandi, which is about a five-hour walk from Ramite. According to Devi Acharya, chairman of the local unit, Shrestha's wife Dhan Kumari moved to her son's residence on Tuesday.
Shreshta's body was taken to Dharan-based BP Koirala Institute of Health Sciences on Tuesday for postmortem.
"We are preparing to bring the body to his son's home by Wednesday night and perform his funeral rites at Nunsarighat in the Bakraha stream on Thursday," said Acharya.
---
---