Janata Samajbadi Party decide to split a little more than a year after merger
The Election Commission will decide on which of the two warring factions led by the two chairs Thakur and Yadav will get the party's name and symbol.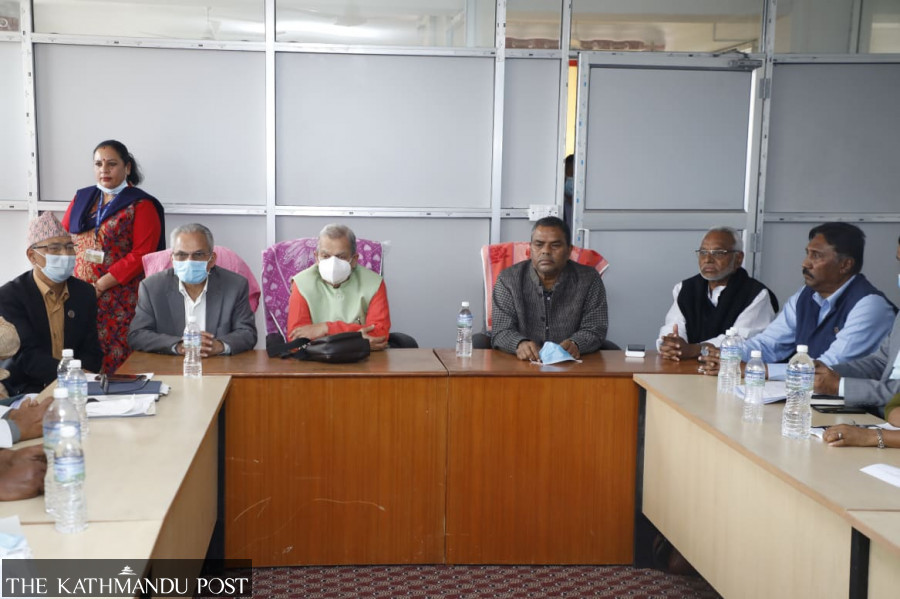 Post File Photo
bookmark
Published at : July 6, 2021
Updated at : July 6, 2021 16:36
Kathmandu
The two warring factions of the Janata Samajbadi Party led by the two chairs Mahantha Thakur and Upendra Yadav have formally decided to part ways during discussions at the Election Commission.

"We have signed a document agreeing to take different paths following the necessary processes as we cannot remain together," said Anil Jha, following the discussions at the Election Commission on Tuesday. "As Upendraji said there was no condition of moving ahead together, we have agreed to split."
The split comes a little more than a year after Rastriya Janata Party Nepal led by Thakur and Samajbadi Party Nepal led by Yadav merged, prompted by the Prime Minister KP Sharma Oli introducing an ordinance, which was later withdrawn, to make it easier for parties to split.
The Election Commission had invited both the factions for discussion on Tuesday in a bid to ask them to patch up. However, the two factions have reached a point of no return with each faction taking actions against the other.
Spokesperson of the Election Commission Raj Kumar Shrestha said the discussion was organised as part of a process to find ways of reconciliation between the two factions but with both sides not in a position to remain together the Election Commission will form a bench soon and begin a hearing to decide on which faction will get the party name and election symbol of umbrella.
"Hearing process will begin soon after the commission forms a bench as per the legal provisions," Shrestha said.
Differences between the two sides had come to the fore after the faction led by Thakur decided to support Prime Minister Oli following the February 23 restoration of the House of Representatives which Oli had dissolved on December 20.
Subsequently, Oli had inducted 11 leaders from the Thakur faction of the party in the Council of Ministers on June 4 and June 10 but the Supreme Court had invalidated the expansion as it had been done after Oli's second dissolution of the lower house on May 21.
---