Confusion reigns in the ruling party as factions remain deadlocked
Talks between rival party chairs Oli and Dahal failed after the former refused to step down in any capacity, neither as party chair nor prime minister.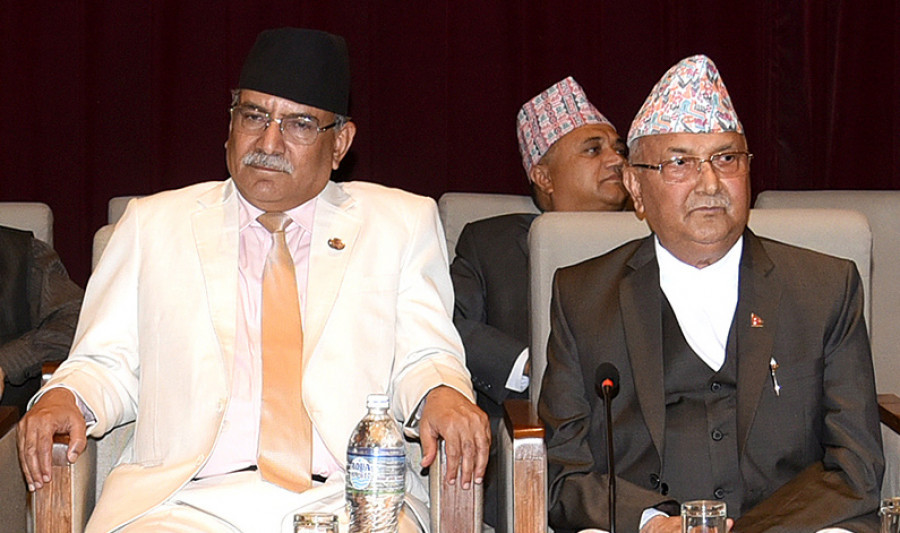 Post file photo.
bookmark
Published at : July 4, 2020
Updated at : July 4, 2020 07:09
Kathmandu
Talks between KP Sharma Oli and Pushpa Kamal Dahal failed on Friday after the former reiterated his stance that he will not step down–neither as the party chair nor as prime minister.
The meeting, which lasted around three hours, between the two leaders at Baluwatar took place just as second-rung leaders representing them and Madhav Kumar Nepal attempted to find a win-win formula to save the party that is on the verge of a split.
After coming under pressure to step down as party chair and prime minister from the Dahal-Nepal faction, Oli on Thursday hinted that he could split the party.
According to leaders familiar with the meeting between Oli and Dahal, the former conveyed to the latter that he was open to discussion on any issue, except for his resignation as party chair and prime minister.
"No agreement could be reached today," said Janardan Sharma, a Standing Committee member who was present at the meeting between Oli and Dahal. "They, however, have agreed to sit tomorrow again for another round of dialogue."
The two leaders will resume talks on Saturday morning before the Standing Committee meeting convenes, according to Sharma.
The party rank and file is now in a fix, say insiders.
Dahal later on Friday met with Madhav Nepal and Narayan Kaji Shrestha, the party spokesperson.
Insiders say that the only thing that can save party unity now is a broader understanding between Oli and Dahal, which will entail the former making a concession.
Oli could allow Dahal to run the party as the executive chair, while agreeing to remain as a "ceremonial chair" of the party.
It all depends on whether Oli will be able to convince Dahal, according to insiders.
After around 30 Standing Committee members from the Dahal-Nepal faction demanded Oli's resignation both as party chair and prime minister, Oli in a bid to save his position took the President into confidence on Thursday and prorogued Parliament, thereby avoiding any possibility of a motion of no confidence against him.
By proroguing the House session, Oli also created the ground for him to bring an ordinance to split the party, stoking concerns in the Dahal-Nepal faction.
"Oli has played his cards," said a leader who requested anonymity. "Now whether Dahal will rise to the bait of chairmanship is the question but while doing so, he also needs to consider what deal he can reach with Nepal."
If Oli and Dahal fail to find common ground on Saturday morning, the Standing Committee will have to take a call.
"We are in a state of deadlock at present," said Raghuji Pant, a Standing Committee member who is close to Nepal. "If Oli continues to refuse to step down, things will get further complicated. Let's see what happens in the Standing Committee meeting tomorrow."
---
---