Four political parties condemn ordinances
A meeting held at Nepali Congress' central office in Sanepa demanded the federal parliament be convened immediately.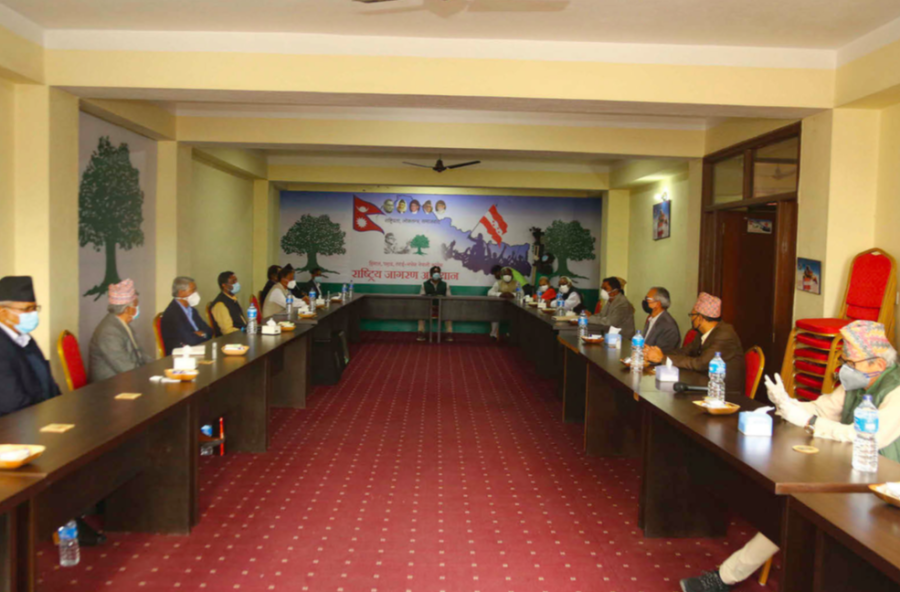 Leaders from the opposition parties take part in a meeting called by the main opposition, Nepali Congress, at its central office in Sanepa, Lalitpur, to discuss the two ordinances issued by the government. RSS
bookmark
Published at : April 23, 2020
Updated at : April 23, 2020 07:40
A meeting of the four political parties held at Nepali Congress' central office in Sanepa, Lalitpur on Wednesday condemned the two ordinances issued by the KP Oli administration.
Leaders from the Nepali Congress, Rastriya Janata Party, Samajwadi Party and Rastriya Prajatantra Party who participated in the meeting held that the oli administration was paving the way for autocratic rule and the latest decision was another step in that direction.
"The two ordinances, related to political parties and the Constitutional Council, issued by the Oli administration undermine core constitutional norms and democratic values," reads a statement from the parties. "We condemn it."
Prime Minister KP Sharma Oli's government on April 20 issued two ordinances relaxing requirements to split a party, and enabling the Constitutional Council, which makes appointments to key constitutional bodies, to take decisions on the basis of majority.
The parties demanded that the government immediately convene the federal parliament by ensuring necessary arrangements for members to maintain social distance.
"People have been deprived of food and other minimal requirements due to nationwide lockdown. The government has been insensitive, partial and discriminatory towards its citizens when it comes to distributing relief, conducting rescues or testing for Covid-19 and providing patients health facilities," said the parties. "We draw the attention of the government towards these issues."
The meeting appealed to political parties, members of the civil society and the general public to remain vigilant and keep an eye on the steps the government takes.
The parties have decided to hold further interactions and discussions with civil society members and political parties not represented in the federal parliament.
"We will be gathering public support against the undemocratic steps of the government by abiding with the lockdown rules. We will be compelled to take action against the autocratic and anti-people steps of the government once the lockdown is over," the meeting concluded.
---