Silk Road bonanza
The Belt and Road Initiative advanced by China presents huge prospects for Nepal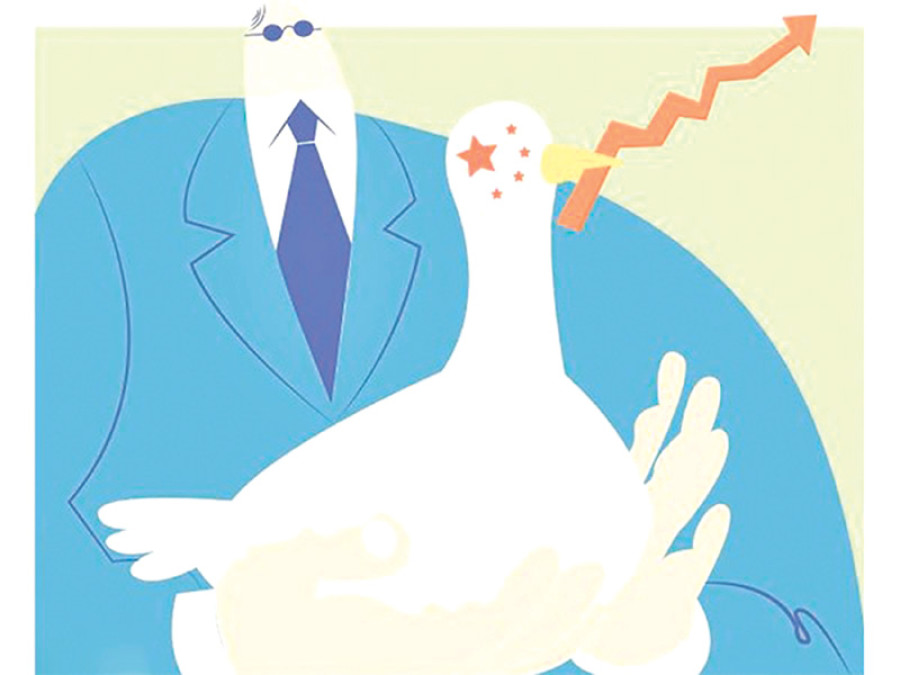 bookmark
Published at : December 16, 2016
Updated at : December 16, 2016 08:32
China's Belt and Road Initiative envisages bringing together countries in Central Asia, West Asia, the Middle East and Europe lying on the historical Silk Road into an economic zone by enhancing cooperation and connectivity. The scheme will create a new cycle of the global economy, making it the third largest trade axis after the Atlantic and Pacific trade axes. As it is home to a whopping population of around 4.6 billion (more than 60 percent of the world total) and boasts an economic aggregate of about $21 trillion (about one-third of the world total), it presents enormous prospects for Nepal which shares a contiguous northern border with China.
Given Nepal's central location, the shortest corridor to link the region can be Thori-Kyirong-Lhasa. Nepal will benefit immensely by bridging two neighbours India and China, the two biggest growth engines of the new millennium. It will also help to bring the two largest populations in the world closer. With the establishment of railway links and better roads, it will be easier to conduct more frequent trade shows and exchanges of visits.
Compliance and commitment
The construction of infrastructure and the establishment of a regional public goods supply system through the Belt and Road Initiative will provide Nepal an opportunity to benefit from China's exploding economic growth. Expanded or improved physical infrastructure, such as transport links and telecommunication, can significantly increase trade and transactions between China and Nepal. The recent decision of the Nepal government to obtain optical fibre services from China is another step forward in our effort to link all of us digitally.
So, once minds are broadened and do not remain constricted as in the past, boundless opportunities will emerge. Today, not only commodities and people travel across countries, but also energy and information. The Kathmandu Valley has been freed of the pain of load shedding by importing electricity from India. Thus, with the passage of time, commodities, people, energy and information will travel across countries as long as compliance is upheld and commitments are fulfilled.
Improved transportation and multiple entry ports across the northern border can give rise to immense transit trade, which will add value to the goods produced in Nepal. Given Nepal's position at the centre of the old trade routes, it can benefit much after major cities are connected through the Belt and Road Initiative. With improved and enhanced transportation links, Nepal can benefit by reducing transportation costs significantly. For instance, the extension of Chinese railways to Kyirong across the border from Rasuwagadhi will mean lower freight charges as compared to conventional transportation over roadways. If rail connectivity can be extended to Kathmandu from India or China, Nepal's long-standing dream of attracting a million tourists will certainly come true. At the same time, the country's Buddhist and Hindu pilgrimage tourism potential will be well utilised.
Economic diplomacy
Trilateral moves in the context of the current political culture in Nepal is near to impossible in the immediate future due to the existing constitutional provisions. We have seen numerous agreements and accords made in the past gathering dust. There should be no scepticism about development efforts whether sponsored by India or China as long as they are intended for the welfare of the people of this country. Creating political problems and spreading scepticism will lead the Nepali people into further chaos irrespective of the wishes of our neighbours to channel their commerce through Nepal.
In order to bolster our initiative, Nepal needs to change its diplomatic paradigms. Merely elevating the ambassadorial designation to the ministerial level will not help much. Ambassadors should be mandated to conduct economic diplomacy with additional resources even if we have to reduce the number of permanent missions by shutting down missions in countries where they are not greatly needed.
We can walk in tandem with India and China only if we comprehend their security issues and development thrust by improvising our policy and behaviour. Else, we will miss the train of opportunity running along our northern and southern frontiers. Perhaps Nelson Mandela's saying is a pertinent way to conclude: "It is not where you start, but how high you aim that matters for success."
Baral was foreign relations advisor to former prime minister GP Koirala
---