Off the record
Formalisation per se does not support Nepali women to expand and ensure the sustainability of their business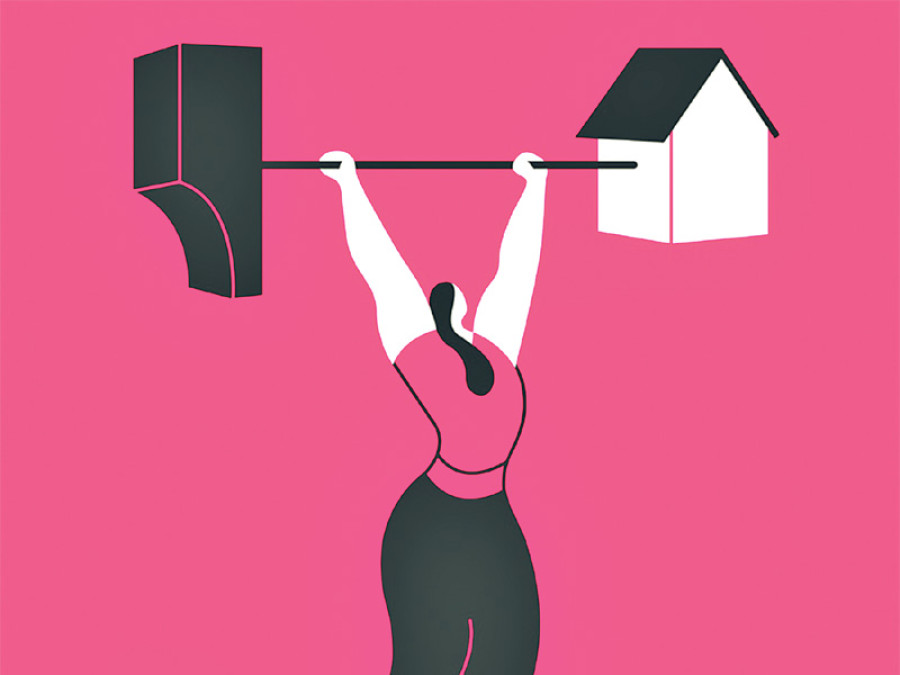 bookmark
Published at : January 27, 2016
Formalisation is continuously proposed by governments and international organisations to ensure sustainable economic growth. However, we know little about the role that formal and informal institutional dynamics, affecting the choices of women in the developing world to operate in the informal sector, play in the process. It is imperative to understand the extent to which, under what influences, and with what implications, different groups of women informal entrepreneurs in Nepal engage with, or make the transition to the formal sector.
One persistent development challenge has been the prevalence of large informal economies in developing countries. In countries like Nepal, the informal economy employs 2.14 million people, accounting for 70 percent of the economically active population, according to a 2009 report of the Central Bureau of Statistics. A higher proportion of women—77 percent—are employed in this sector due to their lower level of education and lack of capital as per the National Labour Force Survey, 2009. A 2005 report on micro and small enterprise policy review in Nepal by the International Labour Organisation estimates that women mainly operate micro-enterprises (45 percent) and the registration of these female-owned and operated micro-enterprises is much lower (5.4 percent) than those run by men (47.1 percent).
New research
Women's involvement in wholly informal ventures is often motivated by poverty or 'involuntary exclusion' from the formal labour market, and is concerned with sustaining the livelihood of their families. This is highlighted by the fewer number of women who operate their own businesses in the formal and informal economies, and fewer number still of women who formalise their businesses. As the Nepal government intensifies its efforts in tackling informality amongst women, and academics and practitioners debate whether, and how, women's businesses can be sustainable in the developing world, the research titled 'Transitioning into the Formal: Women Entre-preneurs in the Informal Economy of Nepal' provides evidence to support the government in designing future policies in this area.
The research was funded by the Centre for Economic Policy Research and the Department for International Development (UK) within their Private Sector Development in Low Income Countries Scheme intended to understand variations in choices and involvement of women in the formal or informal economy along socio-spatial contexts and women's life realities. Interviewing 90 women operating in the informal economy, or recently formalised, in trade, service, food and handicraft sectors in three different regions in Nepal—Kathmandu, Biratnagar and Pokhara—the research aimed at an in-depth understanding of the motivations to start a business, and the range of economic, socio-cultural and institutional factors that affect women's present choices and their future plans. The highest concentration of women interviewed for this study fell in the age group of 31 to 40, with higher secondary education, married, operating in the service sector and in business for less than five years.
Existing realities
The focus of this research on women's life realities and the distinctive characteristics of socio-spatial contexts revealed a number of interesting findings. Although most respondents engaged in these entrepreneurial activities due to the lack of other alternatives, a significant number were attracted by a desire to be active and financially independent rather than 'sitting idle' at home. The confidence, experience and skills that women accumulate through their business activities make them more resilient and adaptive to the social or cultural constraints of their environment. Whilst the family unit is important for women for the supply of free labour and financial support, and access to networks and migration (by way of financial contributions), it sometimes places burdens on women's time and discourages them. Women, however, often use family and other forms of social capital to gain new suppliers, business connections, and new customers. And when they manage to succeed, they also gain reputation and the trust of their families and communities. It is rather encouraging for the Nepali society to have women, including those with low-level education and coming from rural areas, break away from socially prescribed roles and expectations as carers of family.
Formalisation is found to be more likely within the group of women who have capacity enabled by higher education, an established market and several years of operation. These women also benefit from being in an encouraging environment where others are also registered and can provide the necessary information. The most commonly reported risk or challenge, as well as one of the most frequently cited reasons for remaining in the informal sector was 'capital constraints', which emerged in discussions of future plans and sustainability. Respondents reported obtaining funds for start-up costs outside of formal banking institutions. The reluctance to use banks or even 'finance' cooperatives was related to fear of persistent debt, triggering reliance upon families or community-based informal lenders instead. This was also visible in the low participation of women in membership groups and organisations with skills, where training and financial support were often being provided by family or informal networks rather than the government institutions suggesting a lack of awareness and trust in formal institutions.
The study suggests that formalisation per se does not support women in the developing world to expand and ensure the sustainability of their business. Decisions to operate in the formal or informal economy are complex and not simply based on costs and benefits rationales but affected by women's social context. Policies to support women's capacities through business and management skills, leveraging the intermediary groups and good coordination of various organisations could be more effective in integrating informal women entrepreneurs to the formal economy.
Xheneti and Karki are affiliated with University of Sussex, UK
---