Dahal's Delhi trip: Some hits, many misses
Energy, connectivity deals forged under pressure. Indian side maintains its old position on the Pancheshwar Multipurpose Project, more positive on power cooperation.

RSS
bookmark
Published at : June 2, 2023
Updated at : June 2, 2023 07:18
New Delhi
Even until Wednesday night, Nepal and India each seemed intent on making the other blink first in ice-cold negotiations. But by early (and rather hot) Delhi morning on Thursday, the atmosphere had warmed up a bit and the two sides sat down to sign a few vital agreements.

Prime Minister Pushpa Kamal Dahal's India visit failed to make the expected 'breakthrough' on the air route and Pancheshwar Multipurpose Project. Despite forging an understanding regarding long-term electricity trade, a final agreement, however, is yet to be inked.
Among Nepal's three major priorities—additional air route for in-bound flights to Nepal from Mahendranagar, a 25-year agreement on electricity trade, and a final settlement on Pancheshwar Multipurpose Project—officials of the two countries were at loggerheads on long-term electricity trade agreement.
The Nepali delegates were irked after India's National Security Adviser Ajit Doval and Indian Foreign Secretary Vinay Mohan Kwatra, who jointly called on Dahal at Hotel Maurya on Wednesday, proposed that an agreement on the deal be delayed. The Nepali side stood its ground on not signing the Lower Arun and Phukot Karnali hydropower projects unless India relented on the electricity deal.
The two sides came to an understanding only on Thursday.
Nepal was pushing for an umbrella trade agreement for 25 years to export its electricity. The two sides reached an agreement in principle at the prime minister's level, but they are yet to sign an agreement and exchange letters towards this end.
"The Indian side was against signing an agreement on the electricity deal till Wednesday night. But the two sides reached an understanding on Thursday morning due to Nepal's resolute stand on the Lower Arun and Phukot Karnali," a high-level Nepali official accompanying Dahal on the trip told the Post. "As the Indian Council of Ministers is yet to approve the agreement, there could be no exchange of letters."
"Energy secretaries of the two countries signed a symbolic agreement. The goal is to exchange letters amid a function in the near future," he added.
Later Indian Foreign Secretary Kwatra said that Nepal and India agreed to increase the quantum of energy export to 10,000 MW within the next 10 years. Currently, Nepal is allowed to sell 452.6MW of electricity generated by 10 hydropower projects in the Indian power markets. And, every year Nepal needs to renew the approval for a particular project to export power to India, which adds to the uncertainty.
Besides, the two countries agreed to build 480 MW Phukat Karnali Hydropower Nepal, which will be developed by India's National Hydro Power Company. They also agreed on signing a project development agreement for the 679 MW Lower Arun project to be undertaken by India's state-run Satluj Jal Vidut Nigam.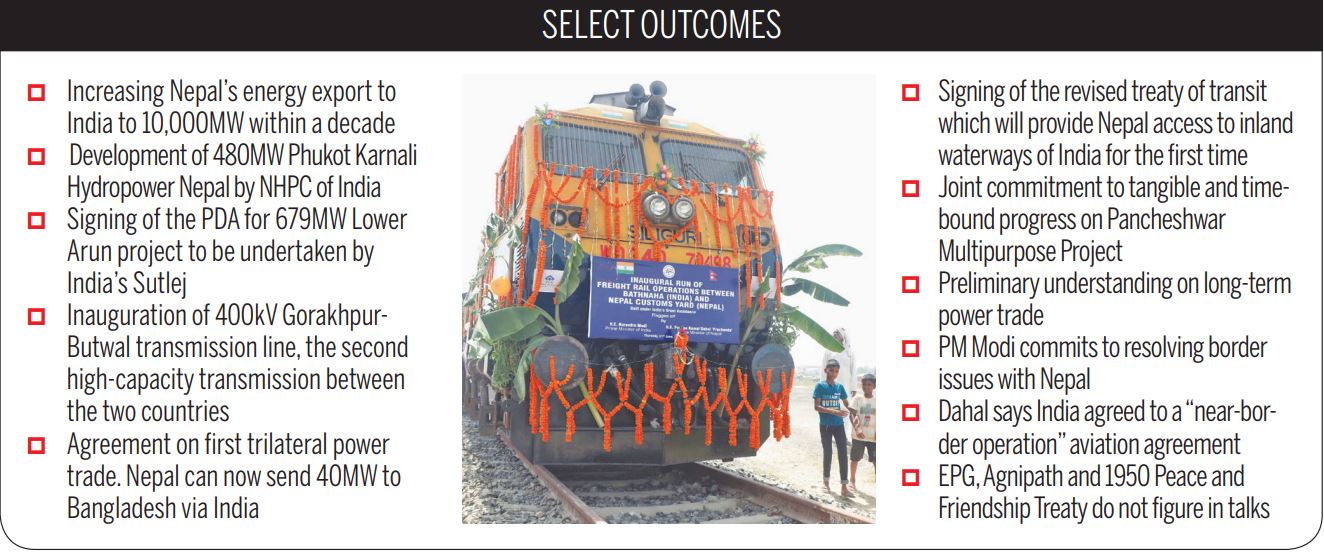 Nepali delegates seem upbeat about the progress made on the long-term electricity trade. "The companies of Nepal and India can now directly sign medium- and long-term agreements on electricity import and export as per the umbrella agreement. So far, we had to renew the agreement every year to export electricity from a hydropower project in Nepal," said Kulman Ghising, managing director of Nepal Electricity Authority.
"Moving forward, we don't have to do that. Now the new deal has paved the way for the buyers and sellers from the two countries to sign agreements for five to 25 years."
Ghising claims the electricity agreement could be a starting point to achieve Nepal's prosperity through energy export.
The two prime ministers have included the issue in their post-meeting addresses. Reacting to Modi's statement that "India will buy 10,000 MW of electricity in the upcoming 10 years," Dahal said the deal was "an outstanding development in bilateral collaboration."
Similarly, Nepal and India found a middle-of-the-road compromise on air route agreement. India has agreed to allow inbound flights to use the L626 route that enters Nepal from the west over Mahendranagar, but only for aircraft flying at an altitude of 15,000 to 24,000 ft, which experts say is too low and uneconomical for jets.
"We wanted a breakthrough on the air route at least through Mahendranagar. But an agreement towards that end could not be reached. India, however, proposed low-level flights. It should be taken positively," said Dahal's chief political advisor Haribol Gajurel.
According to officials, Nepal's southern neighbour had already approved this air entry route in 2018 for low-level flights, and further examinations were slated to be made by September of the same year.
The Pancheshwar Multipurpose Project was Nepal's third important agenda item of Dahal's India visit. India, however, reiterated the same old commitment on the project. Even after 26 years after the signing of the controversial Mahakali Treaty between the two countries, even the DPR of the project has not been prepared.
The Indian side has continued to maintain its status quo position on the Pancheshwar Multipurpose Project during the visits of each sitting prime minister of Nepal. "Both countries have yet again agreed to finalise the DPR of the project. We have directed officials of the respective countries to finalise the project modality within a year," said Dahal. The then-prime minister Sher Bahadur Deuba had also used similar language during his India visit last year.
---
---