Controversial pork barrel fund revived after two years
Former member of planning body terms the budget anti-federalist.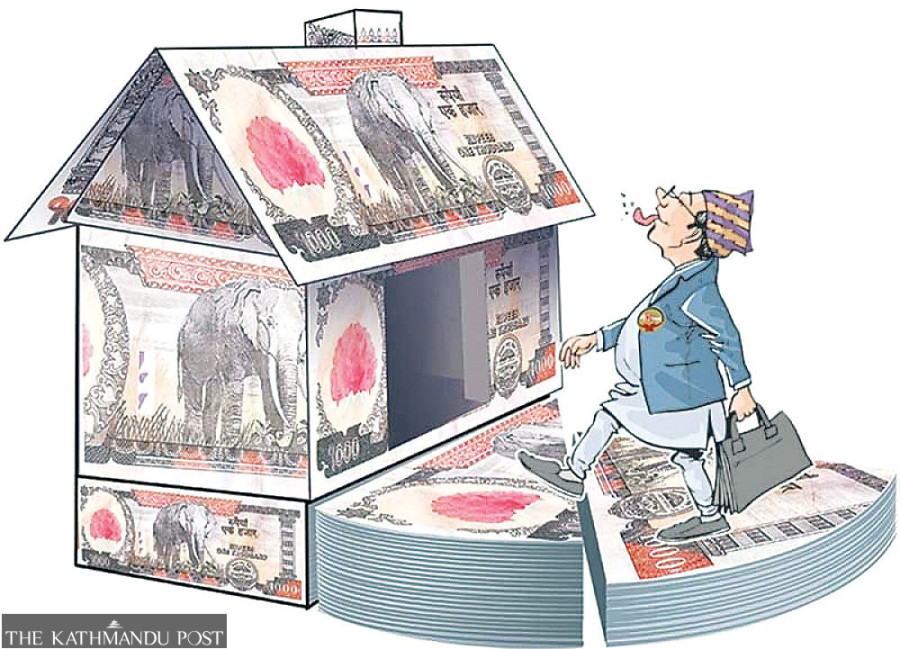 Post Illustration
bookmark
Published at : May 30, 2023
Updated at : May 30, 2023 07:52
Kathmandu
The government has revived the Local Infrastructure Development Partnership Programme, popularly known as the Constituency Development Fund, which was shelved for the last two years following strong criticism from different sections of society.

However, most of the lawmakers from across the parties have maintained silence over the resumption of the controversial programme.
According to party leaders, even independent lawmakers and those from new parties have not protested against the resumption of the fund, which undermines the very spirit of federalism.
"I have proposed an allocation of Rs50 million for the Constituency Infrastructure Development Programme to address the local needs of development works through their representatives," said Finance Minister Prakash Sharan Mahat while presenting the fiscal budget in Parliament on Monday.
He said a total of Rs8.25 billion has been allocated for the programme, which should be spent on specific sectors such as roads, irrigation, water supply, education and sports.
The Infrastructure Development Fund initiated by the government led by late Sushila Koirala was discontinued after widespread criticism over the misuse of funds.
Former Nepal Rastra Bank governor Deependra Bahadur Kshetri, who is also a former vice-chair of the National Planning Commission, said two examples in the budget proved that this government is against federalism. "Not only has the government revived the pork barrel fund, it has also reduced the allocations to provincial and local governments," said Kshetri. "These two instances proved that this government is opposed to federalism."
The federal government halted resources for projects under the programme in July 2020, and decided to use the remaining funds for Covid response. But the KP Sharma Oli-led government in 2021 released the budget for the programme. After widespread criticisms, the then finance minister Yubaraj Khatiwada reduced the allocation for the programme to Rs40 million in the budget for the fiscal year 2020-21 from the earlier Rs60 million per constituency. The federal government had allocated Rs6.6 billion for the programme in the fiscal year 2020-21, down from Rs9.90 billion in 2019-20. The programme was discontinued in the fiscal year 2021-22, but provinces continue to make such allocations.
The programme has been mired in repeated controversies as some of the lawmakers are believed to have been misusing the funds, promoting policy corruption. Many have been saying it promotes the misuse of taxpayers' money because the fund is mostly spent on lawmaker's discretion. Also, the fund is mainly used by local consumer committees that are led by party workers. The annual reports of the auditor general have frequently mentioned that the funds have not been used properly.
---
---