Agencies working in health, gender sectors in Nepal fall short on gender equality
Only a third of Nepal's non-governmental organisations sampled are led by women and have gender parity in senior management, new report shows.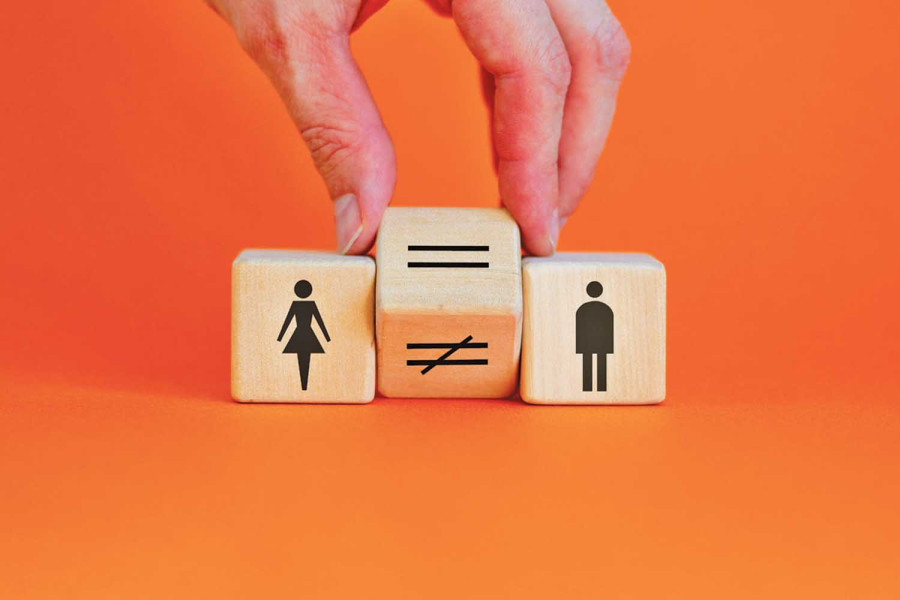 Shutterstock
bookmark
Published at : August 12, 2022
Updated at : August 12, 2022 07:30
Kathmandu
Nepal has made strong commitments to advancing gender equality, but a majority of organisations active in the field of health and gender themselves fall short on the commitment.

Very few organisations are found to have publicly available policies that promote and support gender equality, according to a new study "Gender and Health 50/50 Nepal: Catalyzing change for Gender Equality and Health Equity" by the Centre for Research on Environment Health and Population Activities with the support of Global Health 50/50.
"Only a third of Nepal's non-governmental organisations sampled are led by women and have gender parity in senior management," the report says.
A total of 77 organisations—47 global organisations including the UN and 30 national NGOs—were surveyed between March and June 2021.
The report also surveyed two ministries—the Ministry of Health and Population and the Ministry of Women, Children and Senior Citizens—and three government departments—the Family Welfare Division FWD, the Epidemiology and Disease Control Division (EDCD), and the Department of Women and Children.
The objective of the study, according to researchers, is to assess the gender of the leadership in the past five years and gender parity at the senior-level management in the organisations.
The study shows that 13 out of 30 (43 percent) national NGOs have publicly committed to gender equality, while 43 out of 47 (91 percent) global organisations active in Nepal committing themselves gender equality.
"A substantial proportion of organisations in this sample still needs to put gender on the agenda as a first step towards gender-responsive programming," reads the report, made public on Wednesday.
According to the study, only seven percent (two out of 30) national NGOs and 49 percent (23 out of 47) global organisations have defined gender, meaning that still more than half of global organisations operating in Nepal could not provide even the definition of gender.
Workplace policies to promote gender equality and diversity and inclusion need more transparency, says the report. "But only two out of 30 NGOs working in the health care sector shared their workplace policies."
At the global level, more than half of the 47 global organisations in the sample had gender equality policies and/or diversity and inclusion policies, according to the study. "Yet, among the same organisations, only three had workplace gender equality policies and two had diversity and inclusion policies specific to their work in Nepal."
Workplace policies for gender equality, diversity and inclusion promote and support better workplaces while also facilitating career progression for women and other under-represented groups.
The study also found a notable lack of transparency and availability of such workplace policies. Putting such policies in the public domain is a key step towards transparency and accountability.
Maternity policies assessed provide fewer weeks of paid leave than stipulated by the Nepali law, including 10 policies of national NGOs, according to the report.
No parental leave policies were found in the public domain of the surveyed national NGOs. Also, there were no such policies for the Nepal-based staff of global organisations. Eleven national NGOs shared their parental leave policies when requested as did 12 global organisations. An additional eight global organisations indicated that they follow the global policy of their headquarters, of which seven were available for assessment.
The study also highlights large gaps in gender parity in leadership and management positions.
The senior management of the Ministry of Health and Population was highly gender unequal with 89 percent—25 out of 28 officials—found to be men. At the Ministry of Women, Children and Senior Citizens, six out 13 senior management staff were men.
Of the three government departments sampled, the Family Welfare Division and the Epidemiology and Disease Control Division had no women directors, while the Department of Women and Children had three women directors out of the total eight.
Findings of the study show that underrepresentation of women continues at the highest level.
"Our study shows that organisations, which advocate for gender equality and transparency themselves, lacked those things," said Dr Mahesh Puri, co-director of CREHPA. "How could those agencies advocate for things, which they themselves could not implement?"
Gender inequality has been found not only in NGOs and INGOs but also in UN agencies, according to officials involved in the studies.
Experts in Nepal said that making a commitment on gender and equality in national as well as international forums is one thing and translating those commitments into practice is a different thing.
"We have commitments, constitution, laws, policy and guidelines for gender equality," said Mohna Ansari, former commissioner for the National Human Rights Commission. "Only those things are not sufficient to ensure equality. Sincere efforts are needed to implement those commitments."
NGOs and INGOs have contributed a lot to promote gender equality in Nepal.
But experts say time has come to contemplate whether they practise what they preach.
"Report shows the agencies which have been advocating for gender equality themselves have failed to implement the same. There's a lack of transparency as well," said Bandana Rana, vice chair at the United Nations Committee on the Elimination of Discrimination Against Women (UNCEDAW). "Those agencies should introspect if they have been following policies of inclusion and gender equality."
---
---