Nepal receives observer status in Shanghai Cooperation Organisation
Foreign policy observers say association with such a huge grouping has benefits but Nepal should tread carefully on military and security aspects amid rising geopolitical components.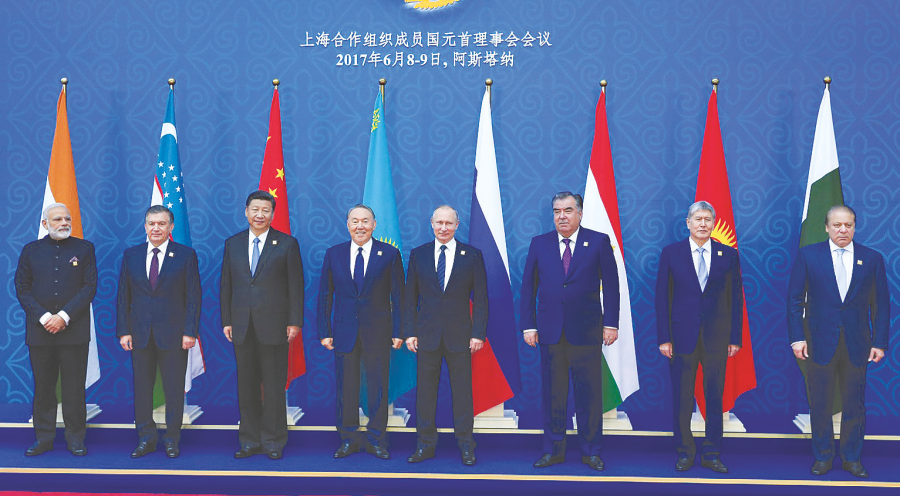 Observers perceive the SCO as a political, security and economic organisation. Photo: Russian Presidential Press and Information Office
bookmark
Published at : July 31, 2022
Updated at : July 31, 2022 08:35
Kathmandu
Nepal is all set to be elevated from a dialogue partner to observer in Shanghai Cooperation Organisation, one of the biggest regional organisations in terms of geography, population and economy after the United Nations and the Non-aligned Movement.

The decision came on Friday during the SCO foreign ministers' meeting in Samarkand, Uzbekistan.
Nepal's association with the SCO began as a dialogue partner after signing a memorandum of understanding with the SCO Secretariat on 22 March 2016. During his official visit to China in March, 2016, then-prime minister KP Sharma Oli witnessed the MoU signing.
China, India, Kazakhstan, Kyrgyzstan, Russia, Pakistan, Tajikistan and Uzbekistan are the members of the SOC whose secretariat is in Beijing. Besides Nepal, Azerbaijan, Armenia and Cambodia will receive the observer status, according to news reports.
Officials and experts said the role of observer in any regional organisation is "toothless" and offers "limited scope" but Nepal should do proper homework to take full advantage from economic initiatives including trade, commerce as it is linked to such a big organisation. Since SCO also has military and security components, Nepal should tread carefully because being an observer is the way to full membership, they added.
The MoU defines the scope of Nepal's engagement with the SCO in the fields of trade, transit and investment, energy, agriculture, small and medium business; security issues; legal and customs affairs; transport and communications; science and technology, education, health, culture and tourism, and disasters, according to the Ministry of Foreign Affairs.
Since SCO also talks about politics, military and security engagements, one senior Foreign Ministry official said that Nepal's rule of engagement would be in taking advantage of economic partnership and since India and China are the members of the SCO, the platform is a safe forum for Nepal.
Many perceive Nepal's foreign relations as having tilted towards the West lately. With a similar reading, Beijing has increasingly expressed its unhappiness with the Sher Bahadur Deuba government.
It's an overstatement to say that Nepal's elevation to the observer status in the Beijing-led initiative is a "counter-balance" to the West, an official said. "It's too early to reach that conclusion."
Having the observer status leads to the full membership of the SCO. "Simply as an observer too, we can benefit from the position," the official said. "Since India and China are full members and they helped in elevating us, there is no need for Nepal to hesitate to become an SCO member now. But we need to be careful about the military and security components."
Officials said that Nepal has been looking for its full membership since 2018.
During the visit of Chinese Foreign Minister Wang Yi, who is also the State Councilor of China, in 2019, and the subsequent visit by Chinese President Xi Jinping that year to Kathmandu, the Nepali side expressed its desire to become a full member of the SCO.
"There are two purposes of joining a regional organisation like the SCO," said former Nepali ambassador to China Leela Mani Paudyal.
"One is to get direct access to the heads of the state or government of the powerful nations during annual summits or conferences. There we have the opportunity to speak with them and put forth our concerns and grievances. Second, small countries like Nepal can take full advantage of the SCO by using the facilities for doing business and trading within the bloc. Such opportunities involve us in trans-national economic activities. We can also take advantage of the SCO member states' huge energy reserves."
Paudyal had played an important role for Nepal to become the dialogue partner. Some western commentators view SCO as the East's counterbalance to the North Atlantic Treaty Organization (NATO).
Not everyone is so optimistic though.
"The role of observer in the SCO is limited and defined," said Rishi Ram Ghimire, former Nepali ambassador to Russia. "The observers are invited to annual conferences and summits but they have no say in any decisions."
Ghimire added, "But yes, if we are able to tap opportunities like the Russia-China gas pipeline that passes via Tibet, Nepal can benefit."
One Nepali diplomat suggested that Nepal should be careful about joining a bloc that also has military and security components especially in the time of rising geopolitical tensions.
"Our stated policy is to pursue an independent, non-aligned foreign policy and not participate in any military alliance or bloc," the diplomat said.
Observers perceive the SCO as a political, security and economic organisation.
"While engaging with such an important organisation that engages India, Russia and Pakistan, we need to do proper homework and have a strategy," said Dinesh Bhattarai, former foreign relations adviser to two prime ministers.
Bhattarai suggests that when Nepal becomes a member or observer of any regional or multilateral organisation, it should take advantage of their purpose, programme and initiative.
"We should participate in clear terms and conditions," Bhattarai said. "We need to do proper homework on how to expand our engagements in the organisation that has India, China and Russia, which are the biggest nations in terms of geography, population and economic might."
---
---