Will Parliament get more independent lawmakers, after local election results?
Encouraged by local poll verdict, independent candidates are eying federal elections.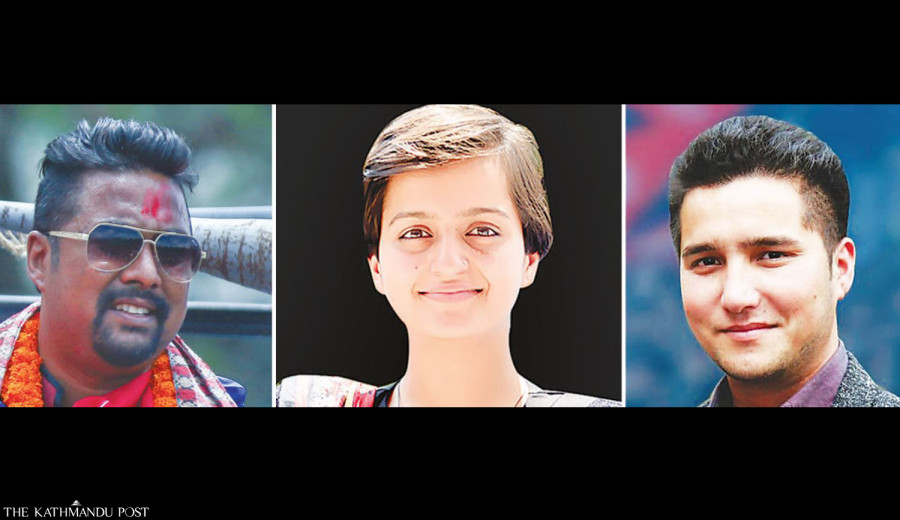 From left, Suman Sayami, Ranju Darshana, and Pukar Bam are planning to contest federal polls. Post File Photo
bookmark
Published at : June 7, 2022
Updated at : June 7, 2022 15:56
Kathmandu
Elections strengthen democracy, but sometimes they are full of surprises. The latest local elections are a case in point.
At least three candidates pulled off a coup, as they left behind party candidates to win the mayoral race independently. Some won the polls "on their own" as they were fighting as "rebel" candidates fighting against the official candidates of their parties.
Encouraged by the wins by such independent candidates, some are now planning to contest independently as the country prepares for general elections.
Suman Sayami is one of them. He secured 13,000 votes in the race for mayor of the Kathmandu Metropolitan City, garnering fourth highest number of votes. Balendra Shah, an independent candidate, won the election. Sayami has announced that he will fight the upcoming elections.
Similarly, Pukar Bam, a Bibeksheel Sajha leader, is contesting the elections from Kathmandu Constituency-1 while Ranju Darshana, a former leader from the same party, is preparing to announce her candidacy from Kathmandu Constituency-5.
Bibeksheel Sajha, however, had a disastrous performance in the local elections, prompting its chair Rabindra Mishra to step down.
Darshana was a mayoral candidate in Kathmandu Metropolitan City in the 2017 local elections. She secured 23,439 votes to finish third in the race that CPN-UML's Bidhya Sundar Shakya won.
Bam said that he is contesting the elections in an independent capacity.
"There will be independent candidates in all the constituencies from the Kathmandu Valley and in different places outside the Capital," he told the Post. "We are planning to form a loose alliance of independent candidates to contest the elections in a coordinated way."
Consultations have begun on fixing the date(s) for the general and provincial elections, with Prime Minister Sher Bahadur Deuba expressing his desire to hold them within November.
In the last local elections in 2017, independent candidates had won just four local units—municipalities and the rural municipalities. This time 13 have won mayoral and rural municipality chair posts as independents.
Bam, who had contested the second Constituent Assembly elections and the 2017 general elections as a Bibeksheel and Bibeksheel Sajha party candidate, respectively, said the victory of the independent candidates in the local elections has boosted his confidence.
"As a core member of Shah's team, I am energised with the victory of independent candidates," he said. "This is a clear indication that the voting patterns have changed and voters are looking at the candidates rather than parties."
Five ruling parties contested the local elections under an alliance in six metropolitan cities and 11 sub-metropolitan cities.
Observers say independent and "rebel" candidates winning close to one fourth of 17 metropolitan and sub-metropolitan cities is a huge change.
Harka Sampang Rai, a former migrant worker who had devoted his last few years to fight for the social cause, won in Dharan Sub-metropolitan City. Gopal Hamal, a businessman and social worker, claimed victory in Dhangadhi Sub-metropolitan City.
Manoj Kumar Sah, a rebel candidate of the Nepali Congress, won in Janakpur Sub-Metropolitan City.
Some independent candidates defeated party candidates in rural local units as well.
Political experts say local elections have shown the change in the voting pattern which has encouraged some to throw their hats in the ring as independent candidates.
"The increase in the number of independent candidates winning the local elections is a manifestation of the people's growing frustration with political parties and their leaders," Rajendra Maharjan, a political commentator, told the Post. "This is also a wake-up call for parties."
Ever since the restoration of democracy in 1990, Nepal has been governed by a handful of parties, and what many find even more bizarre is that the same old faces have been in power over the years.
The problem is, analysts say, Nepali parties have invariably failed on delivery but despite that they have been voted to power every time, because the electorate lacked options.
Mishra, the outgoing chair of the Bibeksheel Sajha, once drew an interesting analogy between the eating and voting habits of the Nepalis.
Nepalis tend to order the same "momo" or "chowmein" in restaurants after flipping through the menu for quite a while, said Mishra, insinuating that Nepalis tend to vote for the same old parties despite loathing them. Mishra said so when he was just about to make his foray into politics. It's a different story that Mishra himself failed to woo the Nepali voters.
Some of his party candidates did secure "respectable" votes though in the 2017 local elections, which did establish Nepali voters were looking for a change.
The recent elections and wins by Shah, Gurung and Hamal, however, according to analysts, indicate Nepali voters are inclined to vote for the candidates they find promising rather than any new party in the political spectrum.
"If the results of the local elections are anything to go by, we can expect an increase in the number of independent lawmakers in the federal parliament and provincial assemblies," Meena Vaidya Malla, a professor and former head of the Central Department of Political Science at the Tribhuvan University, told the Post.
In the 2017 general elections, one lawmaker was elected to the House of Representatives as an independent candidate.
Because of the 3 percent threshold, those elected from known parties, however, also have the independent status. Lawmakers like Rajendra Lingden from Rastriya Prajatantra Party, Prem Suwal from Nepal Majdoor Kisan Party and Durga Poudel from Rastriya Janamorcha are counted as independents although they were elected as party candidates.
"It clearly seems Nepali voters want to see more youths and new faces in politics," said Malla.
---
---