Valley's female candidates outline their women-related commitments
The candidates, vying for two top executive posts at local units in the Kathmandu Valley, promised they'd ensure a violence-free, safe and empowering environment for women.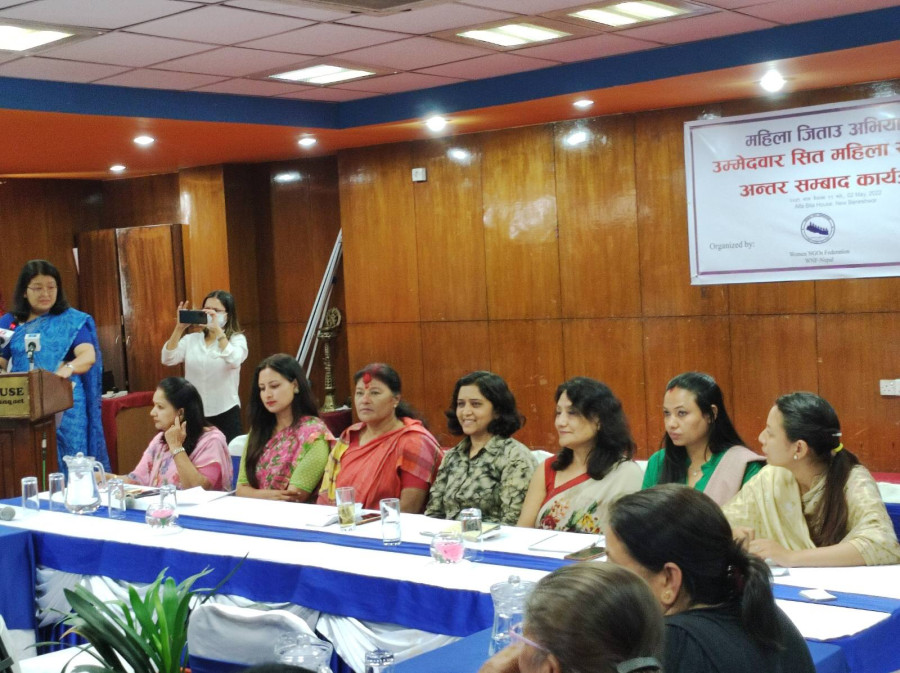 Photo courtesy: Sankalpa
bookmark
Published at : May 3, 2022
Updated at : May 3, 2022 08:02
Kathmandu
Women candidates contesting for various positions in the upcoming elections shared their commitments to women-related issues during an interaction in the Capital on Monday. The event saw women candidates representing four major political parties vying for various posts in Kathmandu and Lalitpur metropolitan cities.
The interaction was organised jointly by two alliances of women's organizations—Sankalpa Womens Alliance for Peace, Justice, and Democracy and Women's NGO Federation—under the slogan 'Let women win.'
The event aimed at providing a space for female candidates to discuss their plans to address violence against women, employment generation for women who work as migrant workers, and cases related to gender-based violence that are in limbo in various courts.
Among the participants were two mayoral candidates of Kathmandu—Samiksha Baskota (Bibeksheel Sajha Party) and Srijana Singh (Nepali Congress)—and mayoral candidate of Tokha Municipality, Rajani Thapa (Nepali Congress).
All three candidates spoke of their plans to ensure a violence-free, safe and empowering environment for women.
All of them echoed the need for a safe city for women, including in public vehicles and workplaces.
Baskota, a lawyer by profession, also spoke on the need for accessible public restrooms for women and proper sewage management.
Congress candidate Singh, who has dedicated years of her life to social work, emphasised her plans of installing CCTV cameras in public vehicles to ensure women's safety, and her vision of a city where women can walk alone even at night. "I want a city where I can walk alone at night," she said.
Singh recounted her days in youth politics and spoke in detail of her family's political legacy and its influence on her. Her commitments also included the need to protect daily-wage female workers and working mothers.
Moreover, both Singh and Thapa spoke of the need to generate political awareness among women about their rights and laws to ensure their safety.
Thapa explained her plans of providing free legal support to women who have experienced any forms of violence.
The event was also participated by three deputy mayoral candidates of Kathmandu—Binita Majhgaiya (Rastriya Prajatantra Party), Kirti Tuladhar (Bibeksheel Sajha Party) and Sunita Dongol (CPN-UML).
Majhgaiya, a conservation architect, talked about the need to ensure safety of women at their workplaces, from workplace harassment to gender inequality and gender pay gap. She also questioned if installing CCTVs at public vehicles would be sufficient to guarantee women's safety.
"The CCTV will allow us to gather evidence to file complaints later but that is insufficient to protect women when they are being harassed," said Majhgaiya.
She cited Lalitpur Metropolitan City's regular police patrolling initiative as an additional and more effective measure to counter harassment in public vehicles.
Majhgaiya also discussed gender roles and microeconomic decision-making of women and laid out her plan to contribute to the judicial committee and conduct of businesses.
Dangol, UML's candidate for Kathmandu's deputy mayor, made a brief appearance at the end of the function. She said she had to be at many places and couldn't attend the event earlier and spoke of her zero-tolerance policy for violence against women.
Deputy mayoral candidate for Lalitpur Swarnima Shakya (Rastriya Prajatantra Party) discussed her plans of ensuring women's empowerment and guaranteeing freedom of speech.
The event concluded with an interactive session with the audience. Audience members raised questions to the candidates who hadn't left.
Questions about inclusivity among the 'woman' identity were raised, whether they included dalit, janjati, squatter residents, or adult entertainment workers.
To which, Baskota, representing the panelists, responded that they commit to work for everyone, regardless of party affiliations.
---