Agriculture census to record impact of climate change
Experts say warming temperatures are cause for concern for Nepal's food security, as droughts, flooding and erratic rainfall, among others, are causing damage to produce.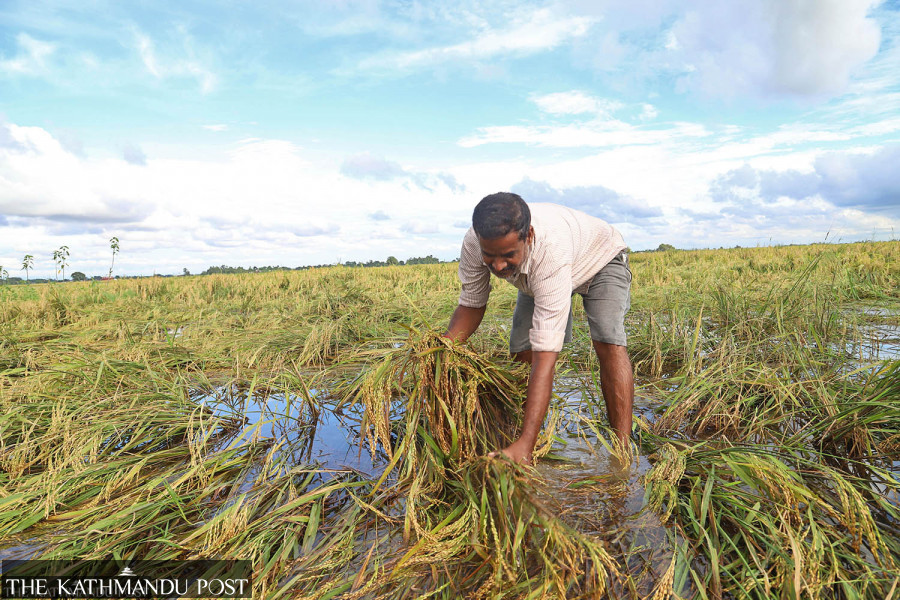 Post File Photo
bookmark
Published at : March 5, 2022
Updated at : March 5, 2022 07:07
Kathmandu
In August 2017, the country suffered record floods following torrential rains that killed 157 people and left 31 districts awash.
The floodwaters wiped out Rs8.11 billion worth of crops, excluding livestock and private food stores swept away by the surging water. The government then announced a Rs1.25 billion relief scheme for farmers in 30 districts who lost their crops to the floods. This was the highest compensation ever announced for farmers at that time.
The following year, strong winds and hail storms from April to May caused farmers in the eastern Tarai district of Siraha to suffer Rs6.4 billion in crop losses.
And an unusual event happened last year. On October 17, 2021, the country suffered floods following the unseasonal torrential rains that killed more than 100 people and left settlements in several districts under water.
Heavy rainfall is unusual in Nepal during October, which is traditionally outside the monsoon season. According to the Ministry of Agriculture and Livestock Development, the unusual rainfall caused losses amounting to Rs11.87 billion. The government announced a record high Rs5.52 billion payout to compensate the farmers' losses.
The sudden and extreme precipitation that occurred about a month after the monsoon usually ends in Nepal left experts worried about how climate change is impacting the economy and livelihoods of the people.
Come April, the Central Bureau of Statistics, the national statistical agency, will be collecting data, for the first time, on the impact of climate change in the agriculture sector.
"This is for the first time that we are incorporating the impacts of climate change on the agriculture sector in the questionnaire," said Badri Kumar Karki, director at the Agriculture and Livestock Census and Survey Section of the CBS. "There are not many questions but we are asking whether people know about climate change and how it has affected agriculture."
The CBS conducts the national agriculture census every 10 years after completing the population census. The national census was completed in November last year, and a preliminary report released on January 26 has put the country's population at 29.19 million.
The CBS will start field work for the agriculture census from April 19, which will last until June 2, officials say.
According to the CBS, details about women's ownership of agricultural lands, the status of pesticide use by farmers and status of agroforestry are other areas to be covered in the upcoming agriculture census.
Karki said that the enumerators would ask questions like if cultivation time has changed, size of food items has changed and harvesting time has prolonged or shortened.
A recent climate report by the United Nations Intergovernmental Panel on Climate Change (IPCC), released on February 28, urged the world to adapt now, or suffer later, sounding an alarm bell to act before it's too late.
Noting that nearly half the world's population was already vulnerable to increasingly dangerous climate impacts, the report calls for drastic action on a huge scale: A third to a half of the planet needs to be conserved and protected to ensure future food and freshwater supplies.
The report states that Nepal faces the risk of massive flooding which may seriously hamper paddy production.
"Projections indicate an increase in damage to area under paddy by upto 50 percent in Nepal," the Sixth Assessment Report, Climate Change 2022: Impacts, Adaptation and Vulnerability of the IPCC states.
Experts say that climate change risk for farming has grown heavily due to the erratic weather pattern, crops not being successful in the usual places and growing attacks of new pests and diseases, most of them attributed to the impact of climate change.
"Streams are drying up and winter crops, particularly in hilly areas, are falling victim to this trend," said Madhukar Upadhya, an expert on watersheds. "In the Tarai, underground sources of water are drying up. So growing crops particularly in areas where there is no supply of surface water has become increasingly difficult."
While floods are the pressing issues on the lowlands, the impact of climate change in the highlands is also becoming real and visible. Apple farmers in the Himalayan district of Manang are moving northwards to higher elevations to try to grow a new variety of the fruit in a bid to benefit from higher temperatures caused by climate change.
According to Upadhya, farmers these days are not sure if their crops would be successful. "Untimely rainfalls caused massive damage to paddy this winter and cash crops such as orange, sweet orange and lemon plants were damaged badly by citrus greening disease from Gorkha to Sindhuli in recent years," said Upadhya.
Referring to past studies, the IPCC report states that agriculture-oriented
livelihoods are reported to be negatively affected by an increase in landslide frequency (92.6 percent) and intensity (97.3 percent) over a 20-year period (1996-2016).
Manjit Dhakal, a climate change expert, said a number of international and Nepal government's reports have pointed out the massive impact of climate change on farmers and the agriculture sector.
"A recent government report says there were 16 major droughts and floods between 1972 and 2016, with around 39 percent of crops damaged by droughts and 23 percent by floods," he said. "The new UN climate report has reinforced the impact of climate change on farming."
In 2016, the CBS had produced a survey report about the impact of climate change.
According to the report titled 'National Climate Change Impact Survey 2016,' almost all households (99.33 percent) reported that they have observed an increase in drought as a climate-induced disaster in the past 25 years. Similarly, 97.69 percent households observed an increase in disease/insects and sporadic rain. The survey reveals that a huge chunk of households observed new disease emerging on crops and a large number of households observed the appearance of new insects. The majority of households reported an increase in invasive species of shrubs.
"The 2016 survey was conducted among limited households. The agriculture census will cover more households which will help us provide a better picture of the impact of climate change," said Karki.
CBS, according to officials, aims to reach out to 2.8 millions households during the listing process and about 350,000 households will be selected to get detailed information.
Besides collecting information about the impact of climate change, the bureau also aims to seek details about tunnel farming. Plastic tunnels are small greenhouse-like structures covering the plants. These tunnels are erected with bamboo and covered with clear plastic.
"There has been an increasing trend of commercial tunnel farming, particularly that of tomatoes and lemons," said Karki.
The bureau also aims to produce statistics about insurance coverage of crops and livestock across the country through the new agriculture census.
In Nepal, the development of agriculture insurance was initiated in 2013 with the issuance of a directive related to governmental premium subsidies for crop and livestock insurance.
The insurance policies cover the risks related to fire, lightning, earthquake, flooding, landslide, drought, storm, hailstorm, frost, snow, sudden or accidental external factors, disease and illness. For the crops, there is also insurance coverage for the damage caused by pests and for fish insurance, the damage caused by lack of oxygen and ammonia or death due to poison is covered.
According to the Insurance Board, insurance companies issued insurance policies worth Rs42.49 billion in the last fiscal year 2020-21 with the government providing subsidies worth Rs1.42 billion.
Likewise, with the government implementing various subsidy schemes in the agriculture sector, the bureau also aims to collect details about whether farmers were receiving subsidies and in what sectors.
The government allocated Rs15 billion for providing subsidies on chemical fertilisers to farmers in the current fiscal year 2021-22.
This census will also produce statistics about the practice of outsourcing workers for agriculture works in return for the same crops, and how much farmlands are under the ownership of women, according to Karki.
The bureau aims to mobilise over 7,000 staffers and enumerators for the task of agriculture census.
Karki said that questions regarding climate change impact on agriculture have been included in the census to find the status of the impact of climate change from a large population amid reports that global warming could affect food security.
"In the past survey of 2016, there was a limited sample size. This year, there is a 24-page questionnaire for the agriculture census," said Karki. "We hope to have a very comprehensive report."
---
---