Chief justice says ready to resign if other justices who have come into question do so
Rana tells Supreme Court judges he will rather face the constitutional process.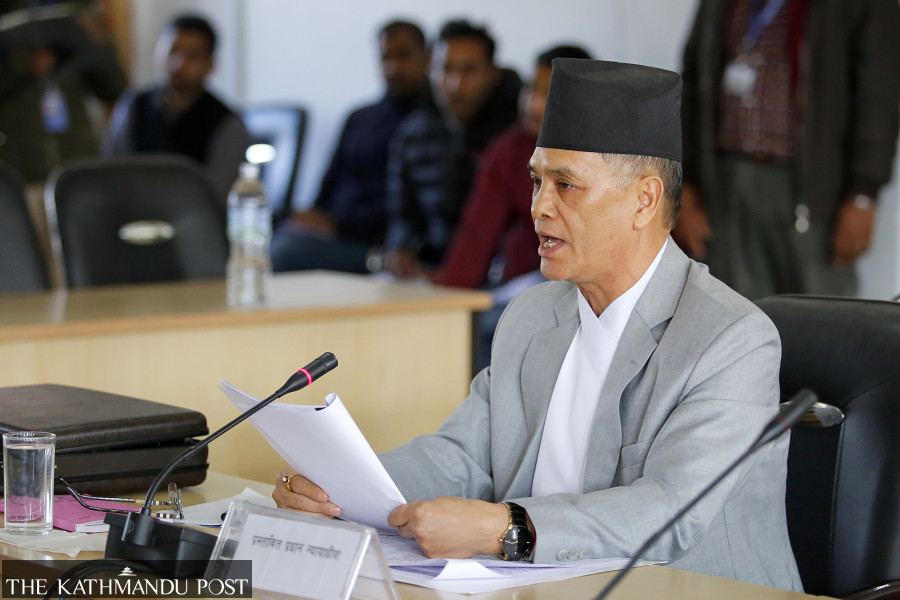 Post File Photo
bookmark
Published at : October 26, 2021
Updated at : October 26, 2021 15:59
Kathmandu
Chief Justice Cholendra Shumsher Rana, who is under fire over a series of controversies and is being pressured to step down, has refused to resign.

During a meeting with 15 justices, Rana said he would rather face the constitutional process, implying that the only way a chief justice can be removed is through an impeachment motion by the Parliament.
"The chief justice told the justices that he would face the constitutional procedure and won't step down just because there are calls from the streets and in the media for him to resign," said Baburam Dahal, spokesperson for the Supreme Court. "If we start resigning on the basis of what people say on the streets, the judiciary cannot be saved."
As many as 13 justices on Monday had held a meeting and decided to hold a discussion with Chief Justice Rana on the controversies surrounding him.
The justices on Monday boycotted a full court meeting called by Rana.
Hearings have been affected at the Supreme Court for the last two days.
Justices Deepak Kumar Karki, Mira Khadka, Hari Krishna Karki, Bishowambhar Prasad Shrestha, Ananda Mohan Bhattarai, Prakash Man Singh Raut, Bam Kumar Shrestha, Tanka Bahadur Moktan, Prakash Kumar Dhungana, Sushma Lata Mathema, Kumar Regmi, Hari Prasad Phuyal, Manoj Kumar Sharma, Kumar Chudal and Nahakul Subedi were present at today's meeting with Chief Justice Rana.
Four justices—Ishwar Khatiwada, Sapana Malla Pradhan, Anil Kumar Sinha and Tej Bahadur KC—were not present in the meeting because they are out of Kathmandu.
According to Dahal, Chief Justice Rana also told the justices that he could step down but only if other justices who also have come into question are ready to do so.
A judicial deadlock is on the cards now as the justices appear to be firm on their stance that the chief justice should "give a way out" to save the judiciary from falling into a further crisis.
The Supreme Court Bar Association on Monday said that the chief justice must resign. The Nepal Bar Association stopped short of demanding Rana's resignation but said that the chief justice must clear the way. Four former chief justices on Monday also demanded that Rana resign so as to save the judiciary.
Chief Justice Rana is facing allegations that by demanding a share in the Cabinet he undermined the principle of separation of powers. Media reports said Gajendra Hamal, a district level Nepali Congress leader, was appointed a minister on October 8 at the behest of Rana.
Hamal is a relative of Rana. After controversy, Hamal resigned on October 10.
Rana, however, has denied demanding ministerial positions for his people.
Justices, however, say Hamal's appointment is just the latest in a series of controversies Rana has been embroiled in. They have accused Rana of ignoring repeated calls to introduce reforms in the judiciary. A study panel led by Justice Hari Krishna Karki suggested that corruption was rife in the judiciary and that there was a need for an immediate intervention of the chief justice.
One of the suggestions by the study panel was to introduce the raffle system to assign benches to justices. Though Rana had publicly said that he would introduce the raffle system, he did not.
Appointed in January 2019, Rana still has his tenure until December next year.
If Rana refuses to resign and justices continue to boycott benches, members of the public are set to suffer, as hundreds of cases are pending in the Supreme Court.
Unless a chief justice resigns or dies, the post becomes vacant only if he or she is impeached.
As per constitutional provisions, one fourth of the lawmakers can file an impeachment motion against a chief justice. But the motion must be endorsed by a two-thirds majority for the chief justice to be impeached.
The chief justice, however, is barred from attending office from the date the impeachment motion is filed. Since political parties do not seem to be keen on impeaching Chief Justice Rana, he may continue at the helm of the judiciary as long as he does not resign.
After Rana refused to "clear the way", Supreme Court justices later on Tuesday held a meeting of their own again.
"We will meet again on Wednesday to chart out our strategy," said one of the 15 justices who met with Rana earlier on Tuesday. "Today also we could not hear the cases but such a situation should not continue for long."
---