Bhutan delivers 230,000 doses of Covid-19 vaccine to Nepal
Kathmandu had written to Thimphu last week after the Himalayan kingdom completed inoculating most of its adult population.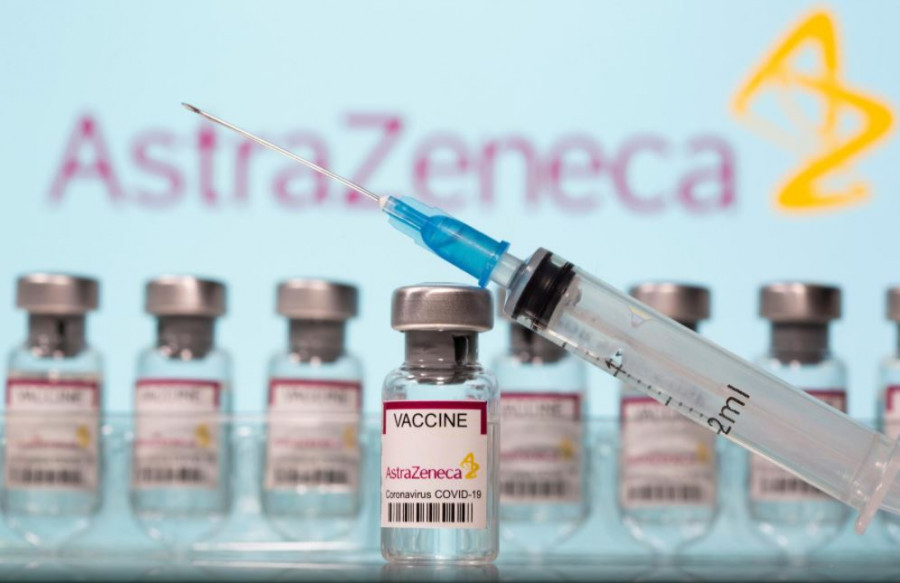 Reuters
bookmark
Published at : August 6, 2021
Updated at : August 6, 2021 18:40
Kathmandu
The Bhutanese government on Friday delivered 230,000 doses of AstraZeneca vaccine to Nepal.
A Druk Air plane landed at 9:15am with vaccine doses from Bhutan, according to Pratap Babu Tiwari, general manager at Tribhuvan International Airport.
The Ministry of Health and Population said in a statement on Friday afternoon that 230,000 doses from Bhutan arrived in Kathmandu.
The doses were received by senior Foreign Ministry and Health Ministry officials at Tribhuvan International Airport.
"Nepal welcomes the friendly gesture from Bhutan in aiding Nepal's fight against the Covid-19 pandemic," Prime Minister Sher Bahadur Deuba wrote on Twitter, while thanking the Bhutanese king and the Bhutanese prime minister. "Many thanks to HM The King & @PMBhutan for the cooperative arrangement in the supply of 230,000 doses of vaccine, which Nepal will reciprocate at a later date."

Nepal last week had sought vaccine support from Bhutan after learning that the Himalayan kingdom had surplus vaccine doses after inoculating more than 90 percent of its eligible population. Nepal had written to Thimphu for vaccine support on a reciprocal condition.
"As per the tripartite agreement between us, Bhutan government and AstraZeneca, the Bhutanese government delivered the vaccine to us this morning," said Ram Prasad Subedi, deputy chief of mission at the Nepali embassy in New Delhi, which had coordinated the vaccine cooperation from Bhutan. "As per the agreement, we will return once we have surplus doses but there is no concrete timeline for that."
The doses from Bhutan have arrived in Nepal a day ahead of the scheduled arrival of AstraZeneca vaccines from Japan.
Japan announced on Wednesday that half of the 1.6 million doses it has pledged would arrive on Saturday and Sunday.
Around 1.4 million people aged 65 and above who were given the first shots of Covishield, the AstraZeneca type vaccine manufactured by the Serum Institute of India, in the second week of March have been waiting for their second doses. However, the government has not been able to secure any additional AstraZeneca doses.
Although Nepalis are at present getting the Chinese-made Vero Cell vaccine, Nepal began its Covid-19 vaccination campaign with the double-shot AstraZeneca vaccine on January 27 with one million doses of Covishield that India gave Nepal in a grant.
Nepal also received 348,000 doses of the AstraZeneca vaccine in a grant in February from the World Health Organization-backed COVAX facility.
The Indian Army in March provided 100,000 doses of the vaccine for Nepali Army.
Nepal bought two million doses of the Covishield vaccine from Serum Institute of India but after a second wave hit India in March, it banned the export of vaccines.
Indian Prime Minister Narendra Modi during a telephone conversation with Prime Minister Deuba on July 19 said that India would resume the supply of vaccines but it is unclear when Nepal will get vaccines from India.
According to the Ministry of Health and Population data from Friday, 4,403,021, or 14.6 percent of the population, have got the first dose of the Covid-19 vaccine with 2,208,055, or 7.3 percent of the population has been fully vaccinated.
---