ICYMI: Top stories from Thursday, February 27
These are some of the best stories from The Kathmandu Post (February 27, 2020).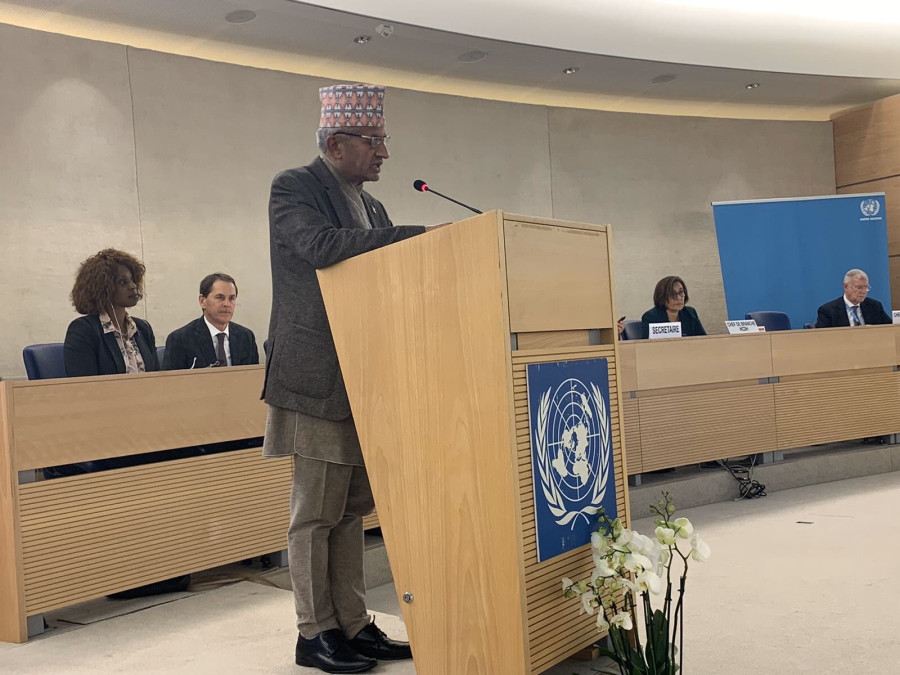 Minister for Foreign Affairs Pradeep Gyawali addresses the 43rd session of the Human Rights Council in Geneva. Photo via Twitter of Ministry Of Foreign Affairs
bookmark
Published at : February 27, 2020
Updated at : February 27, 2020 18:12
Kathmandu
Here are some of the big stories from today's The Kathmandu Post.
Oli and Dahal's struggle to wrest control of party plays out over Bamdev Gautam
Prime Minister KP Sharma Oli's rejection of the party Secretariat's decision to recommend Bamdev Gautam for the National Assembly draws new battle lines in a drawn-out power struggle with Pushpa Kamal Dahal.
Hours after a Secretariat meeting of the Nepal Communist Party on Wednesday decided to send Vice-chair Gautam to the National Assembly, party Chair Oli said that he would not nominate Gautam to the Upper House, as the push and pull between Oli and Dahal, the other chair, continues.
Gyawali claims progress on transitional justice in Geneva but back home, victims are boycotting the process
While victims of the decade-long Maoist insurgency are refusing to cooperate with the transitional justice process back home, Minister for Foreign Affairs Pradeep Gyawali has claimed in Geneva that Nepal presents "a uniquely successful nationally led and owned conflict transformation and peace process".
Addressing the 43rd session of the Human Rights Council in Geneva on Tuesday, Gyawali said that the two transitional justice bodies—the Truth and Reconciliation Commission and the Commission of Investigation on Enforced Disappeared Persons—are working independently to deal with conflict-era cases of human rights violations.
Civil code deems a man and woman married if a child is born, but opinions are divided
Ashmi is in the last trimester of her pregnancy but she is too scared to even think about the day of delivery. She doesn't know what to do with the baby. At times, she feels that adoption is the best option while at other times, her motherly instincts tell her to keep the baby. Ashmi is not married and she is deeply afraid of what Nepali society might think of her and her baby.
"I have been thinking a lot ever since I found out that I was pregnant. I don't think I want to raise the baby without a father figure and I know that being a single mother who doesn't have financial stability will only create trouble," said 25-year-old Ashmi.
Ashmi, who asked only to be identified by her first name as she fears social ostracisation, came to Kathmandu from Sindhupalchok for work four years ago. She was in a relationship with a man, who disappeared when she told him that she was pregnant.
Measles outbreak in Dhading , two years after district declared fully immunised
Mithu Maiya Chepang of Dhading was infected with measles last week. The seven-year-old from Soldanda village in Benighat Rorang Municipality was the first child to be infected with the deadly virus ever since Dhading was declared a fully immunised district two years ago.
Soon after Mithu was diagnosed, 27 other children in Soldanda were also found to be infected with measles.
When a health team from the immunisation section of Family Welfare Division under the Department of Health Services reached the affected villages, it found out, to their surprise, that none of the children in Soldanda was immunised.
---