Despite completion of one third of sick projects, progress in troubled government contracts remains dismal
As many as 1,202 projects with a combined contract value of Rs86.44 billion continue to be sick, corruption watchdog's latest report shows.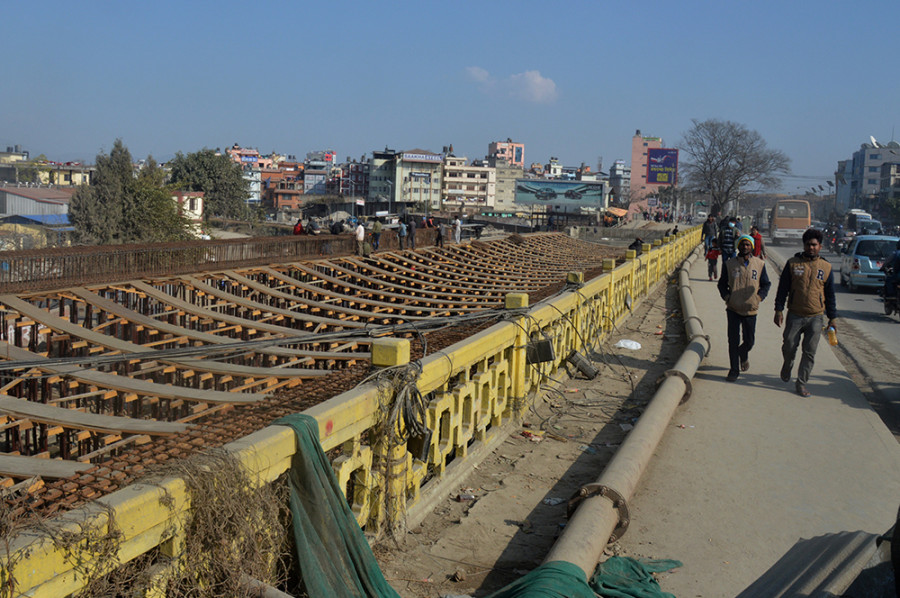 Many contracts awarded to Pappu Construction, including this bridge project over Bagmati River at Tinkune, remain chronic. Post file photo
bookmark
Published at : February 16, 2020
Updated at : February 16, 2020 08:39
Kathmandu
While the Commission for Investigation of Abuse of Authority has acknowledged that one third of the government's development projects declared as sick have been completed, the progress in the remaining sick projects continues to be dismal, the anti-graft body says in a report.
The joint venture YP, Dev and Sayar and Puspanjali got a contract for the Bagmati River Control Project on December 26, 2008. The Rs12.33 million contract was last extended until October 23, 2010. Since then, neither the deadline has been extended nor any progress seen in the works.
It was one of the projects identified by the anti-graft commission in December 2018 as "very sick". Physical progress in the project was 56 percent until that time, and it remained the same in January this year.
It is one of the oldest contracts examined by the commission. The anti-graft body is taking particular interest in development projects worth billions of rupees. The government, the contractor and sometimes both have been held responsible for the delays.
There has been no work in Siraha on a two-room maternity building, whose contract was awarded in June 2009. Amit Nirman Sewa was awarded the contract to construct the building within 11 months but physical progress in the project has been zilch even in 2020.
Another contract awarded to build a health post in Kavrepalanchok district met a similar fate. Yonjan Nirman Sewa was awarded the contract on July 14, 2012, with a 14-month deadline for completion. However, there has been no progress in the eight years since.
There are several contracts awarded after 2007 which have turned chronic, according to the anti-graft body. As many as 48 contracts under the Ministry of Physical Infrastructure and Transport have remained deeply troubled, the report said. Five projects under the Ministry of Energy, Water Resources and Irrigation and five under the Urban Development Ministry are also in chronic condition.
"Around 100 chronic contracts are under detailed investigation of the commission," said Pradeep Koirala, a spokesperson for the commission. "If they turned chronic due to corruption, those responsible for the situation will face prosecution."
The latest report by the anti-graft body showed that projects related to 618 contracts with a combined contract value of Rs47.03 billion were completed over the last one year. An earlier report had found that there were 1,848 sick contracts worth Rs118 billion.
According to the latest report, as many as 1,202 projects having a combined value of Rs86.44 billion continue to remain sick. As no decision has been taken on 1,153 of the 1,202 sick contacts, performance guarantee of Rs 2.02 billion and mobilisation advance of Rs8.07 billion is at risk, the report said.
One of the reasons why so many contracts have remained sick is the trend of awarding a large number of contracts to a small number of contractors. Prime Minister KP Sharma Oli said on Saturday at the House of Representatives that only 18 companies hold 66.7 percent of the total contract budget related to water supply. The same number of companies occupied 47.6 percent of the contract budget related to roads and 18 companies accounted for 44.4 percent worth of contracts related to urban development.
"The contractors have been given a last chance to complete the sick projects by amending the public procurement regulations," the prime minister said.
Contracts awarded to influential companies like Shailung Construction, owned by Sharada Prasad Adhikari, the landlord of Nepal Communist Party (NCP) Co-chair Pushpa Kamal Dahal, Pappu Construction, owned by Hari Narayan Rauniyar, a suspended lawmaker and Swachhanda Nirman Sewa, owned by Jayaram Lamichhane, a Nepali Congress candidate for constituent assembly elections in 2013, remain chronic.
The joint venture of Sapana and Shailung got a contract to build an RCC bridge in Rukum in January 2015, but the progress so far has been dismal. Many contracts awarded to Pappu remain chronic. Due to just 16 percent progress on an arc bridge in Tinkune, Kathmandu, the roads department terminated the contract.
Progress on an Arun river Bridge in Sankhuwasabha and Bhojpur, awarded to Swachchhanda Nirman Sewa, has also remained chronic with progress stagnating at 25 percent for the contract awarded in July 2010.
However, the commission sought credit for completion of works in 618 contracts. "The progress made in completing the projects in one year should be taken positively," the report stated. "It shows that even a little effort yields results."
However, the fact remains that two-thirds of the contracts continue to remain sick. "One of the reasons behind no progress in some road and bridge projects is that they have still not come under the provincial government even after a decision was taken to bring them under the provinces," said Arjun Suwal, assistant spokesperson for the Department of Roads, under the Physical Infrastructure Ministry.
According to the report, there has been less than 50 percent progress in 485 contracts, while the progress is 50-80 percent in 315 contracts. There is more than 80 percent progress in 402 projects, it added.
---
---