Shailung Construction among builders warned for poor progress in road projects
The construction firm owned by Sharada Prasad Adhikari, the landlord of NCP Co-chairman Pushpa Kamal Dahal, is currently holding contracts for over half a dozen road projects.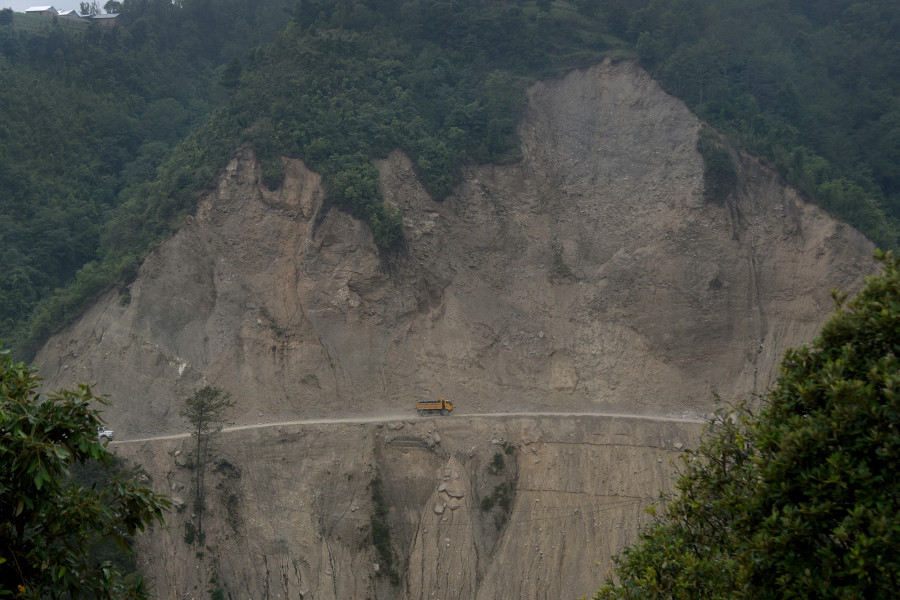 The Department of Roads recently issued a notice warning several builders and contractors for failing to deliver on 19 road projects in Kathmandu Valley. Angad Dhakal /TKP
bookmark
Published at : September 3, 2019
Updated at : September 3, 2019 09:46
Kathmandu
Three road projects in Kapan area of Kathmandu remain unfinished even though their completion deadlines expired more than a year ago.
The projects—Akasedhara-Rammandir-Krishna Mandir Road, Sattale-Bhandari Garment-Akasedhara-Baluwakhani Road, and Sundarwasti-Adarshanagar-Chunnikhel-Jagdol-Rastriya-Shahid Park Road— were contracted to Shailung Construction, which is owned by Sharada Prasad Adhikari, the landlord of Nepal Communist Party Co-chairman Pushpa Kamal Dahal.
The people living in the road project sites on Friday staged a sit-in outside the office of the Department of Roads to protest the negligence of Shailung Construction. Nepali Congress lawmaker Gagan Thapa, who represents Kathmandu Constituency-4, and some lawmakers from Province 3 Assembly were also present to support the protest of Kapan residents, who have been forced to live with dust and mud in their neighbourhoods for years now.
Shailung Construction currently holds contracts for over half a dozen road projects inside Kathmandu Valley, including the improvement of 48 km road dug up to install pipelines for the Melamchi Water Supply Project.
Read: Plan to punish contractors dropped after pressure from higher-ups
The progress on most of these projects, according to the Department of Roads, has been either slow or static, save the Kalanki-Nagdhunga Road Project which is nearing completion.
On August 25, the Kathmandu Division Office of the Department of Roads published a notice in the name of different builders and contractors, including Shailung Construction, for failing to deliver on 19 road contracts in Kathmandu. "We will take action against the contractors if they fail to improve their performance," Shivahari Sapkota, the spokesperson for the Department of Roads, told the Post.
Meanwhile, Shailung Construction has blamed the government for not being able to complete the road projects in time.
The government has failed to create a favourable working environment for builders, Ramesh Subedi, the director of Shailung Construction, told the Post.
The government first failed to clear the site when the company began its works two and a half years ago, and again it failed to make payment for the works that were completed last year, he added.
"The road department has not made payment of around Rs60 million for the works we completed last year in Sattale-Akasedhara-Baluwakhani Road. It has also not approved the variation order for additional works in Akasedhara-Krishnamandiar Road," Subedi said.
Beside Shailung Construction, the Department of Roads has also warned several other builders, owned by influential people, for failing to complete the projects in time. Among these builders are Swachchhanda Nirman Sewa; Biruwa Construction; SMNS/JAYABABA/LCSPLJ JV; Bhandari Builders/Kamakya/Dhital JV; Ashish/CM/Jayababa JV; Ananda Pvt. Ltd; Siruwa Construction; Sunaulakhimti/Rafina JV; Motidan/The Kanchanjangha JV; Mahalaxmi/Worldwide/Bhandar Thodung JV; Gajurmukhi/Motidan/Baniya JV; Mritsanjeevani/Waiba and Lama JV and Kanchharam/Sunkoshi JV.
Read:
- Handover delay in peak season stalls more than 1,000 road projects
- Over 50pc projects delayed in Capital
- Another Pappu Construction bridge found to be substandard

---
---