Anti-graft body has no concrete plans to pursue investigation into Airbus revelations
Although numerous other countries have initiated their own investigations into Airbus' admission of paying bribes, Nepali authorities are uncertain about how to proceed.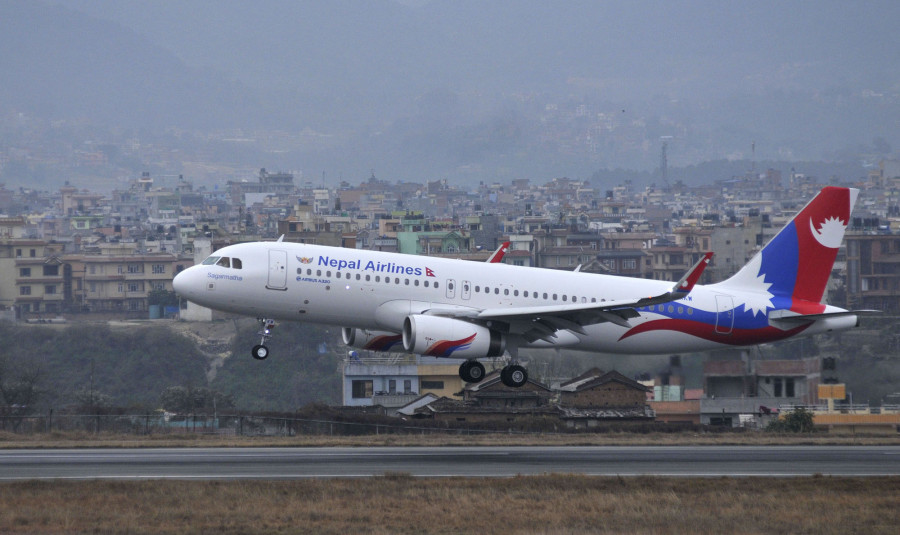 Although the anti-graft body has been investing into the procurement of Airbus A330, nothing has been initiated on the Airbus A320 bribes Post file photo
bookmark
Published at : February 11, 2020
Updated at : February 11, 2020 07:50
Kathmandu
A week ago, European aircraft manufacturer Airbus' shady business practices, including the payment of bribes to public officials in Nepal, came to light, but the Commission for Investigation of Abuse of Authority is uncertain whether it will be pursuing an investigation.

Nepal's constitutional anti-corruption body said that although they were aware of the "bribery revelation", no concrete decision has been taken to investigate the revelations further, according to a commission official who spoke on condition of anonymity.
The commission has been investigating the procurement process behind the Airbus A330, popularly known as the wide-body scam, but nothing has been initiated on the Airbus A320 bribes.
According to a settlement document released by the French National Financial Prosecutor's Office, Airbus paid at least 340,000 euros in bribes to Nepali businessmen and officials to secure contracts for two narrow-body Airbus A320 jets for Nepal Airlines Corporation.
The settlement document, which alludes to a total financial commitment of $1.8 million, says that this payment is "likely to qualify as bribery of a foreign public official." It is unclear whether the total $1.8 million, equivalent to Rs200 million, was paid to Nepali intermediaries and officials, but the 340,000 euros paid to a third-party is believed to have been routed to Nepali officials.
The revelations were part of a massive investigation launched by financial institutions in France, where Airbus is headquartered, the US and the UK. Revelations of Airbus' bribery and corruption across the world led to a number of countries, including Malaysia, Ghana and Sri Lanka, opening their own investigations.
The former chief of Sri Lanka's national carrier was arrested on February 6 over allegations he received bribes for a multi-billion-dollar Airbus aircraft deal.
The Office of the Special Prosecutor of Ghana started investigations into the Airbus bribery scandal on Sunday.
Tycoon Tony Fernandes has stepped aside as the chief executive of AirAsia while Malaysian authorities probe bribery claims. He will stand down for at least two months from the company he turned into Asia's biggest budget airline.
According to Transparency International UK, courts in the UK, France and United States last week approved a deal—known as a Deferred Prosecution Agreement—after the European aerospace giant admitted to using middlemen to pay bribes to secure aircraft contracts.
Airbus itself will not be prosecuted under the terms of the agreement, meaning the company avoids a criminal conviction. Airbus last week agreed to pay a record $4 billion in fines after reaching a plea bargain with investigators in Britain, France and the United States, following a four-year investigation into the company's activities.
However, the UK's Serious Fraud Office is still able to prosecute Airbus executives involved with the bribery, Transparency International UK said. "Deferred Prosecution Agreements are only successful when they are followed up with investigations and prosecutions against individuals responsible for the wrongdoing," it said in a statement.
"We are surprised that the Commission for Investigation of Abuse of Authority is not showing immediate interest in such a serious corruption issue," said Khem Raj Regmi, president of Transparency International Nepal. "The anti-graft body does not have to wait for any complaint to be filed. It can promptly launch its own investigation."
Transparency International Nepal will issue an official statement on Wednesday, said Regmi.
One former bureaucrat said that Nepal is a signatory to the United Nations Convention Against Corruption, and if there is a report indicating that Nepali officials are involved in corruption, the country can immediately set up an investigation committee and look into the matter.
For instance, in December 2018, the Commission for Investigation of Abuse of Authority had filed a corruption case at the Special Court against former central bank governor Tilak Rawal and two others for their alleged roles in awarding the contract to print ten-rupee polymer notes to Note Printing Australia Limited 16 years ago. The commission acted on an investigation carried out by the Australian authorities.
The scandal first came into light in 2011 after a probe carried by the Australian central bank, the Reserve Bank of Australia, confirmed that bribes had been offered by Note Printing Australia to Nepali officials.
Similarly, according to the settlement document, Airbus' 150-person Strategy and Marketing Organisation facilitated payments to third parties who then routed the funds to public officials in 16 countries, including Taiwan, Sri Lanka, Malaysia, Indonesia, Japan and Russia, in addition to Nepal.
The UK-based Serious Fraud Office's investigation related to bribery offences in Malaysia, Sri Lanka, Taiwan, Indonesia and Ghana, while the French Parquet National Financier's investigation related to bribery and corruption offences in China, Colombia, Nepal, South Korea, the United Arab Emirates, Saudi Arabia, Taiwan and Russia.
Airbus used the department, which had a $300 million annual budget, to illegally sway government officials and other decision-makers on airplane sales, boosting profit by more than $1 billion in a long-running bribery campaign, according to documents filed in the biggest corporate bribery case on record.
Anti-corruption investigators have described the court's decision as the largest ever corporate fine for bribery in the world after judges declared the corruption was "grave, pervasive and pernicious."
"Obviously, this bribery revelation is a glaring example on how corruption is being institutionalised globally," said lawmaker Deepak Prakash Bhatta, member of the parliamentary International Relations Committee.
"It has not only dented our image but also showed the ugly face of one of the world's biggest companies on how bribery is sanctioned," Bhatta told the Post. "In Nepal's case, the issue has made clear that nothing has changed in the past decades with respect to the manner in which planes are purchased."
Bhatta was coordinator of the investigation committee formed to look into the purchase of two wide-body Airbus A330 jets for Nepal Airlines.
"The committee has taken the issue seriously and a meeting will be called to discuss it this week," said Bhatta.
But ultimately, the government should promptly set up an investigation commission, like other countries have done, said Bhatta.
---
---