Pushpa Kamal Dahal calls the press "bourgeois media", and the Nepali internet isn't taking any of it
Dahal's disdain towards critical voices in the press and social media receives flak and ridicule.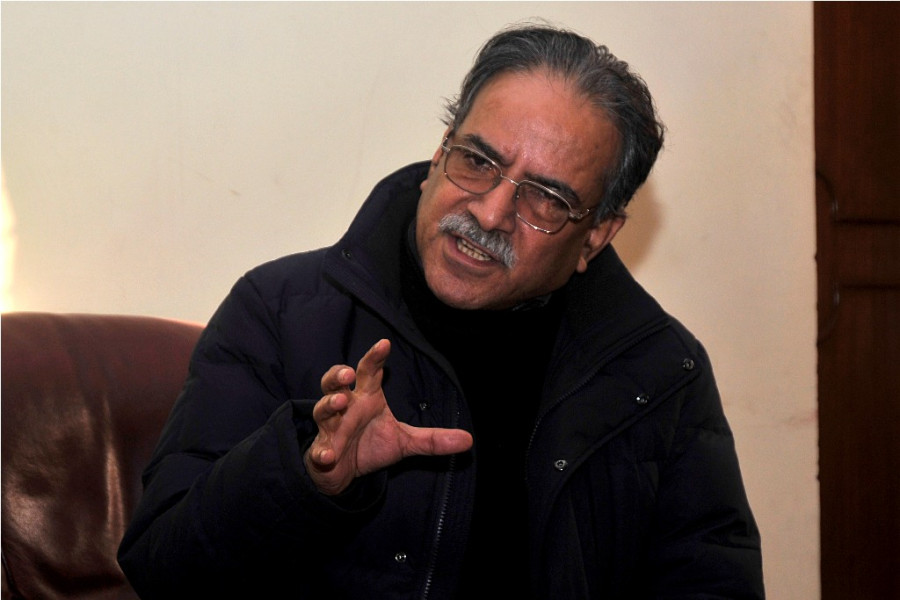 Post File Photo
bookmark
Published at : December 30, 2019
Updated at : December 30, 2019 20:03
Kathmandu
A day before the Development and Technology Committee of the federal Parliament passed the controversial Information Technology bill, which has been widely condemned for provisions that could stifle freedom of speech, ruling Nepal Communist Party Co-chair Pushpa Kamal Dahal made his disdain for the press and social media clear. And then, he administered an oath of "responsible press freedom" to a group of journalists.

Soon, images of the journalists taking oath, standing with firm fists in the air, in front of Dahal, Prime Minister KP Sharma Oli and a host of senior Nepal Communist Party leaders at the prime minister's residence, started making the rounds on social media.
One user tweeted: "We wrote 'full press freedom' in our constitution but went to Baluwatar to take oath. What next?"
People were also quick to call out Dahal for his statement at the programme where he said media and social media have fallen into the hands of the bourgeois. And they didn't spare the journalists in the room either. One Facebook user wrote, "It's shameful to recognise some known faces in the crowd."
Dahal then called the reporters in the room to counter those groups.
This is not the first time Dahal and senior leaders of the ruling party have lashed out at the press and critical voices on social media.
Last September, Dahal condemned social media users, saying they needed to restrain themselves on such platforms and that the onslaught of negative comments directed at him and other leaders is unfair. He also expressed serious concern over negative and critical comments against politicians on social media and asked media persons to empathise with leaders.
Another ruling party leader and the government spokesperson Gokul Baskota, who is also the minister for communication and information technology, has also maintained a combative relationship with the press.
The Oli government has been criticised repeatedly for its intolerant attitude towards critics and for introducing legislations such as the IT Bill and the Media Council Bill, aimed at curbing such critical voices from the press and social media.
Media observers say the government's public disdain towards critical voices is a sign of growing intolerance, which has ushered in a climate of fear.
"The press is simply doing its duty—that is to scrutinise the government's performance and its lapses," said media educator Ram Krishna Regmi. "If the press starts cooperating with the government to report on only what they want then won't that make newsroom simply the government's publicity wing?"

---
---