ICYMI: Here are our top stories from Monday, October 21
Here are some of the top stories from The Kathmandu Post (October 21, 2019).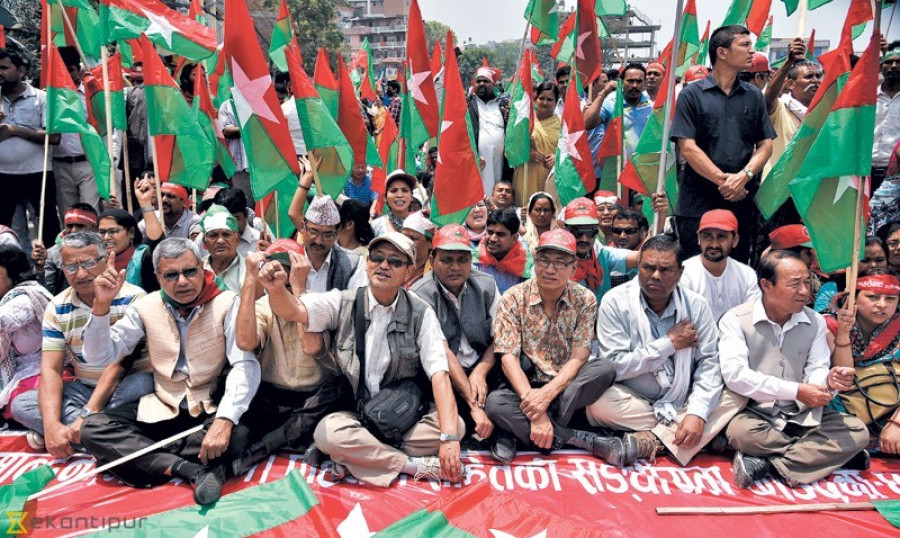 In this 2016 file photo, leaders of Sanghiya Gathbandhan, a federal alliance formed by the Madhesi and Janajati forces, stage a protest in the Capital. Post File
bookmark
Published at : October 21, 2019
Updated at : October 21, 2019 17:56
Kathmandu
Here are some of the top stories from The Kathmandu Post (October 21, 2019).
Janajati, Madhesi forces seek to revive identity-based movement
When the constitution was being finalised in Kathmandu in 2015, there were massive protests in the districts along the southern plains. Madhesis, Janajatis and other marginalised communities said they felt further excluded by some of the provisions of the constitution. But on September 20, 2015, the Constituent Assembly promulgated the new constitution regardless.
Four years since, identity-based parties and groups that were advocating for inclusive and proportional representation in politics and state bodies received a blow and have failed to mobilise. But now, in a bid to regain lost momentum, Madhesi, Janajati, Adivasi and other groups active in identity politics are working to form an alliance to push for amendments to the constitution.
With Oli maintaining grip on both party and government, Dahal feels sidelined
On Saturday, Co-chair of the ruling Nepal Communist Party Pushpa Kamal Dahal was in Nanglebhare for a family retreat. It is an established pattern for Dahal to often leave the Valley for a secluded destination whenever he feels low.
Before and during Chinese President Xi Jinping's visit to Kathmandu, it appeared like things were looking up for the ruling party and between its two co-chairs. All party activities had been halted for weeks in preparation for Xi's visit.
But a week after Xi came and left, the party has yet to pick up where it left off. And Dahal's discontent is brewing.
It's Breast Cancer Awareness Month and doctors say self-examinations could make a huge difference
Breast cancer, after cervical cancer, is the second leading cause of cancer in women in Nepal. But without early detection and subsequent treatment, after which complete recovery is possible, women in increasing numbers are succumbing to the illness, say doctors.
"Women should examine their breasts regularly, which can help detect cancer in the early stages," said Dr Sandhya Chapagain, an oncologist at Bir Hospital. "Most patients come in for treatment in the third or fourth stage of cancer when the condition is already more complicated."
'Discontinuing chhaupadi isn't just about destroying period huts; it's about ending the stigma of menstruation.'
In May, Miss Nepal 2018 Shrinkhala Khatiwada travelled to Babala, Achham, as part of the Social Campaign for Social Change project that attempts to understand the existing practice and scenario of chhaupadi in the remote areas of Nepal. In order to closely understand chhaupadi, Khatiwada spent hours in a chhau goth, an outdoor shed where women in remote areas, especially in far-western regions, are banished to live in isolation during their monthly menstruation cycle. In her recent YouTube documentary that has been viewed more than 600,000 times, Khatiwada compares the tradition with the modern-day nachhune barne, a practice that prohibits menstruating women from engaging in religious and kitchen activities in the cities.
In this interview with the Post's Srizu Bajracharya, Khatiwada discusses her chhau goth experience in Babala and why despite all the campaigns to eradicate the practice, and the presence of laws criminalising it, chhaupadi still exists.
Cattle pregnancy cost may get cheaper with local kit
A pioneering innovation in biotechnology promises to help cut the cost of determining cattle pregnancy to almost a fifth in a few months time, if things go as planned.
A biotechnology graduate from Nepal is working toward marketing a low-cost kit to check whether a female cattle is pregnant.
Sumeena Karki and her team of four girls is working on what they call the 'Rapid Pregnancy Detection Kit', which is in its conclusion phase. The kit helps in detecting pregnancy in cattle within a month, by using its milk and blood samples.
---