Janajati, Madhesi forces seek to revive identity-based movement
The KP Sharma Oli administration has undermined the rights and privileges of marginalised communities, leaders say.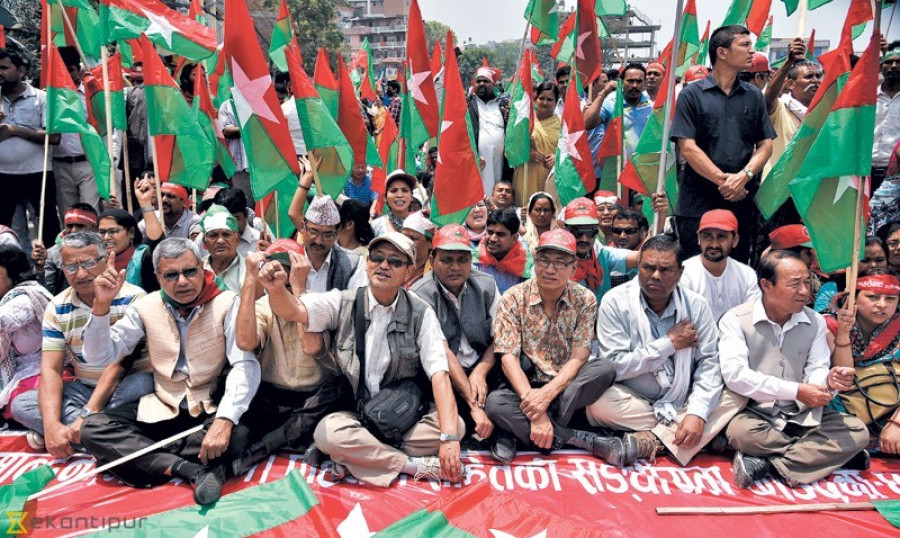 In this 2016 file photo, leaders of Sanghiya Gathbandhan, a federal alliance formed by the Madhesi and Janajati forces, stage a protest in the Capital. Post File
bookmark
Published at : October 21, 2019
Updated at : October 21, 2019 16:00
Kathmandu
When the constitution was being finalised in Kathmandu in 2015, there were massive protests in the districts along the southern plains. Madhesis, Janajatis and other marginalised communities said they felt further excluded by some of the provisions of the constitution. But on September 20, 2015, the Constituent Assembly promulgated the new constitution regardless.
Four years since, identity-based parties and groups that were advocating for inclusive and proportional representation in politics and state bodies received a blow and have failed to mobilise. But now, in a bid to regain lost momentum, Madhesi, Janajati, Adivasi and other groups active in identity politics are working to form an alliance to push for amendments to the constitution.
Leaders from various ethnic bodies told the Post that they are particularly unhappy with the government for failing to live up to constitutional obligations, including provisions regarding a reservation quota for underprivileged classes.
Marginalised communities had launched protests after the Public Service Commission slashed a great number of seats allocated specifically for them through quotas.
A revival of identity-based politics is now essential as the KP Sharma Oli administration has undermined the rights and privileges of marginalised communities in the country, according to leaders and members of the indigenous community.
"At least eight to nine different forces that are active in identity politics will soon join hands to form an alliance," said Keshav Jha, a leader of the Rastriya Janata Party Nepal, the third-largest party in the federal parliament. "We have decided to come together under the banner of the National Mukti Aandolan to launch fresh protests."
There are plans to get together after the Chhath festival to chart out plans, according to leaders.
Identity-based politics in Nepal has largely been aimed against a mono-ethnic state, with groups and parties involved in identity-based movements arguing that Nepal is a multiethnic country and that should be accepted in spirit.
When the Maoists laid down their weapons and joined mainstream politics in 2006, they extended support to Nepal's identity-based movements. The Maoists are also credited for giving momentum to identity-based politics.
During the first Constituent Assembly elections in 2008, identity politics gained traction and Constituent Assembly members across the party line had even formed a caucus in order to make the constitution inclusive. But a similar kind of strength and representation was not ensured in the second Constituent Assembly. The demands and voices of parties active in identity politics became weaker. Then came the 2015 earthquake and the constitution.
Leaders of the major political parties—the Nepali Congress, CPN-UML and the Maoist Centre—were in a hurry to promulgate the constitution. The Maoists sided with the Congress and UML, giving up on their identity-based social justice agenda.
Although the Madhes-based parties had objected to constitution promulgation, today, two Madhesi parties—Rastriya Janata Party and Samajbadi Party Nepal (earlier known as Sanghiya Samajbadi Forum)—are in the federal parliament.
The Samajbadi Party was formed in May after the merger of Sanghiya Samajbadi Forum, led by Upendra Yadav, and Naya Shakti, which was led by Baburam Bhattarai, who had severed ties with the Maoist party less than two weeks after the constitution was promulgated. Yadav is one leader who is considered to have championed the identity-based movement.
The unification by Yadav and Bhattarai was seen as the revival of identity politics, but their bid to bring other like-minded forces together has not worked well.
The Rastriya Janata Party has been in talks with the Samajbadi Party for unification, but the former has placed a precondition that the Samajbadi Party should quit government first.
According to Jha, the Rastriya Janata Party will first attempt to bring other likeminded groups and forces under the same banner.
Jha said talks are ongoing with Tarai Tharuhat Party led by Bhanu Ram Tharu; Limbuwan Party led by Kumar Lingden; Loktantrik Party led by Kumar Rai; Nepal Janamukti Party led by MS Thapa; Adivasi Party led by Buddharaj Syangtan; Nepal Sanghiya Samajbadi Party led by Rizwan Ansari; and the Nepal Federation of Indigenous Nationalities.
"Preparations are underway to build an alliance," Thapa, chairperson of the Nepal Janamukti Party, told the Post. "We are still discussing with various forces active in identity politics. We are not sure how many political parties and groups will participate but we are trying to bring together as many forces as possible."
Multiple leaders the Post spoke with admitted that although there are differences among themselves, they are by and large unanimous that the major parties—Congress, UML and Maoist—deceived them.
"The major parties failed to keep their word," said Govinda Chhantyal, vice president of the Nepal Federation of Indigenous Nationalities. "The constitution has failed to gain larger ownership from various groups."
Although agreements were made with various identity-based groups, the major parties have failed to amend the constitution in line with those agreements, say leaders. Instead, there has been a steady reduction in provisions for marginalised ethnic groups.
"As committed by the major political parties, an amendment to the constitution has not been made yet," said Jha. "Several constitutional provisions, including our representation in civil service, was deliberately curtailed and attacked by the Public Service Commission. So there is no option left for us to save our identity but to launch a movement."
***
What do you think?
Dear reader, we'd like to hear from you. We regularly publish letters to the editor on contemporary issues or direct responses to something the Post has recently published. Please send your letters to tkpoped@kmg.com.np with "Letter to the Editor" in the subject line. Please include your name, location, and a contact address so one of our editors can reach out to you.
---
---