Cattle pregnancy cost may get cheaper with local kit
Cattle 'Rapid Pregnancy Detection Kit' may hit the market in six months time.

Shutterstock
bookmark
Published at : October 21, 2019
Updated at : January 23, 2020 12:51
Kathmandu
A pioneering innovation in biotechnology promises to help cut the cost of determining cattle pregnancy to almost a fifth in a few months time, if things go as planned.
A biotechnology graduate from Nepal is working toward marketing a low-cost kit to check whether a female cattle is pregnant.
Sumeena Karki and her team of four girls is working on what they call the 'Rapid Pregnancy Detection Kit', which is in its conclusion phase. The kit helps in detecting pregnancy in cattle within a month, by using its milk and blood samples.
"It will help give birth to healthy calves in a cost effective manner," Karki told the Post in an interview.
"Work on the Rapid Pregnancy Detection Kit is already more than 80 percent complete, and if everything goes well, it will take us six months to launch the kit," said Karki.
"The vet normally charges from Rs300-500 to detect pregnancy and the cattle owner has to visit three times, but with the help of our kit one can find the result at once, which will cost the owner between Rs200-300," she added.
Karki said she will apply for a patent right after her final experiment on the kit passes and thereon, they would focus on mass marketing their product.
Karki is the CEO and founder of Rara Biotech, a startup company in biotechnology and she has already been the winner of Nepal Scientific Association award in Switzerland (NepSAS) 2018 and World Innovation Forum 2018 award for being the best start-up company in Nepal.
With a joint investment of Rs300,000 Kakri and her team formed a company by saving pocket money. "Till now, we have been investing in own company with whatever money we have," she said.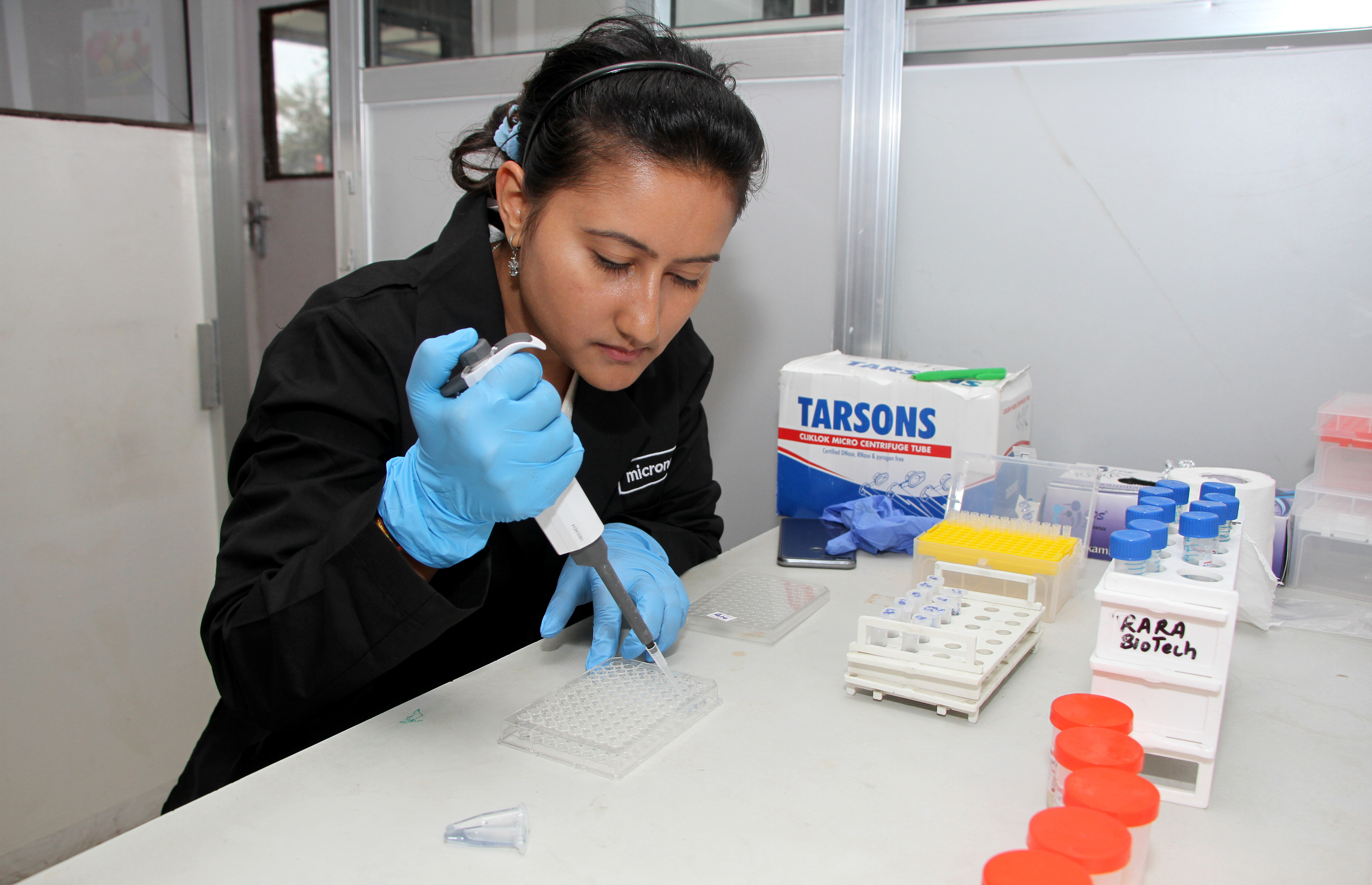 Karki and her team also plan to work in the mushroom industry and in waste management. Beeju Maharjan /TKP
Karki, who has a Masters degree in Biotechnology from Tribhuvan University, got the opportunity to do her thesis from the Jawaharlal Nehru University (JNU) in India.
Given that only a few companies are operating in the biotechnology sector in the country, most graduates seek to work abroad.
Karki is different, however.
"I have grown up in a family where my parents always motivated me to live in the country, instead of going abroad," she says.
While doing her thesis, Karki thought of starting a business on her own. Since she had studied immunology at JNU, so she decided to work on early pregnancy detection in cattle, which led to the birth of her company, Rara Biotech.
Karki and her team are making two types of detection kits - one is called ELISA and the other one is called strip test kit. She said that ELISA will be introduced during the first phase while strip test would be in the second.
ELISA detection kit requires blood or milk samples, while strip test kit can be used by the farmers. Karki said that they will start working on strip test kit as soon ELISA is in the market for commercial sale.
"ELISA has been validated. It will be the first kit in Nepal that will detect pregnancy in cattle through milk samples," Karki said.
Looking ahead, Karki and her team also plan to work in the mushroom industry and in waste management. Their company is eyeing mushroom cultivation which has a good profit margin and can be grown by using local resources. Karki plans to start her own farm to cultivate shiitake mushroom around Bhaktapur.
They are looking at working in waste management where black soldier flies are used. "We are trying to do a gene analysis. We are focused on researching on products that can be developed by using local resources," said Karki.
---
---