Why is Dashain a time of great rejoicing and festivity for Nepalis
Weather, halt to farming activities and social interactions all make the festival a grand affair.

This file photo shows a young girl enjoying Ping (swing) as part of Dashain celebration. Post File
bookmark
Published at : October 3, 2019
Updated at : October 3, 2019 07:46
Kathmandu
Dashain is an important festival for a majority of Nepali people and the country goes for the longest holiday. The entire country plunges into a festive mood with more than half of the population leaving the Capital to their respective villages and towns across the country for the annual celebration and family reunions. The festival usually falls in September and October depending on the lunar calendar. Though people from different ethnic groups and cultures celebrate the festival according to their own traditions, much of the things remain common among people from diverse cultural backgrounds—eating, drinking and merry-making. Traditional swings, kite flying, playing cards and animal sacrifices are common activities associated with Dashain. Not just confined to a specific religion or caste, the festival is observed with equal enthusiasm by the Nepali diaspora and other Nepali speaking community living outside Nepal.
Here are 10 things that define Dashain:
1. Popular festival: Dashain is the most popular festival that has transcended the cultural and religious boundaries as it appears rooted in our ancient way of living and evolved with time. Perhaps the only festival observed by people from across the cultures and religious belief. It is the time when the government offices, banks and private companies give additional festival allowances to their employees. This custom adds flavour to the festival and gives more excitement to the people. This festival is also deemed as an occasion to put aside old animosities and start everything afresh. Even political parties believing in different ideologies, who mostly remain at loggerheads throughout the year, organise programmes to mark the festive season and vow to reconcile their differences.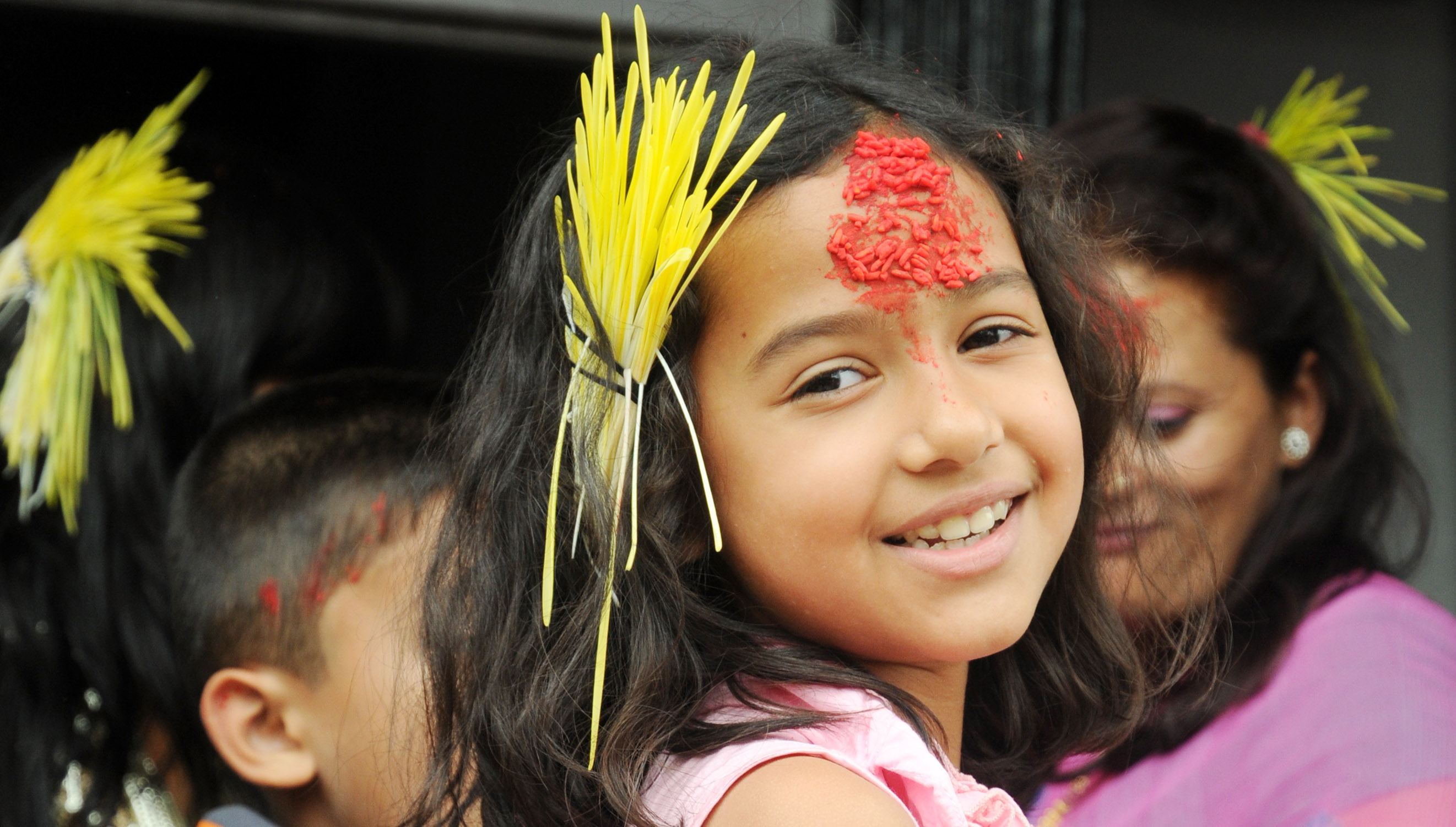 Post File
2. Homecoming and biggest annual travel rush: People, who have left their ancestral homes for jobs, education and better economic opportunities, return to the country or their villages during Dashain. Thousands of Nepali people living abroad, mostly working as migrant workers in the Gulf countries and Malaysia, return home for Dashain. Around three million people leave Kathmandu Valley, making the capital city almost empty. The festival brings vibrancy in the villages that are being deserted as a growing number of people are migrating to cities and foreign countries. The annual travel rush causes the airfare and bus fares to go up. As ticket prices skyrocket during Dashain, every year travellers have to deal with long queues and scalpers while attempting to buy the tickets.
3. Time to buy new things: Traditionally, Dashain is the time to buy new things, mostly clothes. Perhaps driven by the belief that Dashain is an auspicious time to make any kind of purchases, it has been a tradition across the country to buy important things from clothes to vehicles to any other household goods. Many children in Nepal still have to wait until Dashain to get a new pair of clothes. Even the business enterprises target the festival time to launch new products in the market and give festive discounts to attract potential buyers. This shopping and selling spree can be seen in every market across the country. As the festival approaches, people head to the market to buy the things necessary for Dashain. However, this rush can cause an unpleasant experience for shoppers in an overcrowded Kathmandu in the lead-up to the Dashain.
4. Picture perfect weather: September-October is probably the best time of the year across the country regardless of its diverse terrain—mountains, hills and plains. The sky is mostly azure and sometimes dotted with autumn clouds as the monsoon season comes to an end and the chilly winter is still a couple of months away. During Dashain, the weather itself evokes exuberance and vitality. Though the tradition of celebrating the festival at this time dates back to time immemorial, it still seems relevant for the biggest festival.
Farmers usually take a break from their farm work after harvesting the crops before Dashain. Apart from the weather conditions, the time chosen for the festival seems perfect even for a majority of the Nepali populace, who are still agrarian and rural in nature. They are free from farming activities before they head back to their fields for harvesting the crops.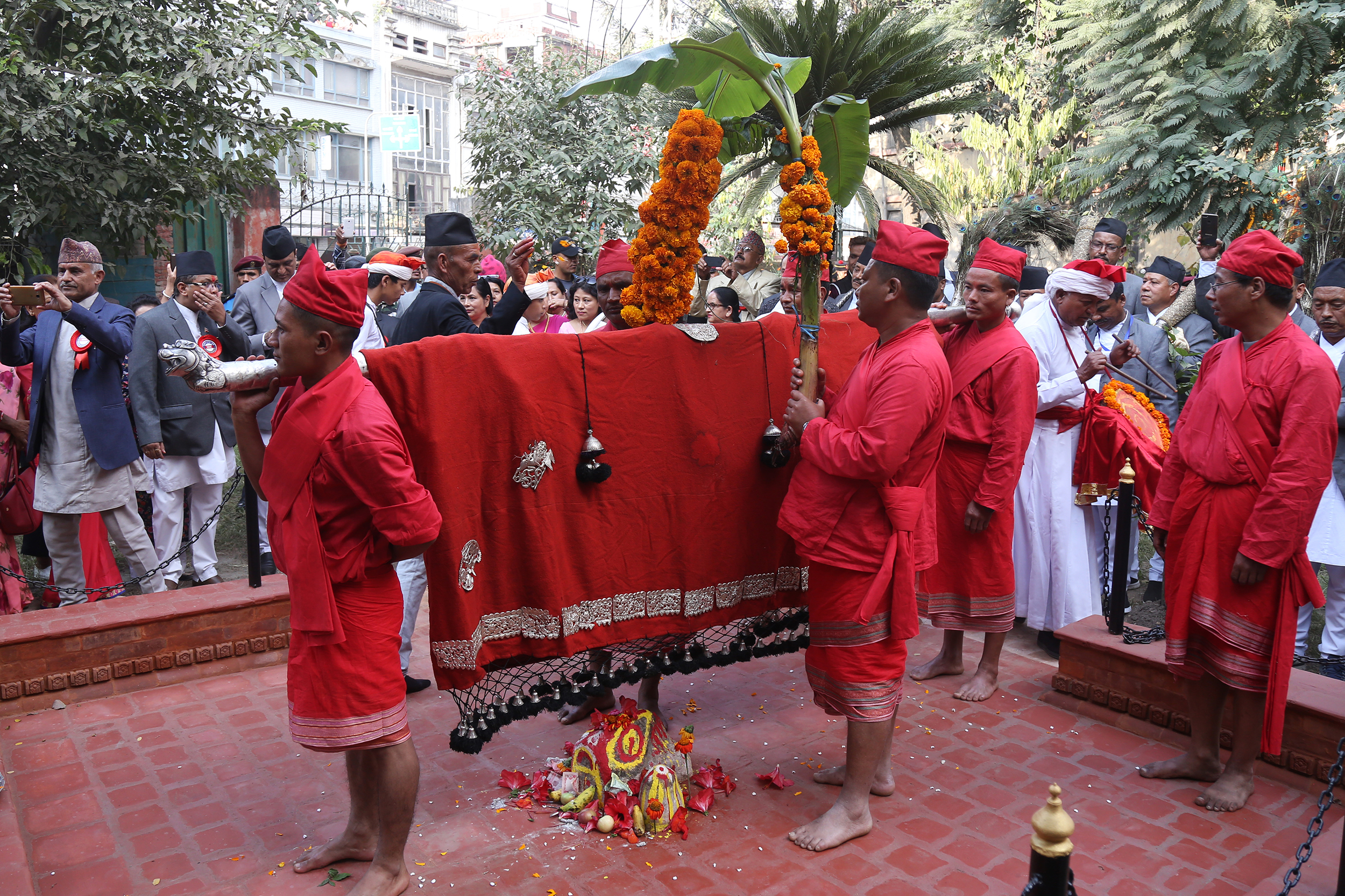 Devotees take part in a ritual during the 7th day of Dashain at the Dashaighar in Hanumandhoka Durbar, Kathmandu. As part of the ritual, an assortment of flowers, leaves and fruits of different plants, known as Fulpati, is brought to Kathmandu from Gorkha. Post File
5. Worship of Goddess Durga: Besides merry-making, Dashain has a religious and spiritual significance. The festival is dedicated to Goddess Navadurga when nine different manifestations of the goddess are worshiped for nine days. On the first day of the Dashain, an altar of the deity is consecrated at homes and worshipped for nine days by reading a holy scripture. The scripture is about how goddess Durga slayed the demon king Mahishasura to restore order in the world after he troubled the inhabitants of all three worlds—earth, heaven and hell. According to legend, goddess Durga fought for ten days before killing the demon. Hence, Dashain is celebrated to mark the triumph of good over evil. People visit various temples of the goddess, offer worship and read scriptures during the first nine days of Dashain.
6. Food and animal sacrifice: Animal sacrifices are very common during Dashain. A large number of animals and birds are sacrificed as part of Dashain rituals in different temples of goddess Durga including Hanuman Dhoka in Kathmandu during Ashtami and Nawami. People sacrifice goats, buffalos, pigs, chickens, and ducks at their homes on the day of Maha Ashtami. There is also a tradition of sacrificing animals when people worship their vehicles on the ninth day of the Navaratri. Dashain is the time for indulging in meat, which is almost synonymous with the festival. Though eating meat could still be a luxury for many Nepalis, people from all income levels either sacrifice an animal at their homes or purchase a lot of meat for Dashain. Those who do not eat meat also binge on other vegetable-based cuisines and sweets of their liking.
7. Jamara and Tika: Jamara is another important and integral part of Dashain festival. As part of the religious tradition, on the day of Ghatasthapana, people bring sand from the river and sow barley seeds mixed with wheat and corn. The seeds, sown alongside the altar of goddess Durga, are watered every morning and evening. The seeds sprout and grow into yellow grass called Jamara. On the tenth day of Dashain, the sacred grass is given with Tika (a mix of rice, vermillion powder and yogurt) as blessings of Goddess Durga to younger people by senior members of the family. People visit their relatives and someone they respect for blessings and Tika until Kojagrat Purnima, when the 15-day festival comes to an end.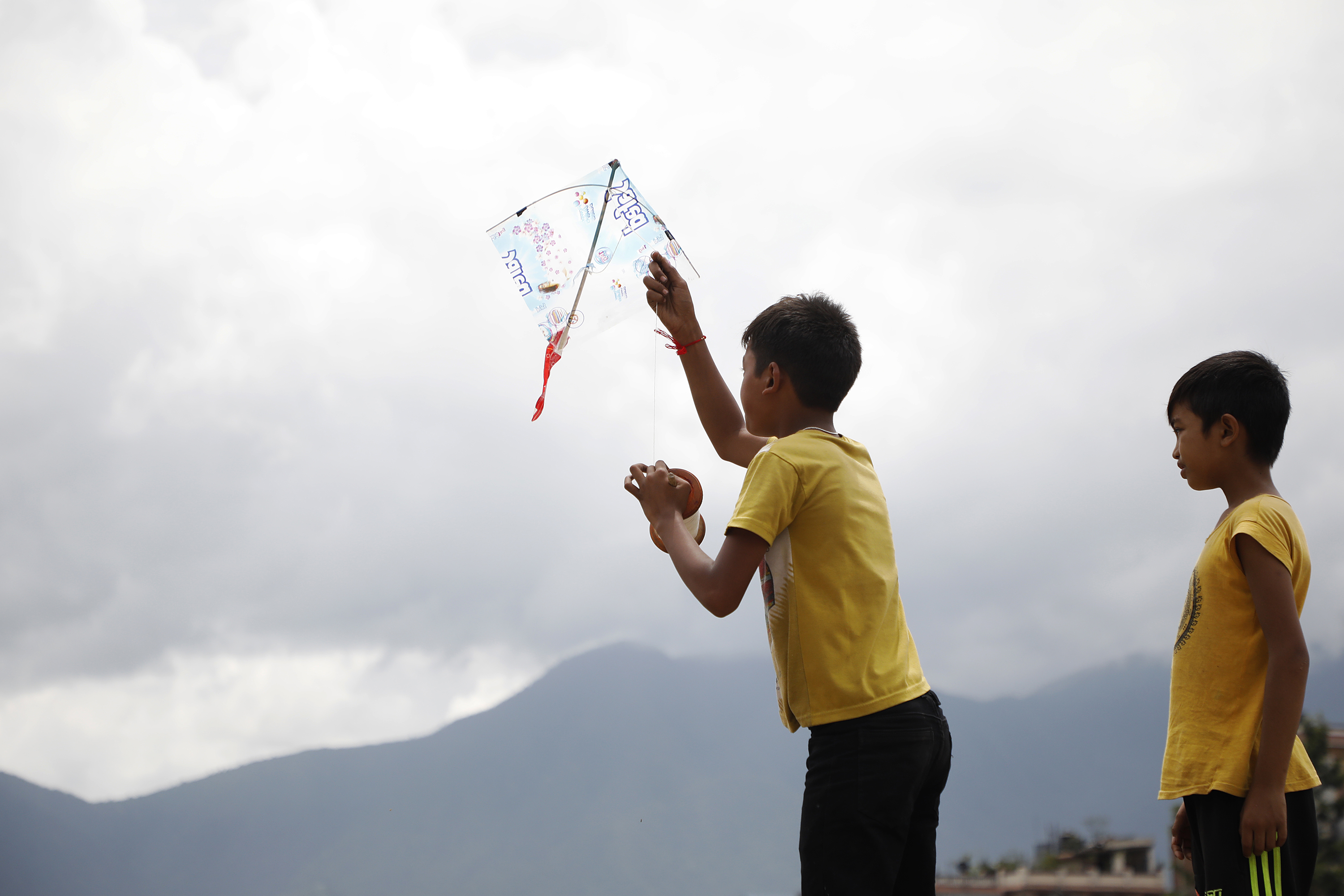 Post File
8. Linge ping (swing) and ferris wheel: It would be impossible to imagine a Dashain without swings—be it Linge Ping or traditional wooden ferris wheel. Linge pings or swings fixed high up two pairs of bamboo poles are seen in every other Tole or village during Dashain. There is a saying that one has to hop on a swing and detach oneself from the earth at least once during Dashain. Children and young people are seen swarming the swings all over the country. The value of swing during the festival, at least for this generation, can't be replaced with anything else. However, the activity is gradually disappearing.
9. Kite flying and gambling: Flying kite is another thing that defines Dashain and the autumn season. During Dashain holidays, the weather condition with the gently blowing wind would be perfect for flying kites. Apart from feasting, friends would come together for flying a kite as part of Dashain celebrations. Only a few years ago, the skies of Kathmandu used to be dotted with kites of different colours around Dashain time. People from different neighbourhoods would engage in kite battles trying to bring down another kite. However, the culture of kite flying is fast disappearing due to the penetration of mobile phones and the internet. In addition, gambling for fun is another common pastime, famous even among those who are averse to the idea of gambling. Family members, friends and relatives meet to play cards; people even slip away to their neighbourhood to take part in dice rolling or other gambling games.
10. Time for travelling: With the modernisation of the Nepali society and growth in their incomes, people have started travelling outside the country during the festival holiday. The number of people going abroad for holiday has been increasing in recent years. Apart from feasting and returning to ancestral home for family get-together, many people also go trekking and visit domestic tourist destinations. Though a relatively new concept, travelling during festivals is gaining popularity among the Nepalis as travel agencies are offering attractive tour packages.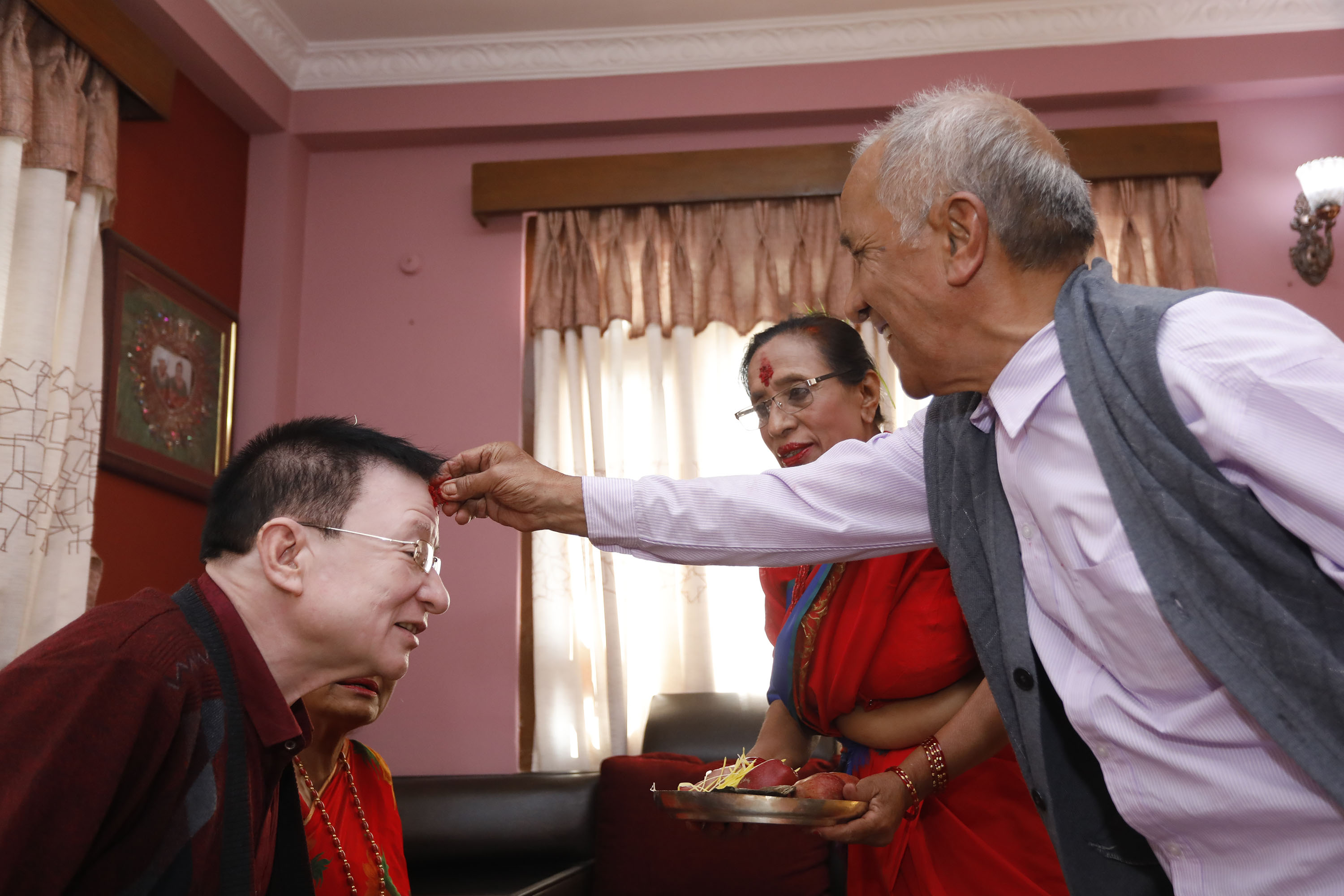 A man receives Tika and Jamara from his senior. Post File
---
---