Over 2.5 million people leave Kathmandu
More than 2.5 million people have travelled from Kathmandu to their native places to celebrate Dashain festival starting Ghatasthapana, the Metropolitan Traffic Police Division (MTPD) said on Tuesday.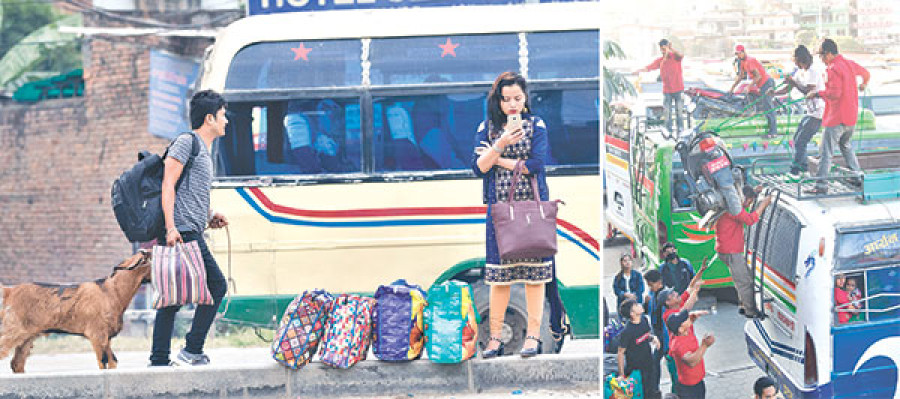 bookmark
Published at : October 17, 2018
Updated at : October 19, 2018 08:50
Kathmandu
More than 2.5 million people have travelled from Kathmandu to their native places to celebrate Dashain festival starting Ghatasthapana, the Metropolitan Traffic Police Division (MTPD) said on Tuesday.
Major entry and exit points at Nagdhunga, Bhaktapur, Mudkhu and Pharping saw a surge in traffic with thousands of people heading out of Kathmandu.
Metropolitan Traffic Police Division Superintendent of Police Spokesperson Rajkumar Lamsal said, increase in the number of private vehicles has further added to the traffic congestion at major entry and exit points, especially Kalanki-Nagdhunga-Naubishe and Koteshwor—Banpea stretch.
To reduce vehicular congestion and ease passenger movement, the traffic authority has barred freight carriers having 12-wheels or more from entering Kathmandu valley.
"We have taken several measures to ease vehicular movement," Lamsal said. The department has set up temporary traffic police posts at several locations. These posts have breakdown vehicles to remove vehicles that stall due to mechanical failure or any other issue.
Government estimate peg the outbound flow of people around three million during Dashain this year. With festival holidays for government staff starting from Tuesday, traffic rush is expected to increase further till Thursday, the traffic official said.
According to MTPD, 16,794 large and small vehicles left Kathmandu valley on Monday while 7,320 vehicles made an entry and the pattern is likely to remain the same for the next couple of days.
"Around 250,000 people left Kathmandu, on an average each day, in the past couple of days," Lamsal said.
In the wake of increasing congestion, and to check black marketeering of bus tickets during festivals, the government has set up 14 help desks in different parts of Kathmandu valley.
The help desks set up at Nagdhunga, Kalanki, Swayambhu, Naya Bus Park, Purano Bus Park, Sundhara, Chabahil, Tilganga, Koteshwor, Jagate, Lagankhel and Balkhu provide relevant information to travellers.
They also register complaints and take further steps to resolve them. Such desk comprises officials from the traffic authority, Department of Commerce, the Federation of Transportation Entrepreneurs' Associations (FTEA), consumer groups and trade unions affiliated to various political parties. The presence of multi stakeholders eases resolving people's problems and disputes.
FTEA Vice President Bijay Swar said around 3,500 to 4,000 large buses are in operation to ease the movement of people during Dashain.
Kathmandu being the hub for employment, education, health care and other several administrative activities attracts a large number of people from the country.
Further, the arrival of Nepalis residing abroad through the only international airport-Tribhuvan International Airport before waging option of reaching their hometown via roadways or airways has also increased the outbound flow from Kathmandu.
Return travel of passengers according to Swar will be easy as people choose to return as per their convenience.
"Students and teachers have leverage due to extended holidays and this reduces passenger flow significantly," Swar said. "Plus, the increased number of buses and relatively less flow of people at a time make things much more convenient and easier for all."
Even though the government has taken a number of measures to ease movement of public during the Dashain, passengers' woes persist. Dubious practices by transport entrepreneurs' and black market continue to make travel
difficult for people.
"I am boarding flight to Surkhet due to carelessness of ticketing staff," Uttam Giri, 30, resident of New Baneshwar said. "One ticket was issued for two passengers. I had no option but to take a flight. It was really difficult for me to get refund even though it was not my fault."
Another traveller Jeena Basnet of Maharajgunj, who left Kathmandu along with her family on Sunday, said that the bus to Nepaljung had accommodated passengers even in the passageway charging standard fare.
"People were helpless. They followed the orders of bus staff because they had no other option," Basnet told the Post.
Swar said such practices prevail because transporters do not have other option to dispatch people to their homes in time to celebrate the festival.
"People choose to head back home by every possible way. It is difficult for us to deny someone who is willing," he said.
---