ICYMI: Here are our top stories from Thursday, September 19
Here are some of the top stories from The Kathmandu Post (September 19, 2019).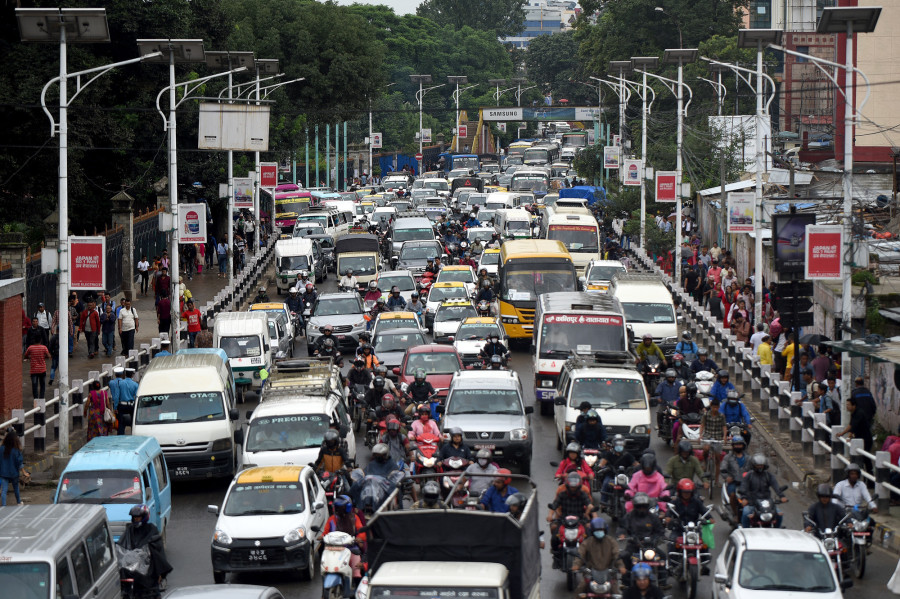 The number of vehicles plying the roads in Kathmandu Valley has steadily gone up while the road length remains almost the same. Angad Dhakal/TKP
bookmark
Published at : September 19, 2019
Updated at : September 19, 2019 15:17
Kathmandu
Here are some of the top stories from The Kathmandu Post (September 19, 2019).

High-level Chinese team takes stock of Kathmandu's preparations for Xi's visit
A Chinese high-level team led by Hong Lei, director general at the Department of Protocol under China's Ministry of Foreign Affairs, has departed Kathmandu after conducting reconnaissance for the planned visit of Chinese President Xi Jinping in mid-October.
Hong's 18-member Chinese delegation, which arrived on Tuesday and left on Wednesday, stayed at the Soaltee Hotel where Xi will likely be staying during his Nepal visit. The delegation inspected the hotel's suites and placed necessary directives with the hotel staff, according to two senior government officials.
Reform committee suggests handing Nepal Airlines management over to a foreign partner
A committee formed to recommend reforms for the beleaguered Nepal Airlines Corporation has suggested that the government restructure its loans, bring in a foreign partner to manage key departments, and purchase two new Airbus A320 jets. These are some of the immediate reform measures the committee has suggested to revive the ailing national flag carrier, which has been teetering on the brink of bankruptcy due to debts and a poor operation plan.
The committee, led by former tourism secretary Sushil Ghimire, submitted its report to Tourism Minister Yogesh Bhattarai on Wednesday, proposing immediate reform measures for 13 areas. Most measures are a continuation of recommendations made by several committees in the past.
The Ghimire-led committee is the seventh in two decades. Almost none of the recommendations made by the earlier committees has been implemented.
Kathmandu has been declared open defecation free, but people are still pooping on the streets
The district of Kathmandu declared itself "open defecation free" on Tuesday, but across the capital city, piles of faeces await errant feet like mines, ready to explode upon contact. A walk from Jamal to Ratnapark and up the many overhead bridges should make it clear to anyone that the city of Kathmandu is anything but free of public defecation.
Tuesday's programme at the Kathmandu City Hall was supposed to be grand, but the event, like the announcement it was making, turned out to be a sham. Deputy Prime Minister and Minister for Defence Ishwar Pokhrel never showed up, neither did Kathmandu Mayor Bidya Sundar Shakya.
Why are Kathmandu's traffic jams notorious?
Increasing traffic jams are common trouble of every individual who lives in Kathmandu. People who suffer every day from chronic traffic congestion in the Valley number in millions. People from all walks of life are affected by Kathmandu's long, tedious and suffocating traffic hassles. Wherever you go, you are greeted with a large number of vehicles standing in queue, causing problems for pedestrians to cross the road. In Kathmandu, you are advised to venture out up to 45 minutes in advance of your normal schedule if you must reach somewhere near on time using a public vehicle. During rush hour, short distances may be covered faster walking than by a ride due to traffic bottlenecks.
Here's what everyone should know about the city's traffic problems.
---