Why are Kathmandu's traffic jams notorious?
Kathmandu Valley has seen a steady rise in the number of vehicles even as effective measures of traffic management are lacking.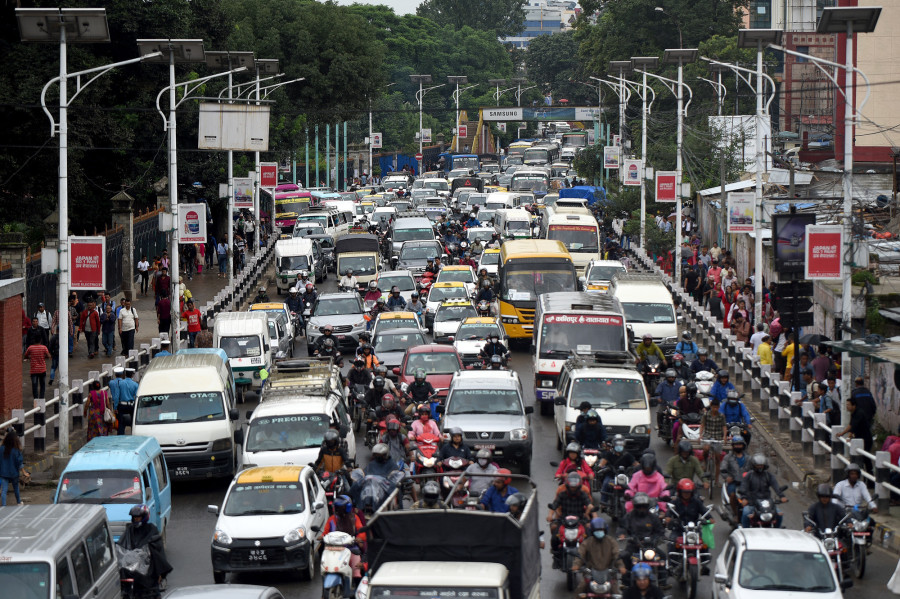 The number of vehicles plying the roads in Kathmandu Valley has steadily gone up while the road length remains almost the same. Angad Dhakal/TKP
bookmark
Published at : September 19, 2019
Updated at : September 19, 2019 11:04
Increasing traffic jams are a common trouble of every individual who lives in Kathmandu. People who suffer every day from chronic traffic congestion in the Valley number in millions. People from all walks of life are affected by Kathmandu's long, tedious and suffocating traffic hassles. Wherever you go, you are greeted with a large number of vehicles standing in queue, causing problems for pedestrians to cross the road. In Kathmandu, you are advised to venture out up to 45 minutes in advance of your normal schedule if you must reach somewhere near on time using a public vehicle. During rush hour, short distances may be covered faster walking than by a ride due to traffic bottlenecks.

Here's what everyone should know about the city's traffic problems.
Limited road space
The number of vehicles plying the roads in Kathmandu Valley has steadily gone up while the road length remains almost the same. According to a report of the Metropolitan Traffic Police Division, if all the vehicles in Kathmandu Valley were to be queued, they would form a line longer than the total length of roads in the Valley. The division's report shows that the total road length is 4.5 million feet, whereas the single queue of all the vehicles in the Valley would cross 7.2 million feet. About the limitations of road-widening in a saturated metropolis, former traffic police chief SSP Basanta Pant says there are some stretches that can never be expanded.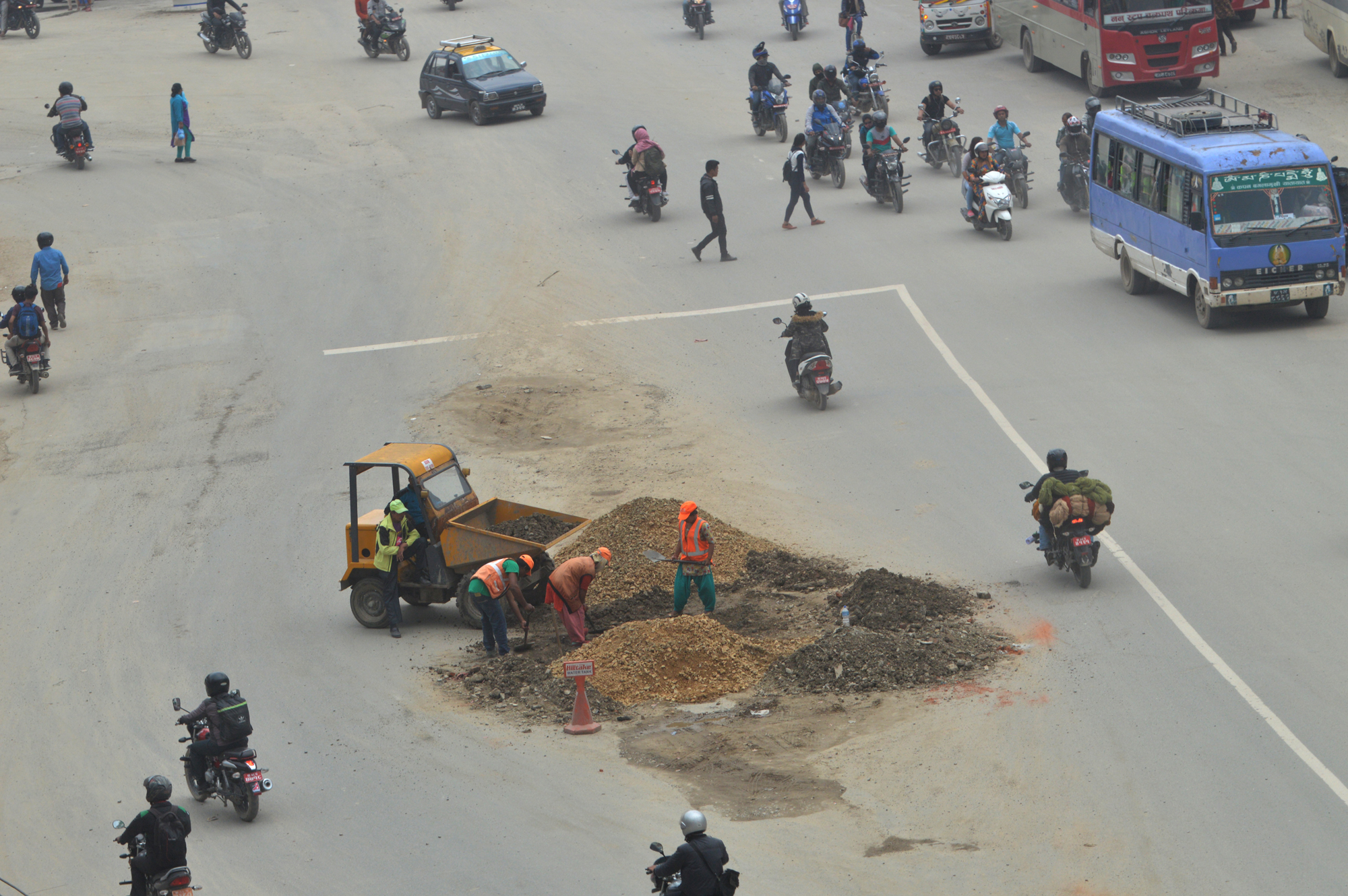 Post File Photo
Absence of coordination between government agencies
Even after successful completion of a three-tiered election including the first provincial polls of 2017, there is no change in the way the government's agencies work. There is no coordination between government authorities on road matters. The Capital is still littered with potholes and remains of construction materials from pipe-laying for the Melamchi Water Supply Project. The Kathmandu Upatyaka Khanepani Limited digs the road to maintain leaking pipes, the Nepal Electricity Authority uses the same road space to erect power poles, and Nepal Telecom goes below the road and uses sidewalks to lay its cables—all obstructing smooth transportation. All these entities of government work on the road, but due to the absence of a single monitoring mechanism, their work has greatly affected Kathmandu's traffic.
Lack of people's trust in public transport
Due to unruly behaviour of drivers and conductors, boarding passengers beyond capacity and stopping at various points for unbearably long time, middle- and upper middle-class people prefer to ride their own vehicles. Another main reason for a great number of public choosing to own a means of transport is that public vehicles are not comfortable to commute—they are congested and suffocating. Traffic police's report shows that Kathmandu Valley has only six percent big and comfortable public buses like Sajha Yatayat in operation. According to the division, 1.17 million vehicles are registered in the Bagmati zone.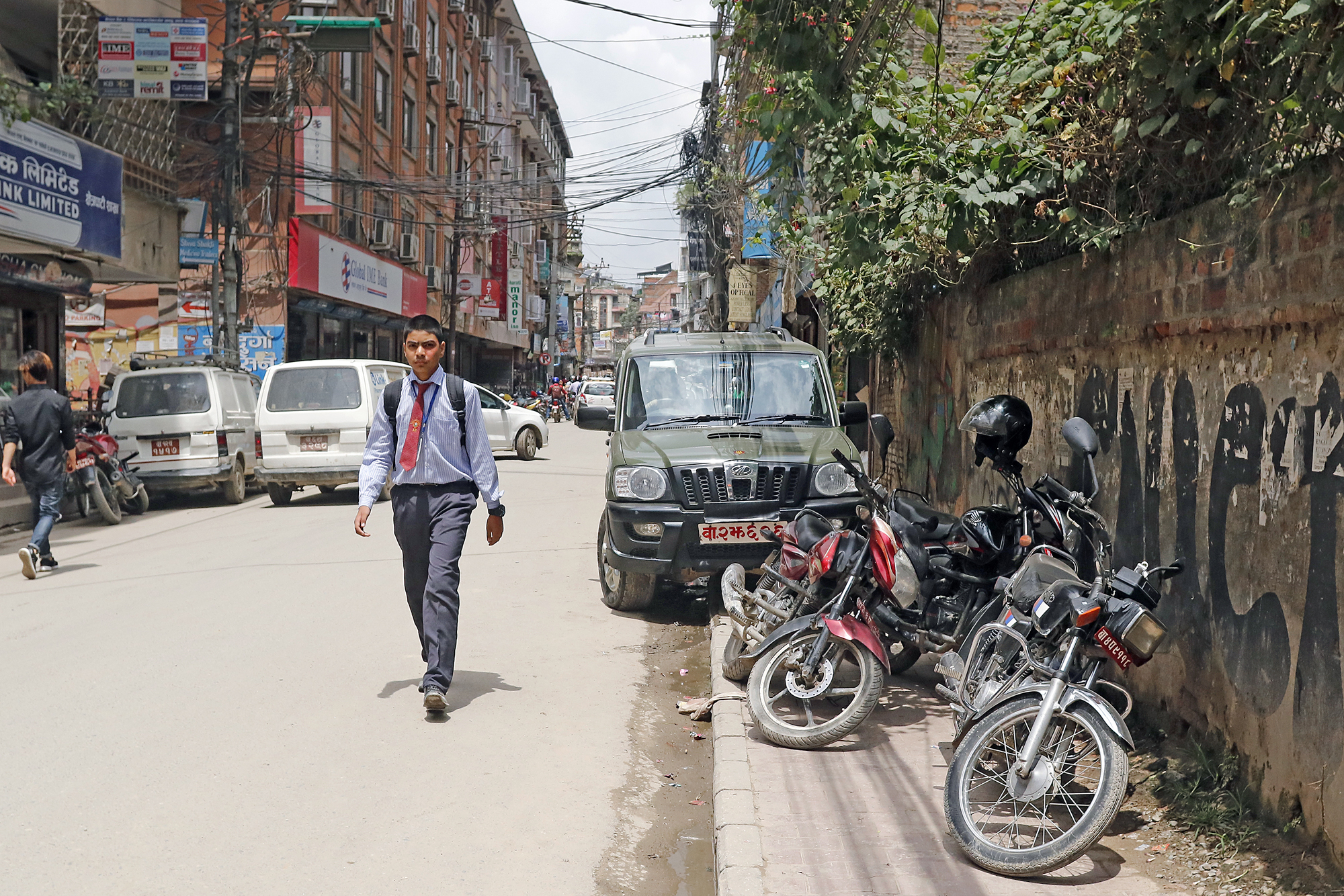 Anish Regmi/TKP
Few pedestrian-friendly roads
In many road sections in the Valley, there is hardly any place for pedestrians to walk. The lack of pavements forces people to walk on the road and risk their lives. According to the 'Kathmandu Walkability Study' 2018, 60 percent of roads do not have distinctive footpaths.
Adding more difficulties for pedestrians, mostly in the office time, footpaths of major places in the Valley get occupied by street vendors, forcing pedestrians to walk on the road. According to the Nepal Street Vendors Trade Union, there are more than 10,000 street vendors in Kathmandu Valley.
Transport management devoid of technology
Officials at the Traffic Division office say they are having problems managing traffic junctions. Another main reason for traffic obstruction in the Valley is the lack of traffic lights as 90 percent of those existing are out of order. The traffic lights installed two decades ago with a Japanese aid have gone defunct.
The division deploys 1,400 traffic police personnel. If all the traffic lights in the Valley worked, deploying half the number of the personnel would be sufficient. If all traffic lights operate in good shape, traffic jams in the Valley can be reduced by over 40 percent, officials say.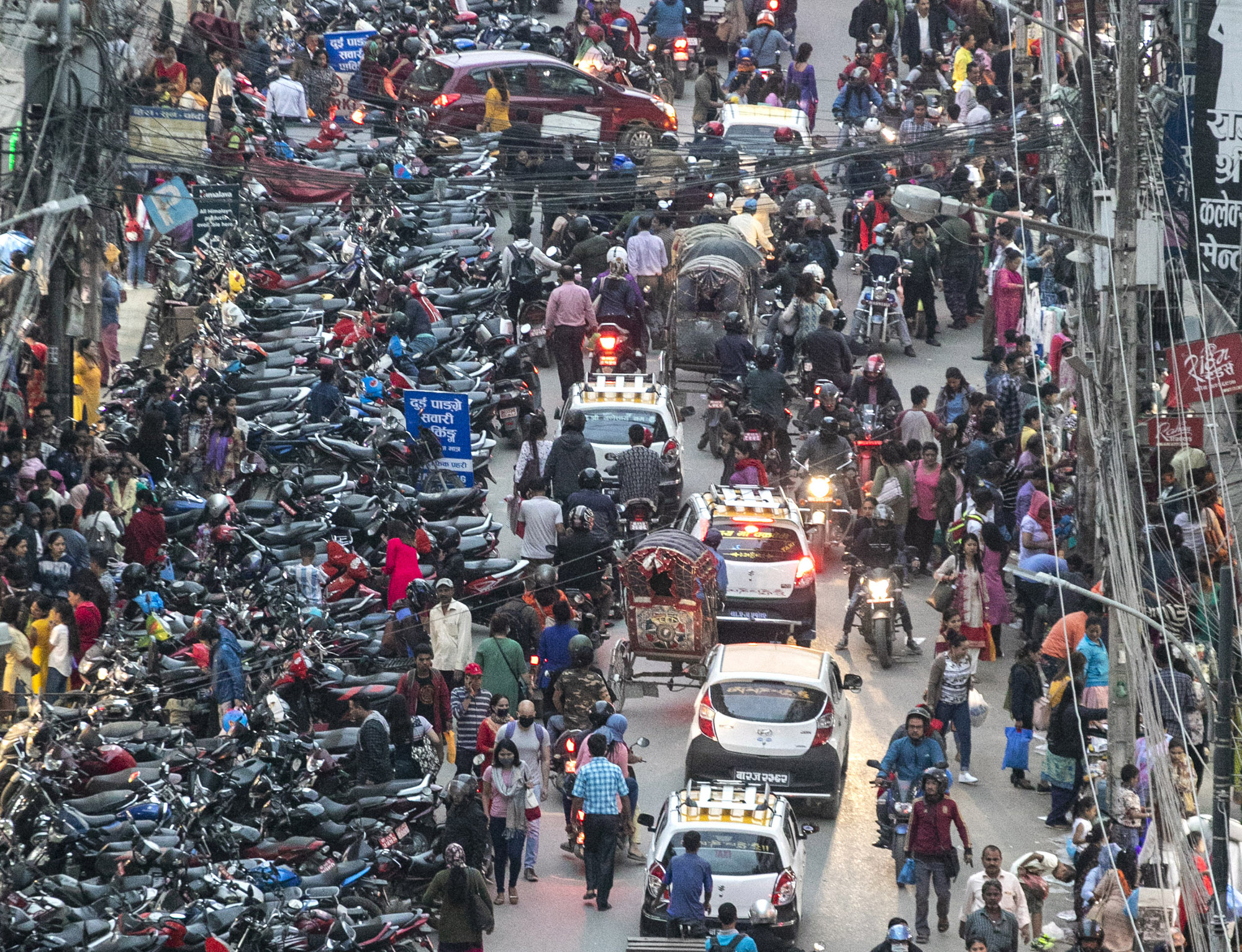 Sanjog Manandhar/TKP
Inadequate and haphazard parking system
Due to a lack of organised parking lots in the Valley, hundreds of public and private vehicles are seen parked haphazardly on the roadsides every day. Although the Kathmandu Metropolitan City has allocated 80 parking spaces in the Valley, only a few smart parking zones in New Road, Durbarmarg, New Baneshwor and Thamel are noticeable. Houses have been built without leaving space for parking vehicles. As a result, many house owners park their cars and motorcycles on the roadsides.
Ineffective punishment
Negligible amounts of fine have encouraged drivers and riders to violate traffic rules. Former traffic division chief Pant says bikers or drivers who breach lane and other traffic rules are slapped fines up to Rs 1,000 per offence. "They are ready to breach the rule and pay the penalty. If we could introduce a strong law for traffic rule violators, this would help reduce traffic jams," said Pant.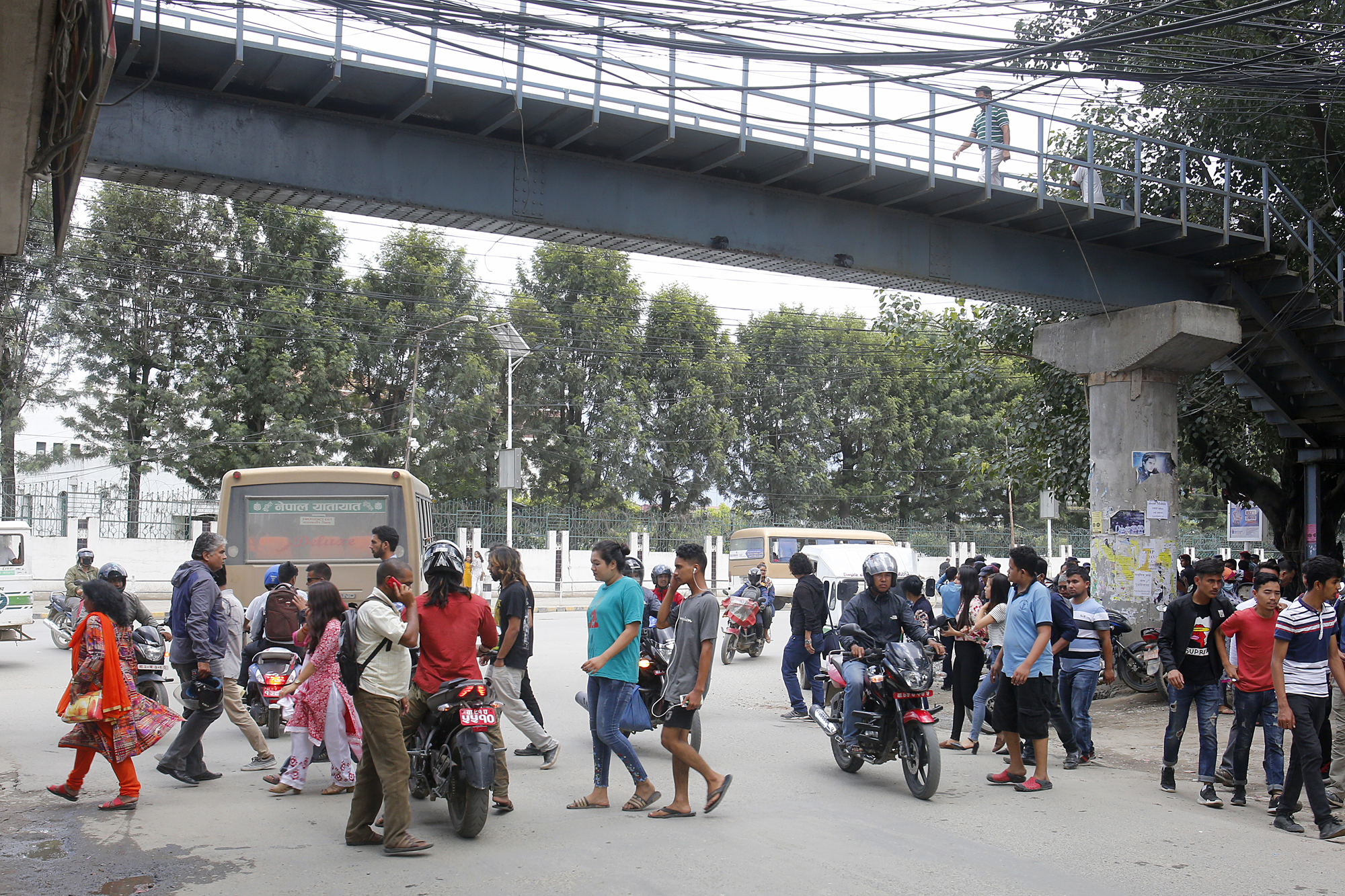 Post File Photo
Poor civic sense
Many pedestrians, riders and drivers do not feel obliged to follow the traffic rules. Sitaram Hachhethu, a retired traffic police officer known for bringing reforms in Kathmandu's traffic management, said people's indifference to traffic rules is another major cause of traffic jams in the Valley. Most of the riders only follow the traffic rules if they see traffic police around; otherwise, they breach the lane, said Hachhethu. "The same is at traffic lights. People do not stop at lights unless there is a traffic police officer. If one thus breaches the rule, another person breaks the rule too, causing traffic jams," said Hachhethu, who is retired but works as a traffic volunteer under the Nepal Police headquarters. Another main cause of traffic jams is that people do not hesitate to breach the one way rule mostly in Thamel, Naag Pokhari, Bagbazaar and Ratnapark.
Infrastructural defects on the road
Roads in Kathmandu Valley lack basic infrastructure. Absence of zebra crossings or a lack of their maintenance causes people to cross the road haphazardly, creating problems in smooth traffic flow. Traffic division's data shows there are 107 zebra crossings in the Capital. The Kathmandu Walkability Study-2018, conducted in 35 sections of the metropolis one year ago, found 60 percent of the zebra crossings faded and 80 percent of the road stretches without zebra crossings. The Kathmandu Metropolitan City in December last year publicly announced to install 100 'smart zebra crossings' at a cost of Rs 13 billion, but the commitment has not been translated into action.
Absence of overhead bridges in crowded areas such as New Baneshwor, Koteshwor, Tripureshwor, Thapathali and Kalanki has added to the traffic congestion. Suresh K Thakur, chief of the Koteshwor Traffic Police, said if overhead bridges are built in these areas, 20 percent traffic jams can be reduced. The government has long been talking about construction of underpasses at New Baneshwor and flyovers on the Maitighar-Thapathali section but this has not materialised. Traffic police claim that after the opening of the country's first 800-metre underpass at Kalanki, traffic jams in the area have minimised by 80 percent.
Number of vehicles registered in Bagmati Zone
921,917 motorcycles
12,616 buses
1,343 micro-buses
22, 322 trucks and tippers
10,654 cranes and excavators
154,443 cars and jeeps
2,525 tempos
Source: Department of Transport Management
***
What do you think?
Dear reader, we'd like to hear from you. We regularly publish letters to the editor on contemporary issues or direct responses to something the Post has recently published. Please send your letters to tkpoped@kmg.com.np with "Letter to the Editor" in the subject line. Please include your name, location, and a contact address so one of our editors can reach out to you.
---
---