City office and traffic police raise millions in fines as parking problem continues to grow
Kathmandu Metropolitan City has designated 80 areas as parking lots, but hardly a dozen serve as parking spaces.

A KMC staff notes down the number plates of illegally parked two-wheelers at Babarmahal on Wednesday. Kabin Adhikari/TKP
bookmark
Published at : August 15, 2019
Updated at : August 15, 2019 09:21
Kathmandu
At around 2:30pm on Tuesday, nearly a dozen people were queued on the northern part of the Metropolitan Traffic Division Office where the Kathmandu Metropolitan City has established a counter to collect fines from the people whose vehicles have been impounded for parking violation.

Almost all had but one complaint: The City Police lifted their motorcycles from roadsides without any prior notice.
"I had parked my bike in front of the Land Revenue Office in Dillibazar. There were other motorbikes too, so I simply parked there," said Dhruba Gyawali who was waiting for his turn to pay Rs1,000 fine to get his two-wheeler released. "I didn't see any 'no-parking' sign there. But when I came out of the revenue office, my bike was missing."
He said he later realised the City Police had impounded his two-wheeler.
"It looks like the Kathmandu Metropolitan City is doing this just to earn money," said Gyawali. "The city authority should be working to create more parking spaces instead of levying fines on vehicle owners for parking offence."
Confrontation between motorcycle owners and city police has become a common affair in Kathmandu, which lacks parking spaces. People often park their two-wheelers on roadsides, only to find their vehicles seized by the city police.
On an average, the city office issues tickets to over six dozen people for parking their two-wheelers on roadsides.
Although the city authority says it has allocated 80 parking spaces in the Valley, only five smart parking zones in New Road and some designated parking areas in Durbarmarg, New Baneshwor and Thamel are noticeable.
"I had parked my motorcycle in front of a law firm in Anamnagar. There were already dozens of motorcycles parked outside the firm. The city office could have placed a board with a no-parking sign there," said Ubind Shakya, 36, from Gaushala. "When I came out of the law firm, my motorbike had already been taken to the traffic police office."
Most of those paying fines on Tuesday were of the view that they wouldn't be there had the city authority placed "no parking" signs at areas from where their motorcycles were confiscated.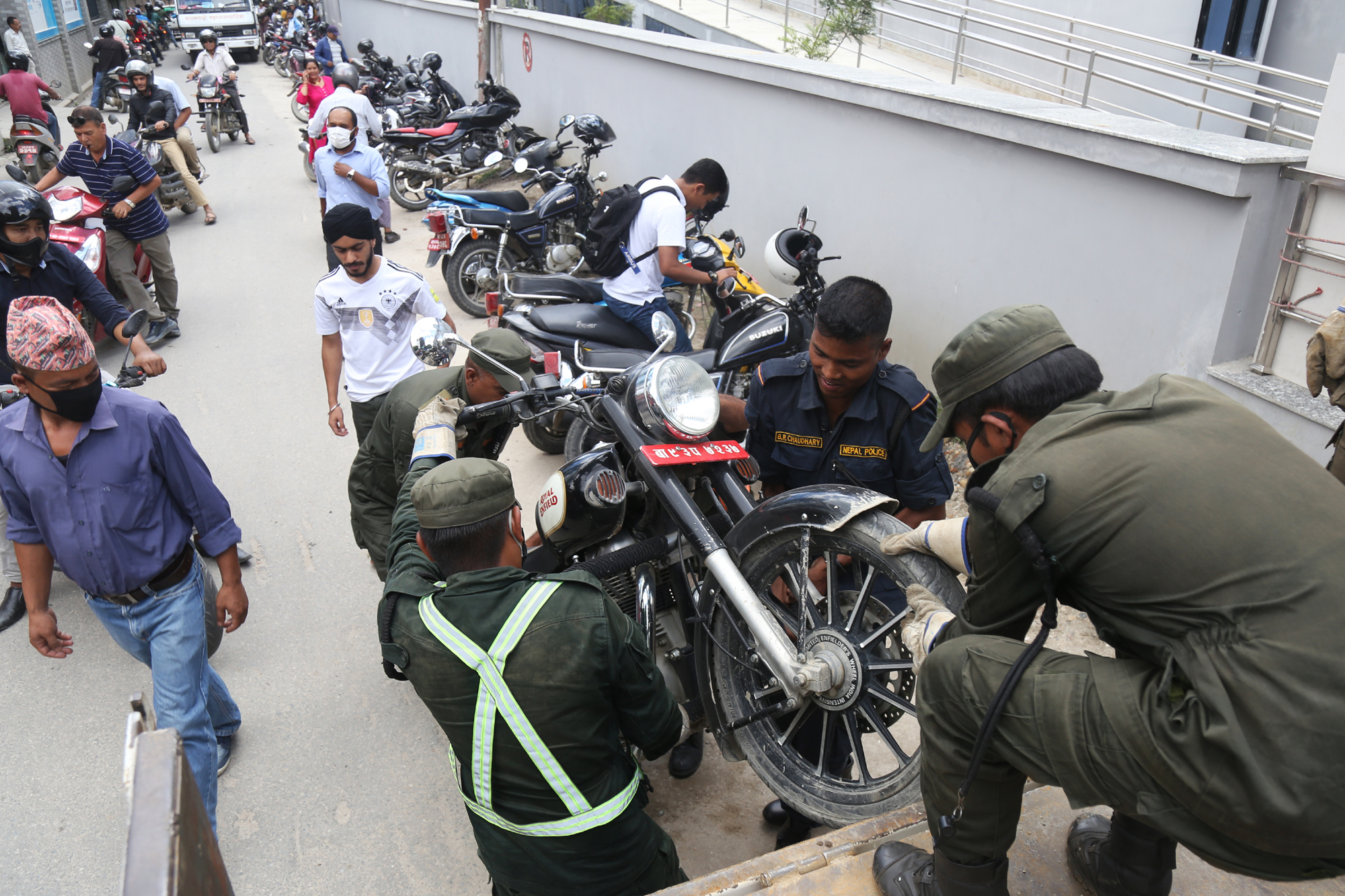 KMC staff and police jointly capture the illegally parked motorcycle in front of CDO office at Babarmahal on Wednesday. Kabin Adhikari/TKP
However, Sub-inspector Shyam Timalsena, who was collecting fines at the counter, was unperturbed by the complaining crowd.
"Who asked you to park your motorcycle on the roadside?" Timalsena shouted at the crowd. "The municipality does not put the no-parking sign at every road section."
People complained but left after paying the fine.
Dhanapati Sapkota, chief of the City Police, said the metropolitan office will soon convert all free parking spaces into pay parking lots.
"We are in the process of calling a tender," Sapkota told the Post.
In the last fiscal year 2018-19, the city office booked 12,380 two-wheel owners for parking violation and generated Rs12.3 million in revenue.
The number of two-wheelers booked in the previous fiscal year 2017-18 stood at 9,192 and the city had generated Rs 9.5 million from fines.
"This money goes directly to the central revenue account of the metropolitan city. We are trying to make parking in the city more organised," said Sapkota.
But it's not just the city office that fines people for haphazard parking. The Metropolitan Traffic Police Division also issues tickets for parking offence.
In the fiscal year 2018-19, the division booked 38, 886 two-wheelers and four-wheelers—of them 90 percent were motorcycles—earning Rs 38.8 million in revenue.
"Unlike the city office, we don't impound vehicles. We chain the two-wheelers and put wheel clamps on four-wheelers that are parked on roadsides," said Rabi Kumar Paudel, spokesperson for the division. "We fine them on the spot. The money goes directly to the account of finance ministry."
Rapid and haphazard urbanisation has drastically shrunk Kathmandu's open spaces. With the rising number of vehicles, the city utterly lacks parking spaces.
Urban planners have time and again raised the issue of parking problem in the city. "There's not even a single organised parking lot in our city," said Kishor Thapa, an urban planner and former government secretary. "People need to park their vehicles where there are offices. They also have to park vehicles when they visit offices for different purposes. Authorities should consider creating organised parking spaces rather than making people pay fines."
---
---