Kathmandu's roads are widening, but there's no space for pedestrians
Early at dawn on March 5, Jenu Shrestha got off the bus at Balkhu and did what had become a habit. She looked left, then right and left again before crossing the road to get to her college. The next thing she recalls is opening her eyes, several hours later, in the Intensive Care Unit at Grande Hospital. She had been hit by a speeding motorbike.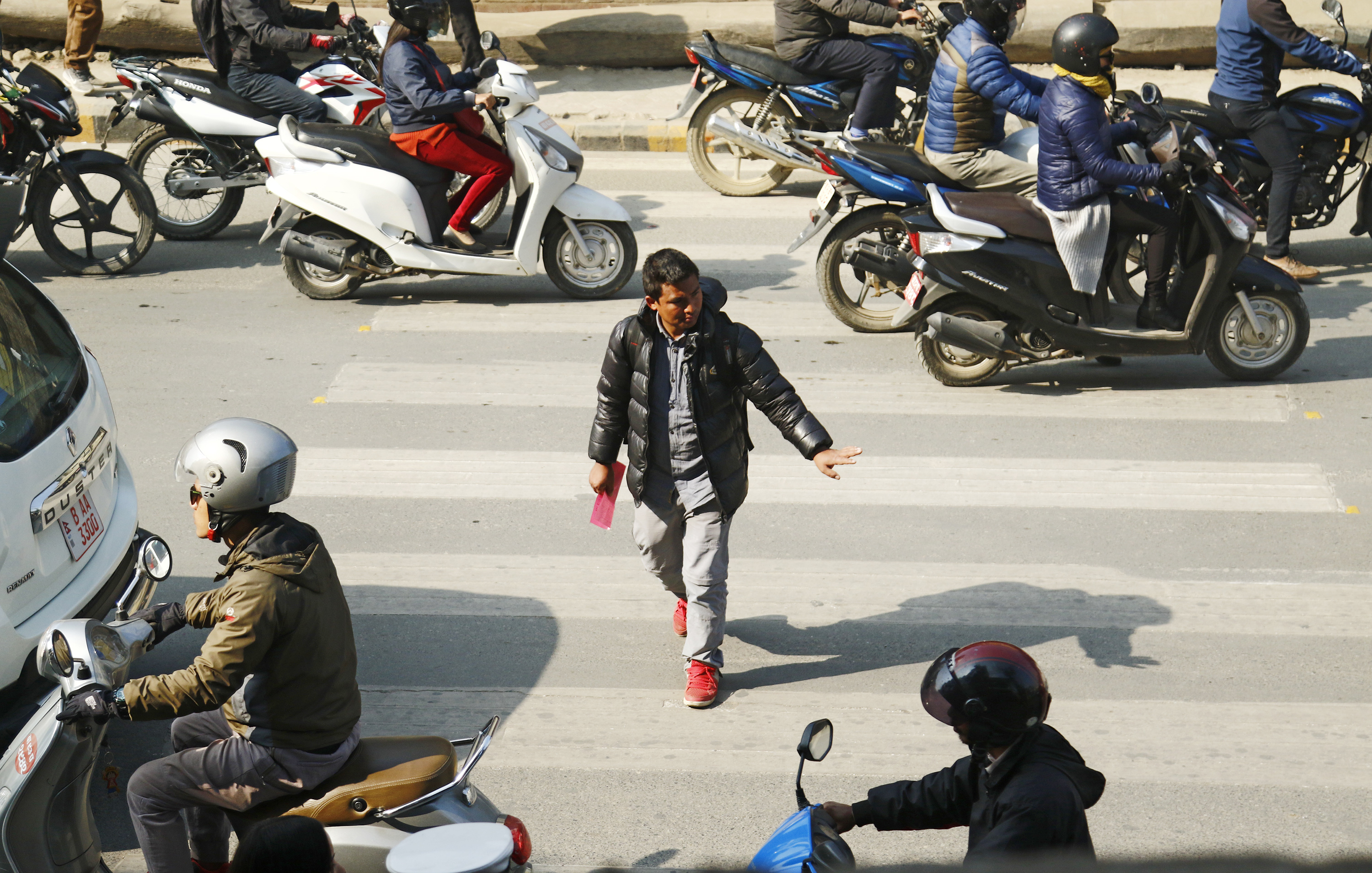 Published at : December 22, 2018
Updated at : June 25, 2019 13:24
Early at dawn on March 5, Jenu Shrestha got off the bus at Balkhu and did what had become a habit. She looked left, then right and left again before crossing the road to get to her college. The next thing she recalls is opening her eyes, several hours later, in the Intensive Care Unit at Grande Hospital. She had been hit by a speeding motorbike.
Shrestha survived the accident, with seven cracked ribs and severe fractures to her right hand and right leg. She was in the hospital for 18 days, undergoing treatment.
"I don't recall the accident at all," said 22-year-old Shrestha. "Apparently, a young rider on a Pulsar hit me and I went flying some 10 metres. A friend who witnessed the accident rushed me and the rider to the nearby hospital."
In the last four months alone, the Metropolitan Traffic Police Division has recorded 52 accidents at Balkhu, where Shrestha was struck, and where walking and crossing the road has become all the more dangerous after the Koteshwor-Kalanki section of the Ring Road was expanded into an eight-lane expressway. Eight of these accidents involved pedestrians, two of whom were seriously injured.
Across the Valley, the annual deaths of pedestrians make an alarming statistic. In the last five years, the Traffic Police has recorded 27,150 accidents that killed 624 people and seriously injured 1,157 people. Of the deceased, 296 were pedestrians.
"There are no basic amenities for pedestrians," said Jay Raj Sapkota, spokesperson for the Metropolitan Traffic Police Division. "Road widening has increased vehicular speed but it has created a precarious situation for pedestrians, making them the most vulnerable."
(Left) A lack of crosswalks and traffic lights, along with obstructions on the footpaths (right), have meant that being a pedestrian in Kathmandu is dangerous and can even be deadly. POST PHOTOS: KESHAV THAPA
Sapkota acknowledged that the rising number of accidents and consequent deaths are unfortunate results of the road expansion and, unless Kathmandu has a proper road design and pedestrian infrastructure, the numbers will only continue to rise.
"Our roads are too narrow and carry vehicles beyond their capacity while both the number of vehicles and pedestrians continue to rise in the Valley," he said. "We long anticipated the dangers and alerted the concerned departments."
The traffic police's data, which is not available publicly and was obtained after repeated requests from the Post, also show that children and young adults are most at risk and there is a high proportion of deaths among pedestrians and motorcyclists.
According to a 2018 'Kathmandu Walkability Study' by the Resource Centre for Primary Health Care, which surveyed 35 different sections of the Kathmandu Metropolitan City, more than 70 percent of roads do not have basic amenities for pedestrians and more than 70 percent of respondents reported that they were afraid of crossing the road while more than 40 percent reported multiple incidents and injuries due to poor pedestrian facilities, like a lack of sidewalks of minimum width, crosswalks, traffic lights and handrails.
"It's chaotic on the road. Motorbikes and cars are reckless. Walking around is already hard with all the uneven surface and various obstructions like construction materials. On top of that, the motorbikes even invade and park on the footpaths," said Alex Nembang, a barista who wades through the morning rush hour at New Baneshwor to get to work every morning.
But pedestrians ought to be disciplined, too, said Nembang. "I make it a point to use the zebra crossing or the overhead bridge but sometimes, the wait is frustratingly long so I also take shortcuts," he said.
According to the walkability study, pedestrian facilities are almost non-existent—60 percent of roads do not have distinctive footpaths and where footpaths are available, the width of the footpath is only four to six feet or less. A majority of these footpaths was also found to be in poor condition. More than 30 percent of roads had one or more obstructions. The study also points out that more than 80 percent of roads lack zebra crossings.
(Left) Motorbikes often intrude on footpaths, hindering the city's walkability; (Right) Even where zebra crossings are present, vehicles rarely stop or slow down to let pedestrians pass.
Pillars and cables were found to obstruct the footpaths in almost 25 percent of roads while 17 percent
of roads had cars and motorcycles blocking the way. Goods at shop fronts, construction materials, trees, trash cans and vendors were also found to cause obstruction to pedestrians.
The National Road Standard mandates a minimum width of 1.5 metres for footpaths and a passing zone with a minimum width of 1.8 metres and 2 metres in length at every 50 metres in case of a narrower footpath. As per the Standard, the minimum width of a footpath has to be 2 to 2.5 metres if the pedestrian volume is higher.
But experts say that the existing setup of most of the Valley's streets show there's little concern for pedestrians, and even where there are sidewalks, they have been poorly built-and managed.
"If we consider the volume of pedestrians, not a single footpath in existence meets the basic standards of road design," said Bharat Sharma, a professor with the Department of Architecture at Pulchowk Engineering Campus who specialises in urban and environment planning. "Both the quantity and quality of the sidewalks are evidence of gross negligence in design. There is no pedestrian right of way."
Sharma said that the haphazard widening of the roads had only one intention-to accommodate more vehicles. "This will only kill more people because the road is dangerous by design," he said.
According to a recent WHO report, traffic accidents have become the eighth leading cause of death worldwide, killing 1.35 million a year. This figure is higher than that of malaria, HIV or tuberculosis leading pedestrian safety to become a major issue for governments and mayors across the world. As per the report, more than half of all traffic deaths are among vulnerable road users: pedestrians, cyclists, and motorcyclists.
"The road expansion was a blunder. It will be rectified and not be repeated. Footpaths will not be compromised in my city," Lalitpur Metropolitan City Mayor Chiribabu Maharjan told the Post. "We are currently working with 21 interns from the Pulchowk Engineering Campus and we will continue to pedestrianise the city. A separate team is also working to synchronise traffic lights specially designed for pedestrians. Four of these lights have already been installed—at Kupondole, Harihar Bhawan, Pulchowk and Jawalakhel—and five more will be added soon."
(Left) Motorbikes parked on the footpaths are a major obstruction for pedestrians; (Right) Sixty percent of roads do not have distinctive footpaths and even when they do, they are not up to standard and poorly maintained, according to one walkability study.
Last month, in a bid to address pedestrians' woes, the Kathmandu Metropolitan City and Department of Roads committed Rs 140 million to install 14 moveable overhead bridges in high traffic zones of the Capital. Despite this commitment, a lack of footpaths and zebra crossings would ultimately result in more congestion and more accidents, according to researchers of the walkability study.
"We've forgotten that pedestrians come first. Manual traffic management has added confusion to the chaos and I can't even imagine walking at night," said Manisha Bista, a scientist who occasionally walks during her recess or to run a few errands.
Vehicles continue to shrink the little breathing space pedestrians have on the road but authorities continue to push road expansion and tout mega projects without considering wider perspectives on urban development or the fact that more and more people are dying each year on the killer roads of Kathmandu.
In the last four months alone, the Metropolitan Traffic Police Division recorded 3,101 accidents in the Valley that killed 81 people and seriously injured 89. Of those deceased, 66 were pedestrians.
Kathmandu has traditionally been a city of pedestrians and cyclists. Valley denizens largely relied on walking and public transportation prior to the unmanaged sprawl caused by the construction of ring road, according to urban planners. Consequently, motorised vehicles grew in large numbers each year to fill the void created by the lack of a mass transit policy or any implementation thereof.
"We have spent a lot of money on research, planning and consultants but the reports are all gathering dust while pedestrians continue to die. Footpaths are not an accessory to the road. They are an integral component and should be built as per the standards," said Vijay Burathoki, a professor at Nepal Engineering College, who was involved in a 2001 city development study.
"The guerilla-style road-widening actually reduced footpaths in many places and gave way to vehicles at the cost of pedestrians. It is clear that these ad hoc actions ignore the larger city planning and most importantly, the reality that we are a highly pedestrian city. This policy of doing nothing and just letting things go is a crime."
Seven months after the accident, Jenu Shrestha still has metal implants in her hand and leg and an operation to remove them is due in two months. Because of the injury to her head, Shrestha has lost her sense of smell and taste and had the rider's family not compensated her for all the hospital bills, her family would be deep in loans.
"I am extremely scared now to walk on the road," Shrestha said. "If I need to cross the road, I wait for other people to show up. I never cross alone anymore."
---