Foreign Minister changes position on Kashmir, says it is the domain of "that government"
After refusing to take a concrete position on India's controversial move regarding Kashmir, Pradeep Gyawali appears to support India in a new statement.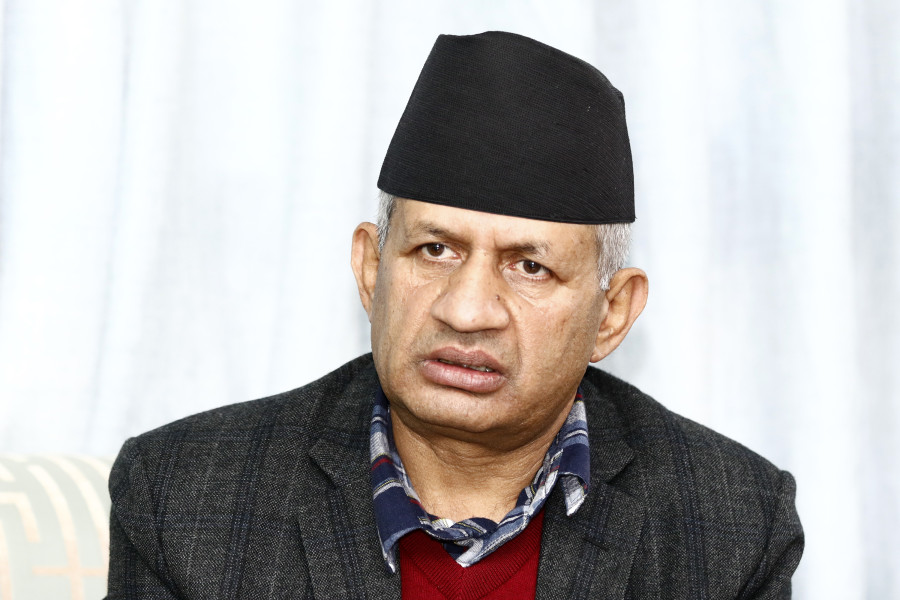 Foreign Minister Pradeep Gyawali. Keshav Thapa/TKP
bookmark
Published at : September 5, 2019
Updated at : September 5, 2019 10:41
Kathmandu
A month has elapsed since India stripped the state of Jammu and Kashmir of its special status, but Nepal has not issued any public statement regarding the controversial move. But Foreign Minister Pradeep Gyawali has made two statements, each appearing to contradict the other.

On August 19, Gyawali had told media that the Kashmir dispute should be resolved through dialogue, as it is linked to regional peace and stability. He had stopped short of elaborating further.
But on Tuesday, while in the Maldives for the Indian Ocean Conference, Gyawali told ANI, an Indian news agency, affirming a position that numerous other South Asian countries have taken.
"Changing the constitution is entirely the domain of that government," Gyawali said in the Maldivian capital of Male, referring to India's abrogation of Article 370 of the Indian constitution. "So we have no comment on that decision."
On August 5, India repealed Article 370, putting an end to the special status that Indian-administered Kashmir had enjoyed and giving the central government direct governing authority. Indian-administered Kashmir has since been under a virtual lockdown, with movement and communications heavily restricted.
Gyawali's statement comes weeks after India's Minister for External Affairs S Jaishankar's visit to Kathmandu on August 21-22. According to foreign ministry officials, Jaishankar had sought a clear position from Nepal on New Delhi's move.
Two days ahead of Jaishankar's visit, Gyawali had told media persons that the "Nepal government is in favour of regional peace and stability. The dispute should be resolved through talks and we firmly believe that the government of India has the acumen to resolve the dispute peacefully."
While Jaishankar was in Kathmandu to attend the fifth meeting of the Nepal-India Joint Commission, foreign policy analysts said that the minister had made a series of whirlwind trips to rally the region around India's controversial decision.
Pakistan, on the other hand, had asked Nepal as chair of the South Asian Association for Regional Cooperation to play a more proactive role. On August 22, Pakistani Foreign Minister Makhdoom Shah Mahmood Qureshi, in a telephone conversation with Gyawali, had urged Nepal to play its role for peace and stability in the region and ask India to "ease the suffering of the people of Indian Occupied Jammu & Kashmir."
Foreign policy analysts say that Gyawali has shifted his position and that there is confusion over which of his statements are to be believed.
Ramesh Nath Pandey, a former foreign minister, said that if Kashmir is entirely an internal matter then why was India negotiating with Pakistan.
"What prompted Nepal to change its position?" Pandey told the Post. "Which of Gyawali's statements is true?"
According to Pandey, either he lied to Nepali journalists in Kathmandu or to the Indian news agency in Male.
"He had made a similar confusing statement on the Indo-Pacific [strategy] as well after his visit to the United States in December," said Pandey. "Nepal should know about the sensitivity of Kashmir because it is related to India, Pakistan, China and the rest of South Asia."
Officials in Kathmandu, however, expressed ignorance about Gyawali's remarks in the Maldives and Gyawali himself was not immediately available for comment.
Madhu Raman Acharya, a former foreign secretary, said that refusing to comment was itself a big comment in diplomacy.
"Nepal, however, has moved its goal posts time and again on various incidents and issues—whether it was the trilateral boundary dispute between India, China and Bhutan, or a terrorist attack in Uri, India in 2016," said Acharya. "Coming up with an independent position has always been difficult for us."
But analysts say that statements on foreign policy matters require specifics and should not be generic or vague.
"Changing statements can impact Nepal's international relations," said Pandey. "Trustworthiness can be our strength. So we have to maintain consistency in our foreign policy conduct."
Both Pandey and Acharya, however, agreed that Gyawali's latest statement is an indication that Nepal stands with other South Asian nations who have concluded that New Delhi's move is an internal matter for India.
The latest remark shows that Nepal supports India's position, according to Acharya.
"It's clear that Nepal stands with other South Asian nations when it comes to India's decision on Jammu & Kashmir," said Pandey. "However, before making a statement on such a sensitive issue, we should hold an all-party meeting and make a formal position so that it can be seen as having as national backing."
In Male Gyawali also said that Nepal hopes for a de-escalation of tension between India and Pakistan.
"As the current chair of SAARC, we urge all member nations to settle disputes through negotiations," said Gyawali. "Escalation of tension is not the solution. Conflicts are the worst options, which every nation should avoid."
---
---