Mukunda Ranjit: Meet the scientist who saved the potato
Ranjit's contributions, particularly his work to make potatoes virus-free, were the first of their kind in South Asia, opening the door for farmers from all regions—mountains, hills and Tarai—to move to commercial farming from subsistence farming.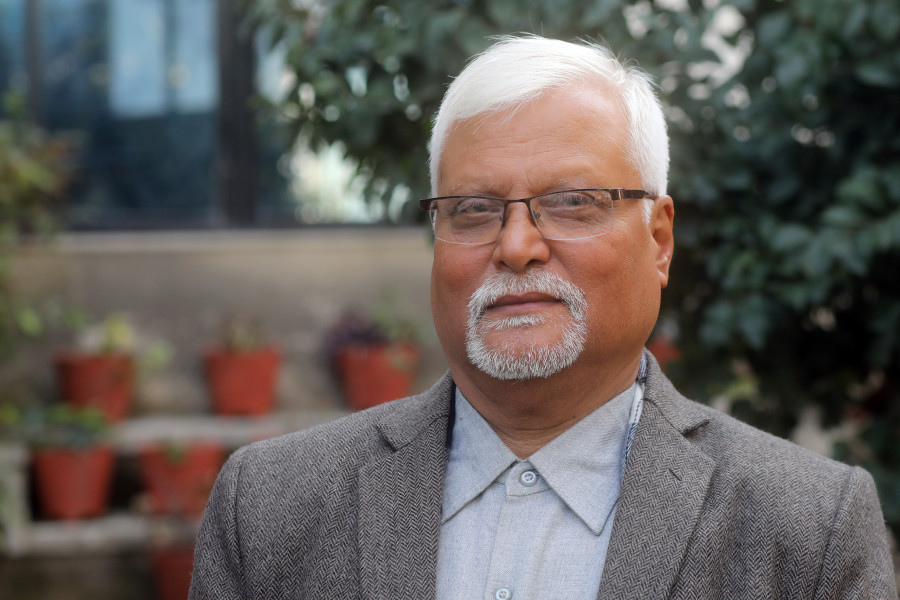 bookmark
Published at : February 12, 2019
Updated at : March 28, 2019 13:43
Kathmandu
This article is the first of four profiles of the winners of Kantipur Icon 2018, awarded by Kantipur Foundation, the non-profit philanthropic arm of Kantipur Media Group. Mukunda Ranjit is the winner in the Science & Technology category.
Inside a small room on the ground floor of a house in Mid-Baneshwor, a number of young men and women in aprons are busy working under the harsh glow of artificial light and the hum of a machine that maintains a steady temperature. These young men and women are surrounded by 20,000 potato, paulownia, black cardamom and banana seedlings stacked on a steel rack. Five organic technicians check these seedlings, produced through tissue culture, to ensure they have the required levels of vitamins and nutrition.
This is the office of Green Research and Technology Lab, located in Mid-Baneshwor, Kathmandu's Gurans Tol. The lab, which is being rented to Kalapas Biotech at the moment, is the brainchild of 71-year-old horticulturist Mukunda Ranjit.
"The speciality of these seedlings is that they are virus-free," says Ranjit, a dapper, silver-haired man sporting a stylish French-cut beard. "Our target is to build infrastructure that can produce around 100,000 banana seedlings."
The lab is attempting to do for the banana what Ranjit himself once did for the potato—eliminate virus-borne diseases and increase production.
The potato came relatively late to Nepal—in the 18th century via India. Potatoes—believed to have been first cultivated in the area around southern Peru and northwestern Bolivia around 7,000-10,000 years ago—was brought back to Europe from South America by Spanish invaders. The tuber then made its way across the world. In Europe, the potato was not readily accepted at first, as people were suspicious that it could be poisonous and they also came infected with various diseases. Despite an environment perfectly suited for cultivation, including fertile land and a cool and moist climate in the mid-hills, infections by six different viruses limited its production to just 4-5 potatoes instead of 30-40 per plant.
Centuries since their arrival in the country, these viruses would still pose problems for farmers when Ranjit came across them. Ranjit began conducting tests while working for the Horticulture Department at the Ministry of Agriculture in 1989. He eventually managed to develop a strain of potatoes that was highly resistant to viruses and eventually, his team managed to make all species of potatoes available in Nepal virus-free, says Ranjit.
However, the price of these seed potatoes, called mini tubers, was not affordable for all farmers. So Ranjit's team started to produce potato seeds at cheaper prices under the National Potato Development Programme of the Nepal Agriculture Research Council (NARC), funded by the Swiss government. Under this programme, around 1.2 million virus-free potato seeds were distributed to farmers across the country in a span of six years.
"He conducted research on potatoes while working under various government-affiliated bodies," says Tri Bikram Bhattarai, a retired professor from Tribhuvan University's Central Department of Biotechnology. "He is a pioneer of this initiative and has also made contributions to eliminate viruses on oranges."
Ranjit's contributions, particularly his work to make potatoes virus-free, were the first of their kind in South Asia, opening the door for farmers from all regions—mountains, hills and Tarai—to move to commercial farming from subsistence farming.
The virus-free varieties of potatoes produced in Ranjit's laboratory were distributed to 50 farmers' groups across the country, increasing production from four tonnes per hectare to 14 tonnes.
But Ranjit's work was not limited to potatoes. Under the Horticulture Department, he helped establish nurseries and gardens in many districts. He also inspired farmers to shift to commercial farming from subsistence farming, by taking apple seeds to Jumla and introducing virus-free strawberry, avocado, zucchini, and pecans into the country.
Ranjit's work in agriculture and seeds came from a very personal place. He was born into a Ranjitkar family that was so large that there was often a shortage of food for the younger kids who ate lunch and dinner last. This is perhaps what sparked Ranjit's interest in agriculture and increasing yields.
Mukunda Ranjit is the academic director in the department of biotechnology at Kantipur Valley College.
Photo: Elite Joshi
Ranjit father Kirtidas eventually changed the family surname from Ranjitkar to Ranjit. Ranjit was enrolled in Grade 1 at Aadhar High School in Tahachal, but he failed seven of his 10 subjects in the final second-grade exams.
"My relatives used to tease me over this for a long time," Ranjit recalls. However, he improved on his studies and started topping his class after being admitted to Bishwa Niketan Secondary School.
Later in life, Ranjit received a scholarship to study Agriculture and Agricultural Engineering at American University in Lebanon. But the turning point in Ranjit's life came in 1978 when he received another scholarship to pursue a Masters of Science in agriculture from California State University. Six years later, he completed his PhD in Plant Physiology from the University of California, Davis, one of the most prestigious universities in the world for agriculture.
After returning to Nepal, Ranjit led the establishment of a fruits garden in Kirtipur with support from the Japanese government where tissue cultures were performed on apples and tangerines. That research, however, came to an end after the Nepal Army acquired the land in 1989. Ranjit still laments this fact.
Ranjit acknowledges that Nepal is far behind when it comes to research necessary for agricultural industrialisation. "We talk about bringing new technology but we don't do any research for that technology," he says. "We should first explore technology that will be useful to us. But how much have we invested in our research and development?" The answers to these questions will possibly shed light on Nepal's failure to make progress in the fields of science and technology.
Ranjit is currently the director of the BioTechnology Department at Kathmandu Valley College, and also a senior academician at NAST. He has spent over half his life in the research and development of Nepal's agriculture sector, especially horticulture. The founding president of the Nepal Biotechnology Association, Ranjit's contributions have led to a significant increase in the production of fruits and vegetables.
The other winners of Kantipur Icon are:
— Dhurmus-Suntali, the winners of Kantipur Icon in the Socio-Political category
— Sunil Pokharel, the winner of Kantipur Icon in Arts & Literature category
— Kulman Ghising, the winner of Kantipur Icon in Business and Economy Category
---