Quake-hit to mark Dashain in huts
Kalpana Koirala of Sasa village in Dhading spent the past six months in a makeshift shack after she lost her home to the Gorkha Earthquake.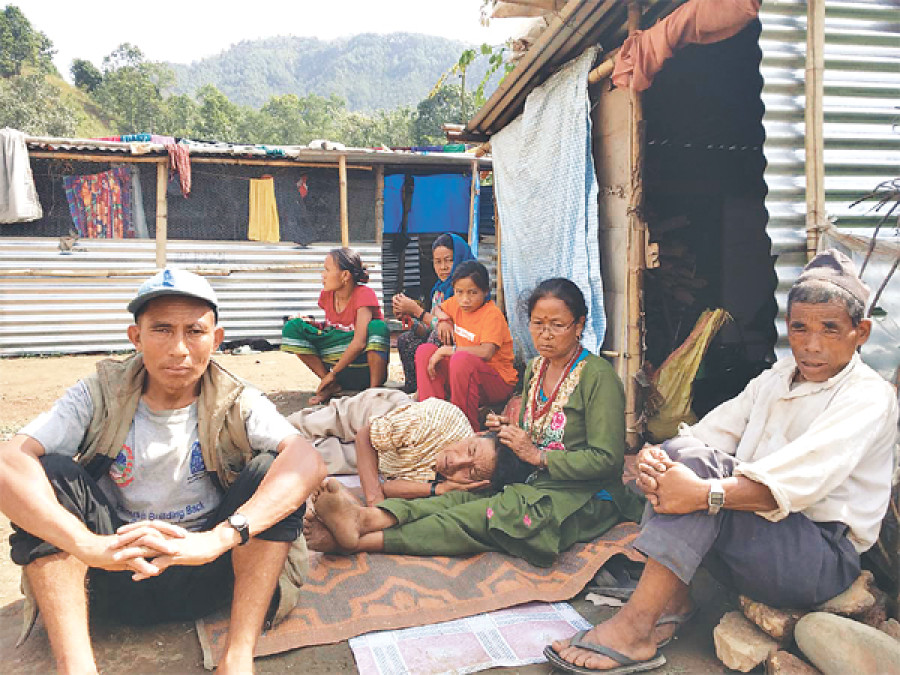 bookmark
Published at : October 16, 2015
Updated at : October 16, 2015 09:04
Kathmandu
Kalpana Koirala of Sasa village in Dhading spent the past six months in a makeshift shack after she lost her home to the Gorkha Earthquake. She and her two children managed to live through storms and monsoon rains in the hut. This Dashain, she plans to begin a new life.
"I am waiting for my husband to return home from Malaysia for the festival," Koirala says. "He will bring in money for building ourselves a new home."
Like Koirala, thousands of people who lost their homes to the earthquake are bracing for a sad Dashain, which otherwise is the biggest and grandest festival for Nepali Hindus. The earthquake destroyed more than 600,000 houses and damaged close to 300,000 others, leaving most of the people to mark the festival under temporary shelters.
The government, however, has not begun rebuilding yet. A National Reconstruction Authority, which the government put forward as the official agency for rebuilding the nation, has remained defunct due to government's own lapses. Despite forming the authority through an ordinance, it failed to replace the ordinance with a bill, making the NRA invalid and putting reconstruction works into uncertainty.
Koirala has grown weary of life in the shack. "It is congested and cold inside," she says. "It is no place for celebrations." As government did not fulfil its promise of helping her build a new house, she says that her family cannot wait forever. "Winter is coming and we like to keep warm. Hopefully, my husband can manage to build a proper house by then."
Immediately after the earthquake, the government announced Rs200,000 rebuilding subsidy for every household which lost its home. Although the amount may not be enough, homeless people thought it would be some respite. But it never came. The government has allocated Rs91 billion in this year's budget to be used for reconstruction but in absence
of NRA, nothing has moved forward.
Moreover, the Ministry of Urban Development has drafted Post-earthquake Recovery and Reconstruction Policy which has already been approved by National Planning Commission. The policy details central and local-level programmes planned for reconstruction along with house blueprints, use of materials, government funding and settlement establishment. But unless the NRA, which currently does not exist, approves the document, it gets no legitimacy.
Last year around this time, Shristi Pant of Koteshwor in Kathmandu celebrated Dashain by buying new clothes and eating grand meals. This year, she says there will be no new clothes, no good food and altogether there will not be much
celebration.
Pant lost a house in Dhading and all her belongings in her rented room in Koteshwor to the earthquake. With no home and not much property left behind, her family, which includes a brother and a mother, will just have to mark Dashain as a mere ritual. "Celebrations have turned into compromise," Pant says.
n Quake-displaced people at a temporary shelter in Bidur, Nuwakot. POST PHOTO
---
---