Despite officials' bold statements to constituencies, little diplomatic progress has been made on Kalapani
The prime minister, foreign minister and various former prime ministers have all made public statements regarding Kalapani but diplomatic measures have been sorely lacking, analysts say.

India's new political map includes the disputed territory of Kalapani inside its borders. Post Photo: Manoj Badu
bookmark
Published at : November 18, 2019
Updated at : November 18, 2019 21:01
Despite government officials, including the prime minister and several sitting ministers, issuing strongly-worded statements regarding Kalapani, there has been little headway on the political and diplomatic front when it comes to pursuing Nepal's interests along its western border with India.
On Sunday, Prime Minister KP Sharma Oli asked India to remove its army from Nepali territory—but at a meeting of the Nepal Communist Party young wing, not during any bilateral forum or directly to the Indian government. Similarly, Foreign Minister Pradeep Gyawali and three former prime ministers—Pushpa Kamal Dahal, Madhav Kumar Nepal and Jhalanath Khanal—have also issued statements regarding India's inclusion of the territory of Kalapani within its borders.
An all-party meeting on November 10 had also advised the government to take diplomatic initiatives with India to resolve the dispute and present evidence that Kalapani belongs to Nepal.
However, two weeks since the Indian inclusion of Kalapani on its new political map was reported by the Post, and nine days after the all-party meeting, Nepal and India have yet to decide on a date for Foreign Secretary-level talks. Oli, Gyawali and Minister for Land Reform and Management Padma Aryal have all said that Nepal has enough evidence to prove that the land east of Limpiyadhura, including Kalapani and Lipu Lekh, belongs to Nepal.
Till date, there has been one meeting between Nepali Ambassador to India Nilamber Acharya and Indian Foreign Secretary Vijaya Gokhale, where they briefly discussed the issue of Kalapani. But besides that brief discussion, there has been no diplomatic push from the government side.
Surya Thapa, Oli's new press advisor, confirmed to the Post that no concrete progress has been made in talks with India.
"Officials are doing some internal homework and preparations," he said. "The government is holding internal discussions on how to present our case in talks with India, including through diplomatic channels."
According to Prakash Joshi, Director-General at the Survey Department, the department has prepared maps and evidence that prove Nepal's claim over Kalapani.
Though the all-party meeting had urged Oli to initiate talks at the highest level to resolve the long-standing boundary dispute, the government opted for a Foreign Secretary-level meeting. The third meeting of the Nepal-Indian Joint Commission in August at the Foreign Minister-level had entrusted the Foreign Secretaries of Nepal and India with the task of finding an amicable solution to the boundary dispute in Susta and Kalapani.
The opposition Nepali Congress has also urged Oli to take swift action.
"Nepal should hold high-level talks with India," party spokesperson Bishwa Prakash Sharma said on Twitter on Sunday. "Nepal should issue a map for clarification and demand removal of Indian troops from Kalapani. I repeat: any nationalist position should be result-oriented."
However, foreign policy experts and diplomats say all kinds of communication channels need to be opened with India to resolve the boundary dispute.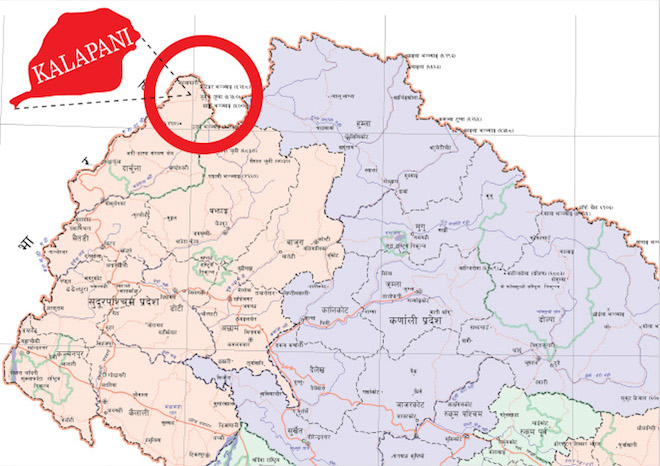 Nepal has long been claiming that Kalapani, Lipu Lekh and Limphuyadhara are part of its territory. Map: Survey Department
Two former Nepali ambassadors to India told the Post that Nepal should put pressure on India from all sides, but it should quietly deal with such sensitive issues.
"I think we have made unnecessary noise on the border dispute with India," said former ambassador Lok Raj Baral. "Instead of making noise elsewhere, we should opt for quiet diplomacy."
According to Baral, Oli's Sunday statement, which was widely reported in the media as a direct demand with India, was made to appease his constituency.
"We have to open both diplomatic and political channels," said Baral. "Brinkmanship at this stage simply wouldn't work."
Bhekh Bahadur Thapa, a member of the Eminent Persons' Group on Nepal-India relations, said that Nepal needs to pile pressure on India from all sides.
"In the past, whenever we showed evidence, the Indian side never denied it, but we were never successful in getting our land back," said Thapa. "India remains silent and continues to stonewall us."
Even former prime minister Baburam Bhattarai, while congratulating the prime minister on his strongly-worded pronouncement, said on social media that such verbal exchanges alone don't resolve outstanding issues.
"First decide your strategy to achieve the goal," he said. "In the all-party meeting, we had asked you to resolve this long-pending issue through high-level political dialogue. With stable governments in both Kathmandu and Delhi, this could be the most opportune moment to clinch the issue forever!"
In an interview with the Post, the ruling party spokesperson said a formal proposal for talks will be made once officials collect all facts and evidence that prove Kalapani belongs to Nepal.
"We are doing some groundwork before sitting for talks," said Narayan Kaji Shrestha. "The prime minister has told us that track II diplomacy will be initiated to settle the boundary row."
However, officials in Kathmandu and New Delhi that the Post spoke to said they were not aware of any Track II diplomatic initiatives.
"No date has been fixed for Foreign Secretary-level talks yet and no formal communication has been made," a Nepali diplomat in New Delhi said on condition of anonymity because he wasn't allowed to speak with the media. "Indian officials are occupied because the Bhutanese Foreign Minister is arriving for a visit. I do not see any concrete progress in holding talks within the week or fixing a date with Nepal."
---
---