Reclaiming her voice through filmmaking
An award-winning filmmaker, Belmaya Nepali is thrilled about the release of her documentary, 'I am Belmaya', in Nepal.

Belmaya Nepali during the filming for her short film 'Educate Our Daughters' at Sublime School, Pokhara. Photo Courtesy: Sue Carpenter
bookmark
Published at : October 27, 2021
Updated at : October 27, 2021 08:15
Kathmandu
In 2014, when Belmaya Nepali started training in documentary filmmaking, she could sense her confidence steadily increase. An introverted and reserved person by nature, Nepali could articulate her feelings more candidly than before after taking on the training provided by a Pokhara-based institution.
"That year and a half long training changed my life. Not only did it teach me the basics of filmmaking, but once I enrolled myself, I became more confident. It boosted my self-esteem, and I gained the courage to express myself in front of everyone," says Nepali, 28.
Seven years after receiving the training, Nepali has become an award-winning documentary filmmaker. She has made four films to date, among which 'I am Belmaya' (co-directed with Sue Carpenter, a British filmmaker), a documentary based on her life, is currently being shown all over the UK, in theatres, special screenings, and digital mediums.
Born in Lahachowk, an hour away from downtown Pokhara, Nepali never imagined she would become a filmmaker. Youngest among six siblings, she lost her parents when she was just nine years old. Due to her family's precarious economic condition, she lived in a girl's home in Pokhara. It was there that she learned photography, which Nepali believes, carved the path for filmmaking.
"I was 14 when I picked a camera for the first time. It was a magical moment for me when I could capture pictures through the camera. The joy of taking pictures and being in control of what I wanted to click gave me a sense of freedom," says Nepali, who was trained by Carpenter.
With a camera in her hands, Nepali embarked on her journey of becoming a photographer. Nepali's pictures encompassed an array of subjects—from the snow-capped Annapurna range to the common people she met. She began documenting all the intriguing things that crossed her path.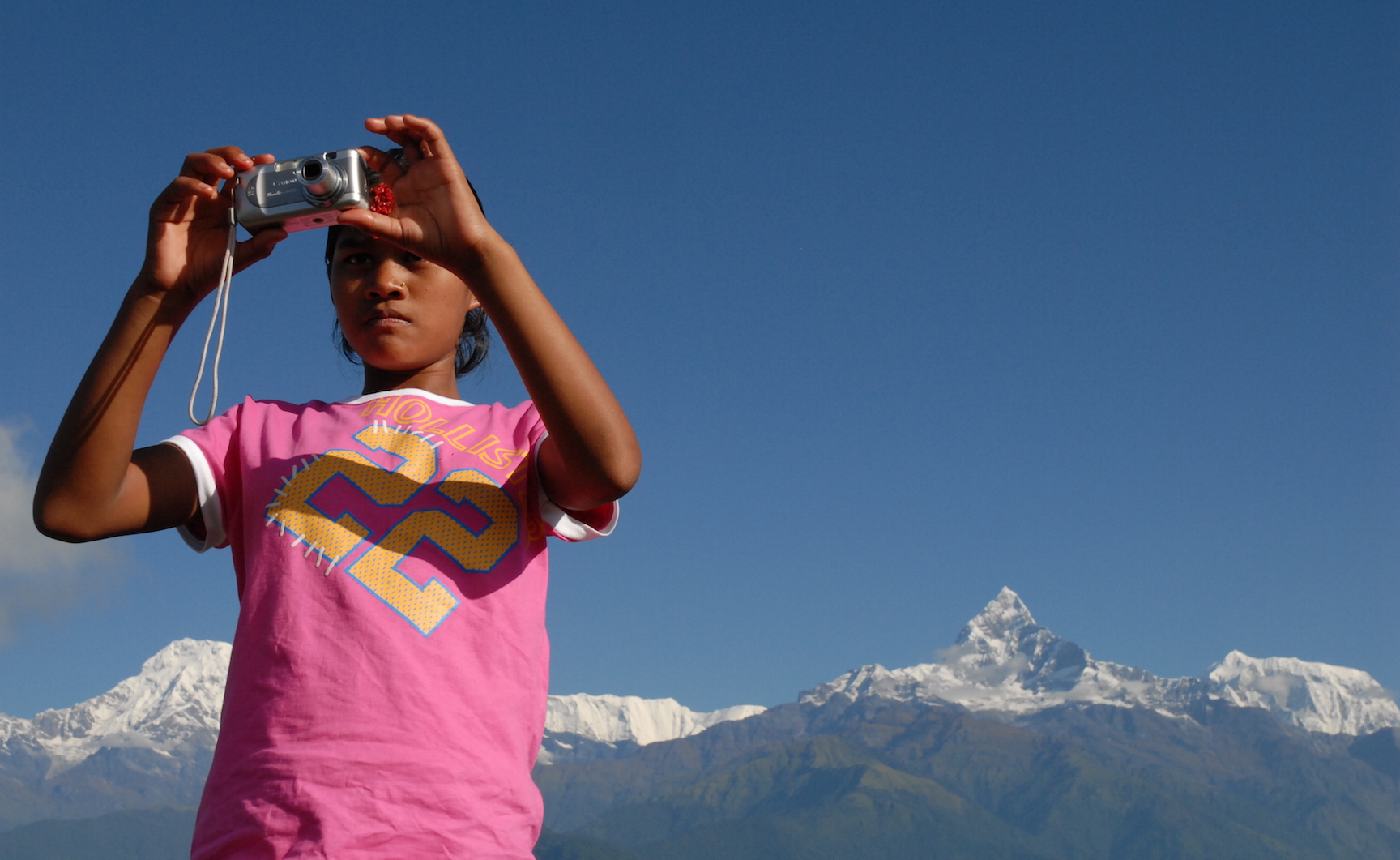 Photo Courtesy: Sue Carpenter
In 2007, a book called "My World, My Views' published a few of her pictures, which further motivated her to take photography seriously, she says in a Zoom interview with the Post.
However, Nepali got married in 2011 and couldn't continue her passion for photography. Later when she became a mother she was engulfed with family matters.
In 2014, Nepali picked up a camera again when she met Carpenter, who tracked her down during one of her visits to Pokhara.
"With her guidance, I picked up the camera again. But this time, it wasn't just for taking pictures. I was enrolled in a documentary filmmaking course, which took me on a filmmaking journey. I started enjoying the process more because I could now tell people's stories, as well as their struggles, more effectively through films as my medium," says Nepali.
For her final project for the training program, Nepali made her debut film, 'Educate Our Daughters', in which she tackled the issue of education for girls in Nepal. The topic she chose for her first movie was a personal one, says Nepali, as she wanted to explore the hurdles of young Nepali girls and their education.
"Due to many challenges that obstructed my path to formal education, I wasn't able to study. Whenever I saw any girl or a woman speaking in English, I found it amusing. This further cemented my commitment towards depicting what education for girls is like in Nepal and how it has helped them excel in their lives," says Nepali.
While it was her first experience as a filmmaker and she was still learning the craft of filmmaking, the film was appreciated by the audience for its honest portrayal and it even got premiered at many international film festivals like Chicago South Asian Film Festival, UK Asian Film Festival, and Toronto Reel Asian Film Festival.
From then, Nepali began navigating her journey in filmmaking, and in 2018 she made her second film, 'Rowing Against the Flow': a documentary about boat women in Pokhara's Fewa Lake. Thomson Reuters Foundation commissioned the documentary.
She then directed another film called 'Stronger', which also dealt with the theme of resilience and power in Nepali women battling against the patriarchal fabric of our society.
While these films kept Nepali busy, it was her fourth documentary, 'I am Belmaya', for which she devoted most of her time and effort to. The documentary features 14 years of her life and encapsulates the pain, joy, struggles, and achievements she faced in those years.
The film was released this year and has been receiving critical acclaim from all over the world.
"The film is a stirring look at the painful reality faced by Dalit girls in contemporary Nepal, as well as Nepali's stunning achievements," wrote Phoung Lee in a review of the film published this month in the Guardian.
Nepali says she's overwhelmed with joy to witness what the film has been able to accomplish. But to get where she is, it was hardly a smooth journey. She shares that she had to face many hurdles during the filming of the documentary.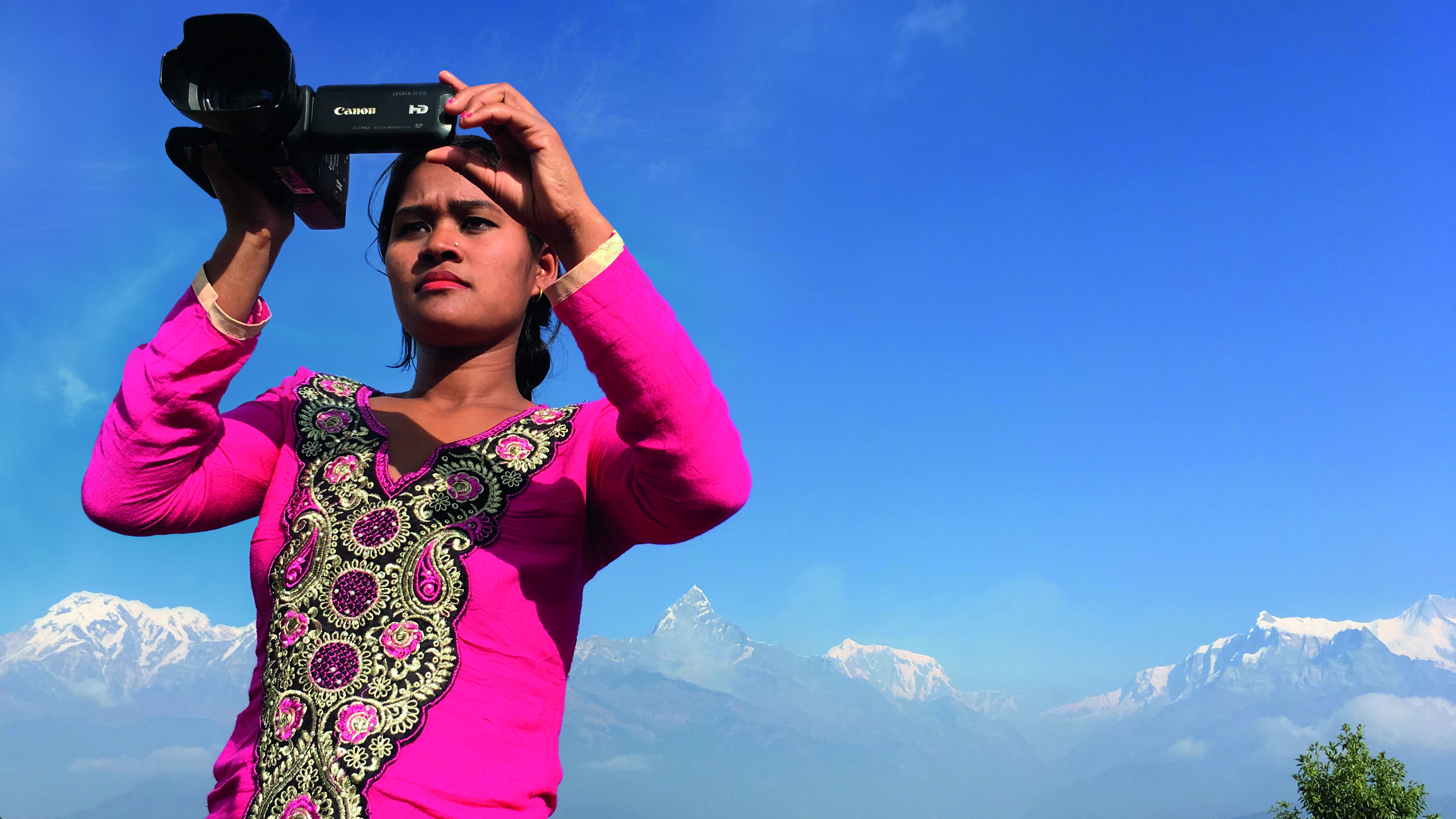 Photo Courtesy: Sue Carpenter
"My family members weren't happy when they saw me with a camera or whenever I was shooting for my film. They said that I shouldn't become a filmmaker and should dedicate my time towards the care of my daughter. The documentary was deeply personal, and it, therefore, necessitated capturing all the raw and vulnerable visuals of my family, but they weren't cooperative when it came to that either," says Nepali.
It took a lot of effort to convince them, and with the support from Carpenter and her own will and the skills learnt, she was finally able to bring her inspiring tale to the screen. When asked what motivated her during her journey of making 'I am Belmaya', Nepali says that it was the utmost need she felt in her heart to share her story, as she believed that her film could inspire more women to follow their passion as she did.
"Filmmaking gave me independence. It made me powerful as I found a medium to tell my story and reclaim my voice. The happiness I feel for being able to pursue my interest is magical. And I want every woman to feel that. I want them to chase their dreams, and through my story, I want to inspire them," says Nepali.
While the film's previews have been held in Nepal, she says that the Nepali audience can watch the full-length documentary in December, this year. She's thrilled for that to happen, she says.
"When I held a screening show in my village, everyone's faces lightened up as they were touched by my film. I hope I can create the same experience for other people watching my film," says Nepali.
---
---