In this messy, poorly written Netflix series, only Neena Gupta shines
Netflix India's latest series, Masaba Masaba, is filled with cliches and is a boring rendition of the interesting lives of Masaba and Neena Gupta.

Screengrab via Netflix
bookmark
Published at : September 5, 2020
Updated at : September 5, 2020 06:53
Kathmandu
Ever since Masaba Gupta was born, she has been under the public eye. Masaba had created a storm in the society she was born in because her mother, veteran actor Neena Gupta, had decided to give birth to her without getting married to her father, the legendary cricketer Viv Richards. This was back in the '80s when society was much less liberal than now.
Throughout her childhood, she was bullied for her skin tone and called various names. Likewise, her mother, Neena Gupta, also had her fair share of struggle, as she was hypersexualised by the audience, leading her to get typecast in movies and later struggle to get author-backed roles.
However, this is not the story director Sonam Nair is interested in telling. Rather she is focused on the life of the mother-daughter duo, who are still navigating their lives amidst all the chaos, 20 years later, doing what they love, which is acting and designing clothes respectively.
Released on August 25, Netflix's Masaba Masaba is a tightly squeezed, semi-fictional account of Masaba Gupta and Neena Gupta, their struggles, wins, and the glamour world they are part of. Starring both Masaba Gupta and Neena Gupta, the six 30-minute episodes show us a sanitised version of their lives, the conflicts and struggles they face.
The show starts with an article that creates havoc around the lives of Masaba and Neena. In the blind item (a news story, typically in a gossip column, in which the details of an incident are reported but the identities of the people involved are not revealed), it's hinted that Masaba is going to divorce her husband, Vinay (played by Satyadeep Mishra). The gossip turns out to be true and Masaba separates with her husband and starts living with her mother, Neena. The series then switches to Masaba's professional struggle, as she faces a creative block while designing her new collections, showing the audience how she navigates her ways of surviving in the fashion industry when her personal life is in turmoil.
Likewise, Neena Gupta's story too moves parallelly. Neena is shown as a passionate actor, hungry for roles in an industry that treats her like a liability. In her head, she knows she's defeated but her heart always pushes her to not quit, as acting is the thing that makes her happy.
And while the real-life story-lines of Neena and Masaba are interesting, even inspiring, they have been shown through rose-tinted glasses which fails to acknowledge the duo's struggles and their strong and fierce personalities.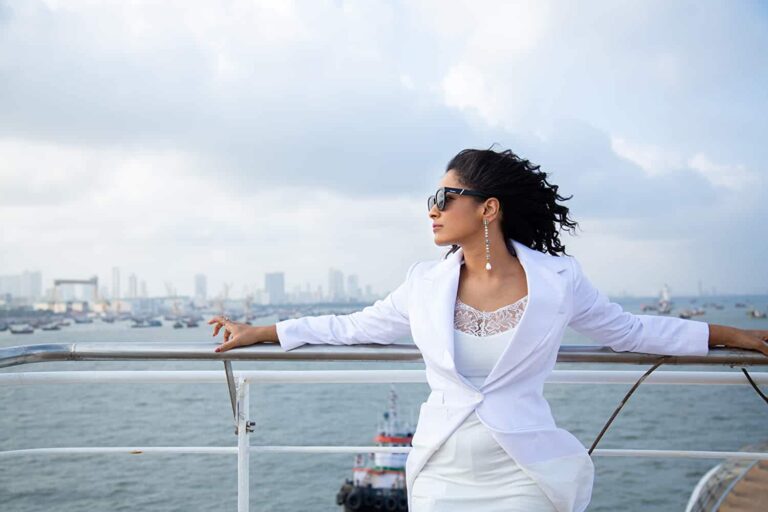 Screengrab via Netflix
The character of Masaba is so poorly written that the audience can hardly connect with her. She's given such uninspiring and poorly written dialogues that we hardly know who the real Masaba is. Likewise, the writers hardly give her space to be vulnerable. We rarely see her emotional side, or as someone who has layers to their personalities, like everyone else.
Neena Gupta's character is slightly better written, but it still misses so many facets of her personality that it fails to provide justice to the persona of such a talented actor. In the show, she's shown as an overbearing mother, who always has to have her say in her daughter's decisions, which kind of creates a bitter-sweet animosity between them. But there isn't enough depth given to the character that explains her overprotectiveness. Why is she exhibiting such behaviour? The audience is hardly shown anything to understand the character, besides portraying her being a mother and a struggling actor.
Besides their lives, Bollywood, the fashion and the glamour industry, and social media also become central to the plotline. We see a satirical representation of Bollywood, which the mother-daughter duo is part of. But the satire, rather, comes across as a childish parody of the industry. There are special appearances made by Kiara Advani, Shibani Dandekar, Farah Khan, Mithila Parker, and Pooja Bedi. But the characters are so badly written, backed by even poorer dialogues, that their presence adds nothing to the plot, which itself is convoluted in trying to be too cool and sassy, oftentimes forgetting the basics of story-telling.
But that's not the only thing that lets the audience down. The portrayal of a tabloid editor, Micky, a recurring character in the show, is so problematic and outdated, that it takes power away from the film's central message: of women defying social stereotypes.
Micky is shown as a vain person whose character is woven with a touch of Schadenfreude personality, as he derives pleasure from seeing people fall apart. While it's understandable that there might be people like him in the media industry, and the show is trying to depict that, but when you reinforce stereotypes—showing a gay man as someone who's super campy, has a limp wrist, and speaks in the same stereotypical way—then as a maker your intention becomes dicey.
Likewise, the character of Gia (played by Rytasha Rathore), the protagonist's chubby but sassy and witty best friend, is a time-worn archetype character and a big time disappointment. Besides being a 2 am friend to Masaba, her character has not much to offer, except make witty comebacks and encourage people to have sex to make their life colourful.
Screengrab via Netflix
Meanwhile, most of the men in the show are one-note characters. Masaba's ex-husband Vinay has no significance in the plot. Likewise, the two other male characters, Dhaariya (played by Neil Bhooplam) and Jogi (played by Smaran Sahu), are just used as characters who are just love interests or are present to create sexual tension in Masaba's life, making their presence forgettable.
The cinematography offers nothing new either. The scenes look all glossy and the set design looks like it was created to shoot for an Instagram post.
But there are a few moments in the show that will help you keep watching the series. And most of such moments are when Neena Gupta appears on the screen. Her screen presence is charming and there is an innate likeability in her persona. Even though the show fails to show her as a wholesome being, someone who's much more than just a mother, whenever she appears, she literally lightens up the screen.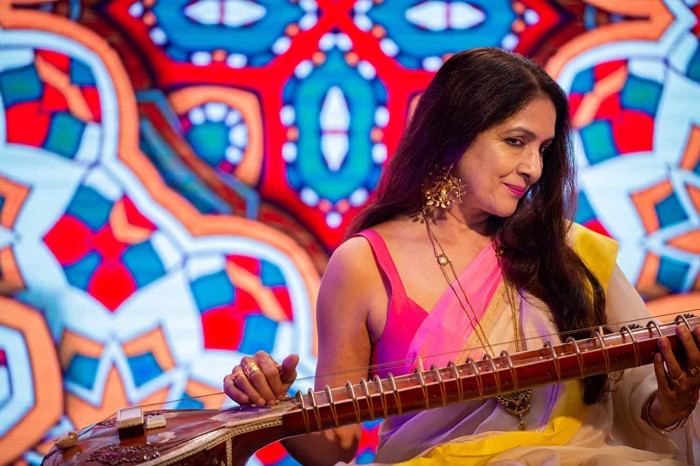 Screengrab via Netflix
Masaba's acting is also pretty decent, and since it's her first debut project, she shows some scope as an actor as well. The chemistry and the regular banter between the real-life mother-daughter duo is also natural, making it one of the highlights of the not-so innovative show.
When the trailer of the show was released, it looked really interesting as we hardly see autobiographies of famous personalities, where they themselves act on the screen in the Indian entertainment industry. Likewise, since both Masaba and Neena have achieved so much in their respective careers, their stories on the celluloid were bound to be an exciting journey for people to witness. But the end product is so unimaginative and uninspiring, filled with lazy writing, that it fails to give justice to the otherwise interesting and inspiring lives of the creative duo, Masaba and Neena. Their story deserved a much better presentation than this forgettable show.
Show: Masaba Masaba
Starring: Neena Gupta, Masaba Gupta, Neil Bhooplam
Director: Sonam Nair
Stars: 1.5 out of 5
---
---